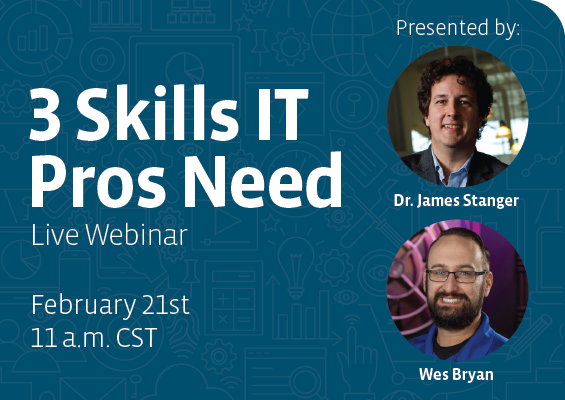 Are you ready to start your IT career but find yourself wondering what skill level today's IT pros need? Join CompTIA Chief Technology Evangelist Dr. James Stanger as he partners up with Wes Bryan from ITProTV in this upcoming live IT Pro webinar event. We'll be discussing essential technical skills, including cloud, Linux, Windows and internet of things (IoT) management tips.
Don't miss the following live demonstrations:
How to troubleshoot mobile phone connectivity and advanced features.
How to virtualize the CentOS version of the Linux operating system.
How to protect mobile devices from malware.
Click Here to Register for the Webinar
Webinar Details
What: 3 Skills IT Pros Need
When: Thursday, February 21, 2019 at 11 a.m. Central
How Long: 1 hour
Don't worry if you can't make it for the live webinar. Register anyway, and we'll send you a link for the recording when it's available.