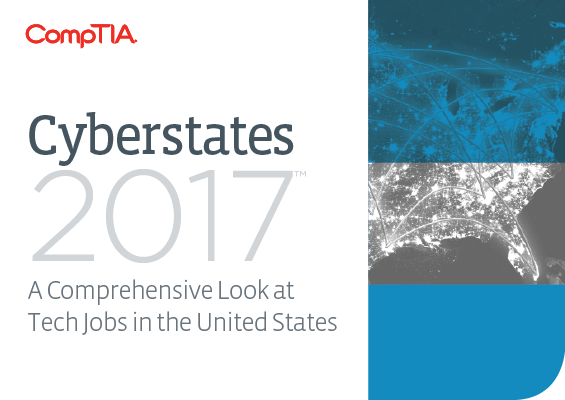 With 6.9 million workers employed by the U.S. tech industry and 182,220 new jobs added in 2016, IT continues to grow. CompTIA's annual Cyberstates report and mobile-friendly, interactive tool takes a comprehensive look at the U.S. IT industry and workforce from a national, state and local view. Over the next couple of months, we're going to dig deeper into some of this data and what it means for IT pros, but for today, we'll do a quick overview of the report and how you can use the tool.
IT and the U.S. Economy
Cyberstates looks at both the technology industry – which employs people in IT and non-IT roles – and technology occupations – which include IT jobs in any industry – tech or otherwise. The technology sector employs 6.9 million people and accounts for more than $1.3 trillion of total activity in the U.S. economy. Another 7.3 million IT pros are employed in technology occupations in other industries.
"These numbers affirm the strength and vitality of the U.S. tech industry and attest to its essential standing in the economy," CompTIA President and CEO Todd Thibodeaux said. "Technology enables innovation and generates growth for companies, regardless of their size, locale or markets served."
Within the technology sector, IT services and custom software services saw the most growth, with 108,930 jobs added from 2015 to 2016. This 5.7 percent growth reflects the need for expertise in areas like cloud computing migration, application integration, business process automation, data analytics and security.
Where the Jobs Are
Looking state by state, 36 states saw experienced tech sector job growth, while 15 saw job losses. Those hit the hardest were Delaware, Kansas, Iowa, Tennessee and Mississippi.
The following five states saw the most technology employment growth in 2016:
California
New York
North Carolina
Texas
Michigan
Where the Money Is
Not surprisingly, California had the highest average annual tech sector wage at $154,000 and accounts for 24 percent of the national tech sector payroll, which reached $750.8 billion in 2016. Including California, the national average tech sector wage in 2016 was $108,900, but excluding it, that figure drops slightly to $99,540. In comparison, the national average wage for all sectors was $53,040. Washington, Massachusetts, New Jersey, New York and Virginia also had average tech wages above the national tech average. That said, in every state, the average wage for technology workers exceeded the average wage for all workers.
Using Cyberstates in Your Job Search
Whether you're looking for a job now or thinking about future opportunities, Cyberstates can give you the inside scoop on the IT climate in different metropolitan areas.
If you aren't sure where you will land and want to compare all the states, look at the national-level data. As you click through total tech sector jobs, total tech occupations, average wage and percent of workforce in tech, the color coding on the map will show you how the states rank. The charts below the map illustrate more data about jobs and economic impact.
If you are considering moving to a new city, you can get localized information for any state or metropolitan area.
The information found in Cyberstates can help you answer questions like:
Can you earn a salary comparable or better to what you're already earning?
Will it be enough to live the lifestyle you want to live?
Is the competition tough for the type of job you're looking for or are there lots of openings?
Is there a large IT presence in the area?
Going into a job search and interviews with this information will help you pinpoint the right opportunities and negotiate a fair salary so you can find jobs that make the most sense for your career.
Ready to try it out? Go to Cyberstates and click on "Explore Tool" to get started.