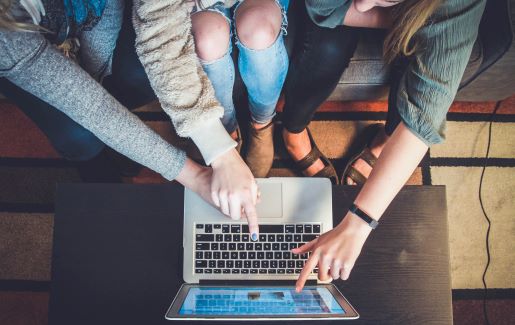 As an IT pro at your company, you are the go-to person for all things tech. Besides being a tech expert, you need to master your soft skills. You've likely dealt with colleagues who have reservations about adopting new technologies, oftentimes making it difficult for you to do your job.
CompTIA's 2020 IT Industry Outlook revealed that this could be the case because of the growing concern around the unintended consequences that sometimes come with technology. The chart below shows that in 2019, 71% of survey respondents stated that technology backlash is becoming more of an issue compared to 34% the year prior.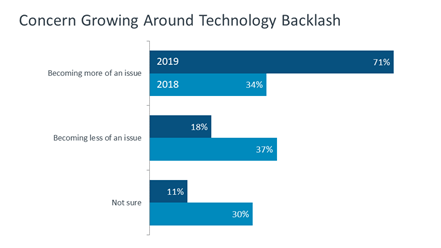 The 2020 IT Industry Outlook explains that well-known public tech crises like privacy violations, data breaches, social media misinformation and other controversies have made a major impact on the tech industry and consequently led to technology apprehension in the world today.
This can have a major effect on the workplace. It is important that IT pros prove they are trustworthy tech authorities to minimize technology concerns and maximize technology usage.
5 Ways for IT Pros to Address Technology Backlash at Work
1. Host Training Sessions
One reason why people tend to be concerned about new technology is because they are afraid of doing things differently than they're used to. If your IT department provides comprehensive training on new technology tools and the ways the new tech operates in a work context, it will encourage others to play along.
2. Provide Incentives
IT pros can encourage others to buy in to workplace technology by providing incentives. Perhaps you just implemented a new project management tool to help keep employees more organized and facilitate collaboration. To encourage adoption, the IT department can track who utilizes the new tool the most and award superusers prizes like a gift cards, branded swag or office perks!
3. Be Transparent
Sometimes organizations implement new technology to fix existing problems. As an IT pro, you will gain respect if you are honest and open about the reasoning behind new technology. Employees don't want to feel like secrets are being kept, especially around technology that they're being encouraged to use.
If you are requiring employees to use a new security tool because your internal employee files were recently hacked, you're better off disclosing that information instead of acting like the new technology is being applied for no reason. Make sure employees know exactly how new tech is going to make their lives easier and why it's important to the organization.
4. Empathize with the Fear and Show Value
Even if change in the workplace is for the good of the company, it can still be challenging for employees to adapt to something new. IT pros should offer empathy to employees and share that they understand change is difficult and may be confusing. Encouraging everyone to embrace the new technology and give it a chance will mean a lot coming from IT pros. By doing this, employees will feel heard and will have a better attitude for potential future changes as well.
5. Give Praise
Positive reinforcement is key. Bringing attention to the benefits the new technology will have on the organization and openly sharing wins will make for a smoother transition. Giving praise makes it more likely that employees will continue to use the new technology and encourage others to do the same. Personal shout-outs via email, Slack, Microsoft Teams or however your organization communicates are a simple way to give kudos and continue to promote the new technology.
Overall, one of the most powerful ways IT pros can address technology backlash is to help their organizations understand the problem that the technology is trying to solve and how it will make everyone's lives easier. With these helpful tips, IT pros can tackle workplace technology concerns and turn the most skeptical employees into superusers in no time.
Stay up to date on the skills you need to succeed with the IT Careers Newsletter. Sign up today and receive 10% off your next CompTIA purchase.