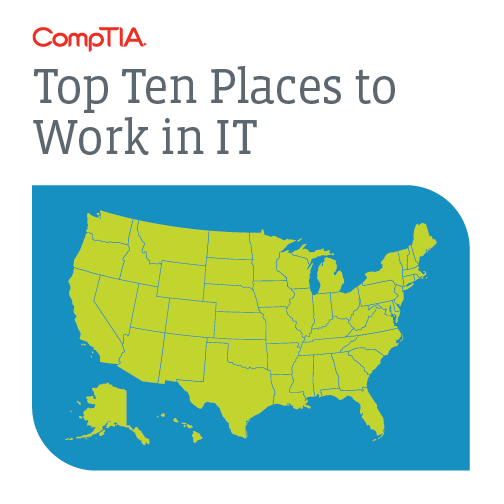 Cities and markets have an allure. They have a strength that draws people, and when those people stay, that's when the city develops its vibe.
In the mid-'90s, the bright lights of the Silicon Valley drew IT professionals the way Broadway calls to aspiring actors. With its rich history in tech innovations, the Bay area's reputation for IT has been well known for years.
The interconnected world we live in today is a smaller world. Our reach is wide, information moves fast and our access to the world seems unlimited. As our world shrinks, IT opportunities have grown beyond those early markets, reaching across the country to see exponential job market growth in cities that are beginning to make names for themselves in the tech industry.
According to CompTIA analysis of EMSI data, IT job growth is projected to see healthy double-digit increases in markets across the country, and those growing markets aren't confined to the Bay Area. By the year 2025, Washington, D.C., Dallas-Fort Worth, Chicago, San Jose, Boston and Seattle are projected to see more than 15 percent growth in the number of employees working in IT positions compared to the job market in 2015. The new growth in these markets is fueling a healthy tech vibe. Read on to learn more about them:
New York, Newark, Jersey City (New York, New Jersey, Pennsylvania)
Following the recovery from the economic recession, New York City saw job growth in the tech industry four times faster than the recovery for other industries. By 2020, IT employment in this market is projected to increase six percent when compared to 2015 and 13 percent when you compare IT employment in 2025 to 2015, according to CompTIA. The city has an established culture that attracts young, creative workers, especially those with dreams of launching a startup. A year ago, New York had a 22 percent increase in funding applications for startups, which pushed it past California for the first time. With all of the established, notable industries in New York, the city attracts the entrepreneur who seeks a bank of talent. Notable tech startups that are based in New York include Etsy, Tumble, Foursquare and WeWork, among others.
Washington, Arlington, Alexandria (Virginia, Maryland, West Virginia)
Aiming to create the largest tech hub on the East Coast, Washington, D.C., offers competitive tech incentives, including waiving corporate income taxes for the first five years, new-hire wage reimbursements and relocation credits. Aside from the incentives, companies tend to stay in D.C. because of its healthy investment community, highly educated population and residents' ties to government and non-profits. According to CompTIA's analysis, the market is projected to see eight percent job growth when comparing 2015 to 2020 and 15 percent job growth when comparing 2015 to 2025. The area has a diverse population and an abundance of entertainment and activities.
Los Angeles, Long Beach, Anaheim (California)
In the middle of a revitalization of downtown Los Angeles, the city is seeing a surge in construction and renovations and is catching the attention of new investors and businesses. The new life investors are breathing into the city is bringing upscale housing, hotels, restaurants and night life. L.A. residents love its sub-tropical Mediterranean weather and outdoor culture. There are dozens of farmers markets, open-air malls and at least 15 beaches in the area. The city's laid-back reputation and new offerings are charming entrepreneurs and enticing tech-oriented companies specializing in mobile apps, hardware, digital media and more. According to CompTIA's analysis, the growth will continue, pushing IT jobs up five percent in 2020 and 12 percent in 2025 when compared to 2015.
San Francisco, Oakland, Hayward (California)
San Francisco is positioned well to absorb the tech that leaked from the original Silicon Valley. While some compare the likes of the region's current climate to the Silicon Valley's tech bubble, as the region has struggled to keep up with available and affordable housing during the employment surge, there is no doubt that it's a hot market. The region contributed nearly half of the new jobs that were available in the state of California for the month of October 2015, and the tech industry accounted for much of that growth, according to a report by the state's Employment Development Department. By 2025, CompTIA's analysis shows the San Francisco job market increasing 25 percent over available jobs in 2015. San Francisco is ethnically and socially diverse and has a lot of activities and entertainment to offer. Plus, residents are generally considered to be happy and healthy.
Dallas, Fort Worth, Arlington (Texas)
The Dallas-Fort Worth market is growing. In fact, in 2015 it ranked third in the country for job creation, which is actually down from its record growth the previous year, according to the U.S. Bureau of Labor Statistics. Tech jobs in the region are predicted to increase eight percent in 2020 compared to available jobs in 2015 and by 16 percent in 2025. Described as a fast-paced, trendy market, the Dallas and Fort Worth area offers the first housing market in our top 10 without an overly inflated cost of living. It has a large shopping area that offers high-end stores and boutiques and antique stores, and the Texas State Fair is not to be missed.
Chicago, Naperville, Elgin (Illinois, Indiana, Wisconsin)
Known for its food and as a town of the arts for its improvisational comedy, jazz and blues music scene, Chicago is rich in culture. The city has an extraordinary collection of both modern and carefully preserved historic architectural styles. It also offers a cost of living that is more attainable than that of the New York metro market. The city has the fifth-largest concentration of tech workers in the country, according to CBRE, a commercial real estate firm, after it experienced a swell in tech jobs as the economy recovered from the recession. A large part of that growth was in the financial tech sector, but that upward movement continues with the city's healthy startup companies. The market also benefits from the students in the region. The University of Illinois at Urbana-Campaign has the sixth best engineering program in the U.S. and graduates large classes each year of engineers and computer scientists.
San Jose, Sunnyvale, Santa Clara (California)
The self-described capital of the Silicon Valley, we'd expect nothing but job growth in the tech industry for San Jose. According to CompTIA's analysis, the region could expands its job offerings in IT by 20 percent in 2025 over IT jobs available in 2015, which is up from the nine percent growth that is predicted for 2020. San Jose has its steadfast, big-name tech companies anchoring its economy, but it also has a strong startup environment as well. In addition, a new downtown project is underway that will expand the Tech Museum of Innovation and build modern office space that often draws tech giants. Apple's plans to build an 86-acre campus in North San Jose were approved earlier this year, which could reportedly bring more than 16,000 jobs to the community. While employment opportunities and the excellent climate bring people into the market, San Jose residents have to learn to accept the area's exorbitant cost of living and overcrowding.
Boston, Cambridge, Newton (Massachusetts, New Hampshire)
The city of Boston has nearly 50 programs available to its startup community to support their early-stage ventures. As a result, in the last few years, several notable names have launched from the market, including HubSpot, Care.com, TripAdvisor and WayFair. In addition, earlier this year, G.E. announced it will relocate its global headquarters to Boston, citing the city's strong educational institutions as the city's strength. CompTIA's analysis sees the market's IT jobs growing by nine percent by 2020 and 19 percent by 2025 when compared to the jobs available in 2015. The city is ripe with history, amenities, diverse communities and neighborhood pride.
Seattle, Tacoma, Bellevue (Washington)
The Seattle market is hot for talented software developers, as the area is home to some of the biggest players in the development of cloud computing. The Washington Technology Industry Association estimates a 3,000 person shortage per year for the available software developer and engineer jobs, and the Seattle market, according to CompTIA's analysis, could experience 22 percent job growth between 2015 and 2025. Since the job market in Seattle can be described as a candidate's market, hiring employees is a competitive venture and companies have to put forth their best hand to lure in applicants. As a result, Seattle is the market that's leading the race for better benefits, with increased paternity leave and other creative perks.
Atlanta, Sandy Springs Roswell (Georgia)
Atlanta has made a concerted effort to move itself into the tech market, and recent reports and CompTIA analysis show it's gaining ground. The market is being recognized for its growth in the high-tech job market, which is also strengthening its overall economy. IT job growth in Atlanta in 2020 is expected to grow six percent over jobs available in 2015 and 13 percent over jobs available in 2025 when compared to 2015. The city's government is encouraging Georgia Tech's Technology Square developer with a $15 million tax incentive. Atlanta is sometimes considered the northernmost southern city, which puts it in a sweet spot as a relatively easy market for northern tech-seeking employment transplants to adapt to.
Jamie Marturano is a freelance writer based in Pennsylvania.