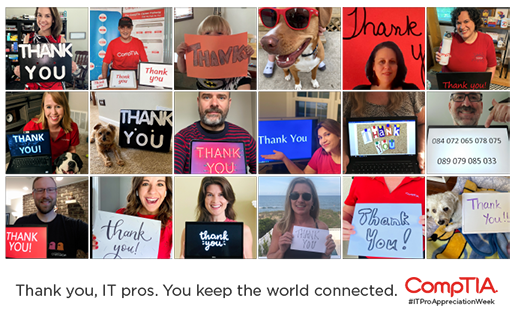 With Systems Administrator Appreciation Day rapidly approaching, let's reflect on how you, the IT pro, have become so important to the creative process within an organization. Sure, IT workers have led the way in helping the world stay connected and informed during COVID-19 and other recent events. But I'm thinking of the bigger picture. You are a creative force that has led the way in helping all of us overcome challenges for some time, now. Let me explain.

Finding Creative Solutions to Business Challenges
We've all heard plenty about essential workers lately. Our medical professionals have sacrificed so much to help treat people during this pandemic. Governments around the world have worked to keep people safe. Workers have rallied to provide the food, energy and supplies to keep our economy going. Delivery professionals bring supplies to our homes.
And while IT pros may not be on the front lines of the pandemic, you bring true creativity to the table. You are vital to all of these professions – and more – because you weave the underlying technical fabric that binds us all together.
Almost overnight, we all became remote workers. But IT pros were up for the challenge. For example, I heard from one organization that had made plans to support remote workers by 2022, or even 2023. But when COVID-19 hit, the IT pros in that organization got clever and made the transition in April 2020 – in just one month! By leveraging the cloud and automation in a crafty way, they were able to reduce workloads and create high-functioning backups and remote solutions.
It was fun to hear the CIO of the organization say, in a rather unguarded moment, that his organization is now "ready for the next disaster." Sure, the IT pros in that organization pulled quite a few all-nighters during this crisis. But that's really not the point. The point is, their creativity, not just their hard work, made that instant transition possible.
Architecting Future Success
Over the past year, we've witnessed spikes in things like social engineering, DDoS, ransomware and malware attacks, and IT pros around the world have taken these events in stride. However, your work as an IT professional goes way beyond dealing with incidents and crises. You are the architect for the future success of a company.
For instance, I've heard from one IT department that decided several years ago to prepare for the unknown by giving all employees laptops instead of desktop computers and having everyone test their home bandwidth capabilities annually. The IT department also established cloud backup so employees could access everything from anywhere.
Some end users wondered why this was important. But once COVID-19 hit and everyone had to immediately begin working remotely, the reasons behind this drill became crystal clear. These simple – but incredibly effective – steps had prepared everyone.
Video: 5 Reasons CompTIA Loves IT Professionals
We salute the IT pros that keep us all connected and this video shares the exciting ways we're celebrating IT pros now and always..
Bringing People Together Online
Today's IT pro is busy working on ways to create hyper-personalized experiences for customers, as well as for internal workers. Recently, I was talking with Illysa Ortsman, senior vice president and global head of technology infrastructure and operations, at Christies. She told me about how the leadership team at Christies decided they needed to leverage tech more to give customers and employees alike a larger sense of community and belonging immediately after COVID-19 hit.
Ortsman had already seen the need to mimic things like water cooler conversations and informal, spontaneous meetings that occur in the office. So, she led the effort to enhance customer offerings and internal company communications. Naturally, she consulted with her fellow leaders in senior management, but she quickly realized that IT pros were the ones who had a natural gift in ensuring personalized, shared and interactive worlds.
Adding Humanity to AI
It's also exciting to see companies leverage IT pros to create sophisticated artificial intelligence (AI) solutions. An IT pro who works for a small managed service provider (MSP) told me that she was asked to help her company launch an AI service that would help field customer questions.
She quickly noticed that the AI engine was making some strange decisions that didn't take her needs into consideration. It was even communicating with her and a few customers using questionable language and idioms.
She soon discovered she was dealing with AI bias. She was called in to help solve some of this bias and make the AI implementation more sociable, fair and, well, intelligent. Why did they use her? Because she was able to communicate her perceptions clearly and work with fellow techies to solve the problem.
IT Pros Are Key to Business Success
These stories have helped me realize something: In my mind, the IT pro isn't just the person who has the key to the server room. (Although, now that we're moving things to the cloud and using biometric authentication, server rooms and keys aren't as common as they used to be.)
My point is that the IT pro is more than just a helper. The IT pro is the very key to success. And, as I've been thinking about how to best reflect on SysAdmin Appreciation Day, I've realized that I'm seeing how IT pros are a major contributor (some might say essential) to the creative process in organizations today – and that's exciting.
Thank you, IT pros, for everything you do!
From troubleshooting family computers that your co-workers are now using as they work remotely to implementing automation and AI solutions, I salute you! In spite of economic and social uncertainties, IT pros continue to help companies remain on the cutting edge by using cloud-based solutions and emerging tech, including AI, blockchain and serverless computing.
There's something about IT pros – we all instinctively see a bright future, and we do our best to get the job done right. So, thank you, IT workers everywhere– we're in your debt, and we've got your back here at CompTIA!
CompTIA is here to support you throughout your IT career. Get free resources, career advice and special offers when you sign up for IT Career News.