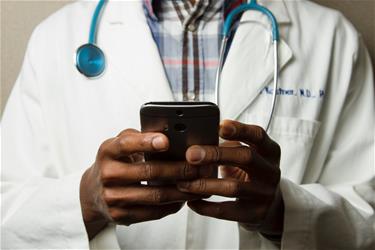 As COVID-19 continues to impact nearly every community across the globe, individuals and companies are rising to the occasion to serve the greater good. This is certainly true of the technology industry, which is playing a vital role in aiding our communities in this time of need.
Through real-time innovation and action, tech companies are addressing the critical challenges we face. From free access to IT platforms to tools supporting workers on the front lines and families at home, the tech sector offers key resources, information and solutions that are critically important during this time. We are working with healthcare professionals and first responders, educators and students, governments and those individuals who are the most vulnerable. Our member companies are also providing millions in financial donations to help lessen the economic impact of this pandemic and aid those who are suffering.

While this list is in no way complete, here are just a few of the ways the tech sector is helping address the unique and unprecedented challenges presented by COVID-19:

Emerging Technologies Help With Tracking and Treatment
Emerging technologies, such as artificial intelligence (AI) and high-performance computing systems, are allowing researchers to collect large amounts of data and run quick calculations and models to monitor the virus. What would have taken days, weeks or even months in the past is now being done immediately. These technologies allow public officials to predict outbreaks ahead of time and monitor and manage those outbreaks when they occur. They are also aiding researchers around the globe as they work to identify treatments, strategies and possible vaccines.

IBM has launched an incident map on The Weather Channel app and on Weather.com that aggregates data from state and local officials, the World Health Organization and others in real-time to show confirmed cases and fatalities county by county. Microsoft has launched a similar platform and Google is developing informational tools to also provide localized data. This data is helping researchers, data scientists and media track the spread of the virus and keep the public informed.
In collaboration with the White House Office of Science and Technology Policy and the U.S. Department of Energy, IBM, Google, Amazon and Microsoft are working with a number of universities and several national labs to make supercomputing resources available to help explore potential treatments or cures for coronavirus. The COVID-19 High Performance Computing Consortium will bring forth an unprecedented amount of computing power to help researchers everywhere better understand COVID-19, its treatments and potential cures.


As part of its "Call For Code" challenge, IBM has asked developers to create promising solutions to build, fortify, test and deploy projects that help people address the impacts of COVID-19. *Updated on April 1*
Hewlett Packard Enterprise is supporting the COVID-19 Open Research Dataset to develop AI tools to mine data across thousands of scholarly articles related to COVID-19 and related coronaviruses to help the medical community develop answers to high-priority scientific questions.
Facebook has generated maps, used by organizations like the Red Cross, that display real-time population density, demographics and travel patterns, providing aid workers and researchers insights on where to send supplies or how to mitigate an outbreak.
Through Tableau, Salesforce has created a data resource hub to help organizations see and understand coronavirus data in real-time, using numbers from Johns Hopkins University, the World Health Organization and the Centers for Disease Control and Prevention.
Getting and Keeping Americans Online
A reliable and secure network is vital during any crisis. Connectivity helps first responders, medical professionals and governments communicate and share information. It also helps us stay connected to work, school and our families and talk to doctors virtually so we don't further pack already overcrowded emergency rooms. In addition to serving as a critical lifeline, many member companies are providing free services and resources, waiving late fees and eliminating terminations for those who may be impacted financially as a result of the virus.
Comcast has implemented free Xfinity Wi-Fi hotspots in locations across the country for anyone who needs them– including non-Xfinity Internet subscribers. The company has also increased access to and speeds of internet essentials to help low-income families, offering broadband service for free for 60 days to new customers and offering all customers unlimited data for 60 days.
Verizon has taken numerous steps to keep customers connected including new affordable internet options, two months waived internet and voice service charges for certain customers and additional GB of high-speed data for some customers at no charge. Verizon is also providing first responders with priority and preemption abilities for voice and data.
Enabling Virtual Work, Training and Education
As many of us follow the guidelines to practice social distancing, more people than ever are working remotely. Balancing business continuity and productivity while keeping employees, partners and customers safe is a top priority for all our members. Because of innovation within our industry, employees have more tools and resources than ever before to adapt to this new remote work environment, including numerous communications tools to stay connected and productive. Our members are actively providing IT resources and capabilities to facilitate this unparalleled requirement for remote work. They're also helping students, who have seen their classroom education curtailed, and displaced workers, who have seen their jobs vanish.

Adobe is providing free 90-day access to Adobe Connect to help government agencies and businesses enable virtual environments for real-time collaboration and online training. Adobe is supporting social distance learning by giving educators and students "at-home" access for their Creative Cloud apps at no additional costs.
Cisco Webex expanded its free Webex offerings to allow employees to stay connected to their teams and continue business operations. They're also providing free 90-day licenses to businesses that are not already Webex customers. Cisco is also extending free licenses and usage counts at no extra charge for three of its key security technologies that are designed to protect remote workers anywhere, anytime on any device.
Google is providing free access to its advanced Hangouts Meet video-conferencing capabilities to all G Suite and G Suite for Education customers globally until July 1, 2020. Google for Education is also providing distance learning solutions, training and resources to help teachers and students stay connected and Google Classroom allows teachers to create, grade and collect assignments virtually.
Salesforce is giving customers and any non-profit organization free access to Quip Starter, allowing for teams to collaborate while away from the office.


Amazon Web Services (AWS) is offering free AWS Digital Training. This includes on-demand digital courses that help you learn new cloud skills and services.
CompTIA is offering exam voucher extensions and remote/home testing for its exams. Learn more here.
Keeping Devices and Networks Secure
As more of the workforce relies on IT infrastructure and teleworking, there has been a rise in cyberattacks. Tech companies are working with the federal government to protect our home devices and networks from ransomware, phishing and other threats.

Giving Back to Communities
Through technology and innovation, our member companies are helping fight this pandemic while keeping us connected. They're also helping our communities, donating millions of dollars and essential items and services to those in need.
Apple has committed at least $15 million in worldwide donations to the global COVID-19 response — both to help treat those who are sick and to help lessen the economic and community impacts of the pandemic. Apple has also donated 2 million masks to health professionals in the U.S. and Europe. On March 27, Apple also announced it has created, in partnership with the CDC, an app and website to help people stay informed, understand symptoms and take proper steps to protect their health.


Amazon donated more than one million items including medical-grade protective masks, isolation suits and disposable gloves to healthcare professionals in China to help with the coronavirus outbreak relief efforts. Amazon will also give $1 million to a fund designed to mitigate the economic loss felt in the Seattle-area from the coronavirus outbreak.
Facebook is announcing a $100 million grant program for small businesses impacted by the coronavirus pandemic. Most of the grants will be distributed in cash, with some ad credits for business services. Facebook also is matching up to $10 million in donations with 100% of funds directly supporting the work to prevent, detect and respond to the outbreak around the world. The company will also match $10 million for the CDC Foundation, which will launch a fundraiser in the next few weeks focused on combating the outbreak here in the US.


Google has launched its own campaign to raise $7.5 million for the COVID-19 Solidarity Response Fund. Google will donate $1 million to local Mountain View organizations to support small businesses, increase computer science opportunities for Mountain View schools, and increase awareness and education efforts around coronavirus. Google is also donating $100,000 to the main relief fund run by the United Way and Chicago Community Trust. Google also announced on March 27 a new $800+ million commitment to support small to-medium sized businesses, health workers on the frontlines, health organizations and governments.
HP, through its foundation, donated $1 million to Direct Relief, assisting in the Coronavirus relief effort. HP has also donated PCs and printers to help hospitals in affected areas.
Hewlett Packard Enterprise is doing a dollar-for-dollar matching campaign to provide HPE team members with the opportunity to make financial donations to support the COVID-19 Solidarity Response Fund, regional response in the Bay area like Silicon Valley Strong and other organizations.


IBM is helping local communities by making Watson Assistant to Citizens free for three months. It provides up-to-the-minute answers about COVID-19 symptoms and testing sites as well as the current status of schools, transportation and other public services. *Updated April 1*
Intel donated $1 million to the International Red Cross to support relief efforts for the coronavirus outbreak as well as more than one million protective items such as masks, gloves and other gear.


Lockheed Martin announced it will advance more than $50 million to small- and medium-sized business partners in their supply chain to ensure they have the financial means to continue to operate, sustain jobs and support the economy. The company will also donate $10 million to non-profit organizations involved in COVID-19 related relief and assistance, with emphasis on veterans and military families, and activated a $6.5 million employee disaster relief fund to assist Lockheed Martin employees and retirees impacted with COVID-19. *Updated on March 27*
Lyft is donating tens of thousands of rides to those with essential transportation needs during the coronavirus pandemic, especially for families and children, low-income seniors and doctors and nurses.
Salesforce is donating $1 million to the University of California San Francisco's COVID-19 Response Fund and $500K to the CDC Foundation's Emergency Response Fund and will continue matching employee contributions.


To date, Samsung has donated $29 million worth of funds and goods to governments and communities that have been most affected by COVID-19. In some regions, Samsung is also donating smartphones to patients in quarantine to help them keep in touch with friends and family, air purifiers and other appliances to hospitals and quarantine centers, and tablets to educational institutions so that children can continue to learn outside of the classroom. Samsung has also made CSR education modules available online so that children have access to more enriching content at home. *Updated April 2*


Texas Instruments has pledged a $300,000 donation to the China Youth Development Foundation.
Verizon donated $12 million to the World Health Organization, nonprofits supporting students and first responders.
Casebook has collected and vetted credible information and resources from federal and individual state government agencies to help those dealing with the most vulnerable populations around the country.


Elsevier's Novel Coronavirus Information Center is available to the public and has all of the company's health and medical research on COVID-19 including peer-reviewed research and journals for researchers, care plans and skills guides for clinicians, and video resources for patients.

CompTIA created an online forum that allows technology companies and professionals to share valuable information, resources and best practices on how organizations of all sizes are coping with the impact COVID-19 is having on business operations. Click here for more information.