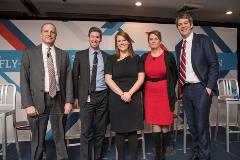 Earlier this year, the FCC concluded its broadcast incentive auction, which repurposed 84 MHz of low-band broadcast spectrum for (primarily) licensed wireless use. While this spectrum will go a long way towards boosting wireless connectivity and capacity, it represents what is likely the last time such a large swath of low-band spectrum (below 3 Ghz) will ever be available at auction. Meanwhile, the demand for wireless data continues to grow due to both new users and new IoT devices connecting every day. This increase in demand will put pressure on regulators and industry alike to find new bands and new technologies to accommodate our connected future.
The second panel of the Tech Policy Summit at the 2018 CompTIA DC Fly-In delved into spectrum, 5G, the rural/urban digital divide and how to best support the Internet of Things.
The moderator was Matthew Starr, Director, Public Advocacy, CompTIA and panelists included; Steve Coran, Chair of the Broadband Practice Group at Lerman Senter PLLC; David Goldman, Chief Telecom Counsel, House Energy & Commerce Committee; Kelsey Guyselman, Policy Advisor, White House Office of Science and Technology Policy (OSTP); and Charla Rath, Vice President, Wireless Policy Development, Verizon.
What is the wireless spectrum and 5G?
Discussion began with a definition of wireless spectrum, which is invisible airwaves that transmit bits of data through the air. All agreed it was an enabler, not just for the Internet of Things (IoT) but for Wi-Fi, TV, cell phones, GPS, and virtual reality. There was consensus that spectrum allows you to be connected while not being tethered to a computer and finding more spectrum for commercial use has not been an easy task.
Panelists discussed 5G and what makes it so different from previous wireless generations. All agreed that speed and latency were the key factors, also mentioned was response time and scalability. But Coran with Lerman Senter said, "While 5G connects more things to more things, what it looks like here in DC may look different in rural America."
Guyselman with OSTP said, "We're looking at how do we ensure the pipeline for spectrum is available and that the infrastructure building process is as streamlined and as sensible as possible. There is a need for more fiber and towers in rural America. We are currently looking at federal land assets and the ability to build networks. We're looking at how do we make sure regulatory underpinnings are in place that allow for innovation. We want to let the market drive this and align government practices with what's going on in the market."
The rural/urban digital divide
Starr asked the panelists about the rural/urban digital divide and if there is a risk that rural areas will fall behind. Rath from Verizon said that, "making 5G accessible in smaller rural communities with 1,000 people or less isn't always the solution. We need to look at the flexibility of licenses."
Coran said, "5G in a rural area is more about the Internet of Things, precision agriculture, and more industrial applications versus mobility applications. It's a way they keep jobs."
Goldman said, "Connectivity in rural America and improving rural prosperity is one of the priority's in this administration. It's critical we're not losing the potential for this. There must be some government spending infusion on this because it's not going to happen on its' own. It isn't just about throwing money at it, nor is it about auctioning spectrum off, but putting spectrum to work."
There was discussion about the boom of the Internet of Things (IoT) and if there should be more spectrum to support it. Both Coran from Lerman Senter and Rath from Verizon agreed that there shouldn't be spectrum specifically set aside for IoT and emphasized the benefits of flexible-use spectrum licenses.
Goldman said that setting a standard speed for broadband is important. Currently, the Federal Communications Commission (FCC) defines the minimum standard for broadband as 25 megabits per second download speed (Mbps) and 3 Mbps upload speed. "We have to make sure we don't develop a second-tier internet."
Lana Sansur is the Senior Marketing Manager for Policy and Public Sector