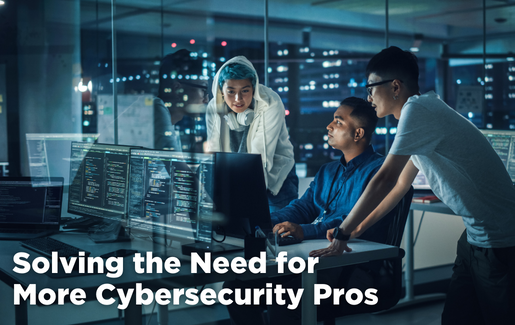 We've been hearing about a technology skills gap for quite a while. It's something CompTIA has been focused on for many years that has extended into the cybersecurity space. While we understand why it exists, there is no quick fix to fill this gap. Instead, it takes years of strategic work by many to put the resources in place to educate, train, reskill and upskill. A huge part of that equation is an effort to open the eyes of our youth to the possibility of a cybersecurity career.
In November, I had the opportunity to travel to San Antonio, Texas as a guest of the Cyber Future Foundation (CFF) to meet with a group of colleagues at the Cyber Futures Summit. As part of that experience, I was invited to tour the new National Security Collaboration Center (NSCC) at the University of Texas at San Antonio (UTSA) and the Institute of Cybersecurity & Innovation (iSCi). These are great models that are helping to solve the need for more cybersecurity professionals.
Supporting Post-secondary Cyber Training
The day before the summit, a small group was invited to tour the NSCC at UTSA, which has been selected to join the United States Cyber Command (USCYBERCOM) Academic Engagement Network (AEN). Created by the National Security Agency (NSA) in 2009, USCYBERCOM is one of the 11 unified combatant commands of the U.S. Department of Defense (DoD), focused on cyberspace operations and capabilities, cyber expertise and cyber warfare.
The overarching goals of the AEN include:
Engaging the future workforce
Increasing cyber-applied research and innovation
Expanding cyber-focus analytic partnerships
Enriching strategic dialogue between organizations
This is important because we can't close this skills gap while we're working in our own silos. We have to work together to create models that we can replicate and scale up. This is exactly what the AEN is doing, and San Antonio is investing in this concept.
For example, the NSCC is co-located with the UTSA School of Data Science, a new world-class $90 million research and education center, and the first new building in a series slated as part of the UTSA downtown campus expansion. The university is on schedule to complete construction soon and to fully welcome students, faculty and the community to the building by January 2023. The facility will feature 72,000 square feet of innovation space, laboratories and research facilities, serving as a hub for the government, university and industry in support of national security and bolstering the city's national standing as Cyber City, USA.
Engaging K-12 Students
The first takeaway here is that in order to create qualified cybersecurity talent, you have to invest in quality resources. San Antonio clearly understood the assignment. But while we see the need for more undergraduate, post-grad and doctorate-level education, we can't stop there. We also see the need to get more K-12 students engaged in cyber.
San Antonio didn't drop the ball here, either.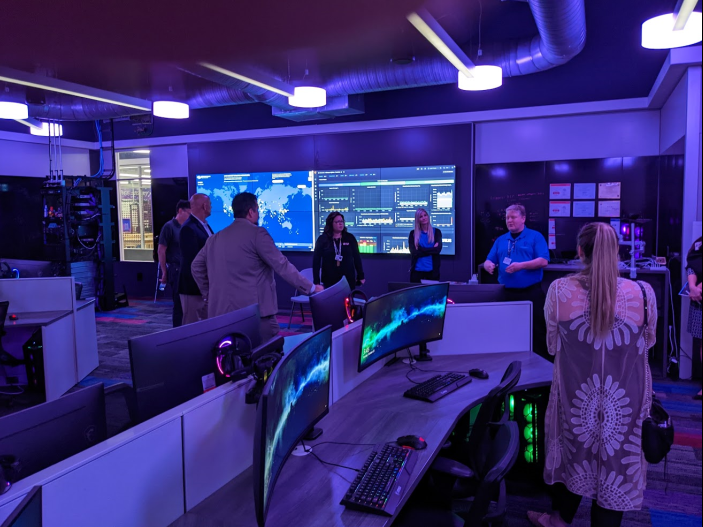 The second part of my visit was at the Institute of Cybersecurity & Innovation (iSCi). This four-year high school cybersecurity pathway was created to increase the number of students that are professionally certified and qualified for careers and/or internships in the fields of networking and cybersecurity.
The program is a $10 million initiative, housed in a 40,000 square-foot center, located across from MacArthur High School. It includes classroom environments that look and feel like security operation centers (SOCs), a 10,000 square-foot multi-purpose competition area, two fully equipped Cisco Networking Labs and various classrooms set up for study and collaboration.
The curriculum is heavily influenced by CompTIA certification pathways, including CompTIA IT Fundamentals (ITF+), CompTIA A+, CompTIA Network+ and CompTIA Security+ – and the program is growing by leaps and bounds. From 2021 to 2022, the district received 320 applications to fill the 180 available seats. By 2024, they will have between 650 and 700 high school students enrolled.
What Can We Learn From San Antonio?
San Antonio is doing something right. What can we take away from their success? During our tour of iCSi, we were briefed on the school's genesis, bond funding, expansion plans and the hope that this would become a model for other school districts throughout Texas, as well as other states and even countries around the world. That's all valuable information. All it takes is a successful model to spur additional locations, which amplifies the outcome. Just imagine, if San Antonio is churning out nearly 700 high school students already certified and ready to work, what could it look like with more cities on board?
While these programs are large in scale, there's something we can do on a smaller scale as well. In tandem with these larger initiatives, organizations should be providing training to upskill their current employees. If we can upskill to fill our cybersecurity needs and then backfill with qualified entry-level candidates coming out of these programs, we're well on our way to plugging that gap.
At CompTIA, we believe that these are outstanding initiatives to help solve the need for future cybersecurity professionals. We also believe that we can provide a jump start by helping employers get started with their existing skilled workers and provide training to enable them to fill the 760,000+ open cyber roles today.
Learn more about CompTIA's custom training solutions.
*CyberSeek.org
Gordon Pelosse is senior vice president, employer engagement at CompTIA. He is an IT services executive with over 40 years of experience helping employers solves the challenge of finding skilled talent in a very competitive market. Helping to unlock potential in the millions of under and unemployed by training for the millions of open jobs in IT.