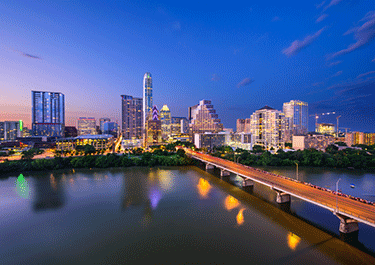 Austin has long been known as a tech tub, and CompTIA AITP's recently published Tech Town Index, which ranked 20 parts of the U.S. based on their viability to tech, bears this out – Austin placed third on a list stacked with steep competition. It's hard to think of a big-name tech company that doesn't have a presence in the city, and the latest company to expand its presence there is Apple, which announced today plans to build a $1 billion campus in the city.
We've all heard of Austin's biggest tech draws. The city's South By Southwest (SXSW) conference and festivals have grown into a flagship event where brands and marketers congregate to debut all sorts of new technology central to the future of culture and commerce. It's hard to think of a big-name tech company that doesn't have a presence in the city.
But beyond that there are – of course – plenty of lesser-known tech spots here. To get the inside scoop on the city's tech touchstones, we got in touch with Austin resident and channel pro Matt Lowen, alliance manager at Verenia, and frequent Austin visitor Aaron Tiensivu, consultant II at Microsoft. Check out these under-the-radar gems of the local tech world.
Go Inside the Indie Video Game Community
The indie video game world is booming with developers who grew up on classic games now possessing the technology and the knowhow to turn the storylines in their heads into the shoot-em-ups, roleplaying games and MMORPGs they love. Austin's Juegos Rancheros collective is at the heart of Austin's indie video game scene, and Lowen has gotten a lot of insight and had a ton of fun hanging out with developers at the group's monthly Q&A/bar sessions.
"Juegos is more convention than trade show," Lowen said. "It's for creators to show off their labors of love and for fans of the craft to experience and love it as well. Plus, beer."
Stock Up on Classic Consoles
While today's video games offer players jaw-dropping complexity and immersion, many of us still dig the classics from earlier, simpler eras. If you're visiting Austin and want to pick up some games you never got around to beating in the '80s, Tiensivu recommends Game Over Videogames. At this Austin-based franchise, you know you're dealing with people who have put in their hours playing Ninja Gaiden and remember a day when the pause button was the only way to save a game. And their selection goes way deeper than familiar Nintendo and Sega systems. You might see stuff like Neo Geo, Super Famicom, Atari 5200s or any of the other legendary hard-to-find machines that were the stuff of your dreams back in middle school.
"Think all of the old game systems of the past, even the rare ones, and they have them in stock with original manuals and games," Tiensivu said.
Geek Out on Next-Gen Photo Gear
If you're the kind of digital photography enthusiast whose wonkishness goes way deeper than what a high-end phone camera is going to offer, then Austin's Precision Camera & Video is the spot to go and geek out. There's plenty of gear, contemporary and retro, and a knowledgeable staff with whom you can talk lenses, lighting and the like. And if you're an early-adopter to the 3-D printing trend, there's some hardware on hand to help you make and fine-tune your creations.
Entertain – and Teach – Your Tech-Savvy Kids
If you have kids and want them to have as fun and educational a time as you do when you're checking out Austin's tech offerings, you can't miss The Thinkery. Formerly known as The Austin Children's Museum, The Thinkery provides kids with innovative, high-tech learning experiences. Hands-on exhibits about fluid dynamics, electronics and the like might spark your kids' interest in tech or even gets them interested in what you're doing in IT.
Check Out DIYers on Tech's Bleeding Edge
Makers, hackers, builders and any other type of DIY creator you can imagine congregate at Austin's ATX Hackerspace, a spot with the tools to facilitate everything from robotics and electronics projects to arts and crafts. Drop by one of their open house events to see how some of Austin's artists are combining the latest creative technologies with good old-fashioned imagination.
Best Spots to Work Remote
Whether you're visiting Austin for a conference, working on a project or just visiting for kicks while working remotely, you're going to need two things – coffee and Wi-Fi. And as anyone who works from home even on occasion knows, not all environments are as ideally set up for remoting as others. What are the places that'll get you caffeinated to your heart's content and streamline your workflows?
According to Lowen, you can find locals hammering away on their laptops at Mozart's Coffee, where you can take in a great view of Ladybird Lakefront from the patio, Vintage Heart Coffee if you're to the east and Radio Coffee & Beer to the south.
Matthew Stern is a freelance writer based in Chicago who covers information technology, retail and various other topics and industries.