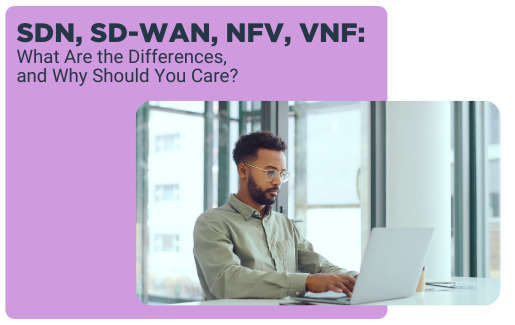 As organizations prepare to refresh their networks, they'll find themselves inundated with a deluge of acronyms and terms that take the same words and initials, jumbling them around into different orders to create new meanings.
These organizations are setting out to improve IT services delivery, not to dive into the world of temporal linguistics. Yet the key to unlocking and understanding the power of these technologies and their relations with one another is crucial as they are not the same thing and do not deliver the same value.
Let's set the record straight on some of these terms so the students of modern infrastructure and network delivery can help perceive the inherent promise of each of them.
Software Defined Networking (SDN) vs. Software Defined Wide Area Networking (SD-WAN)
Software defined networking (SDN) is the parent term from which other acronyms draw. At its simplest form, SDN refers to the trend of separating the network control plane from the data forwarding plane. This allows for central management controls, open standards, interoperability and most important a scalability in how the network is distributed and utilized. This is more of a top-down approach to decision making on the network than SDWAN, which explores different methods.
Software defined wide area networking (SD-WAN) takes the core principles in SDN and applies them to a more localized wide area network. Overall, this means that private WANs can utilize the same centralized management principles that other major carrier service firms use today. As we covered in our previous article in this series, SD-WAN delivers application centric networks regardless of connection type and various data resilience delivery models depending on the service provider themselves.
The major difference between SD-WAN and SDN is the distinct point of data packet delivery. An organization that implements SD-WAN can effectively choose which applications and subsequent data packets receive priority when leaving the WAN to communicate with another WAN.
However, SD-WAN doesn't give control to the data holder's organization once it leaves their internal WAN. In effect, this means SD-WAN must choose which data packets get priority before others. Once they are out the door, they are at the mercy of the other WAN and whichever delivery models, prioritization mechanisms and controllers they are subject to.
Therefore, the combination of SDN and SD-WAN is extremely important. We have yet to realize the full promise of SDN and SD-WAN in sequence of one another. Carrier service operators are still working to integrate SDN technologies into their core to follow the prioritization rules set out by a private SD-WAN without any service delivery interruption. Nonetheless, SD-WAN is still a powerful technology on its own, especially for organizations that have an application-centric value proposition for their customers.
Network Functions Virtualization (NFV) vs. Virtual Network Functions (VNF)
Network functions virtualization (NFV) is an architecture that allows independent functions of hardware platforms. If you are familiar with building out functions on known environment infrastructure with a data center or a virtualized machine, then the core concepts of NFV will not seem foreign or new.
The main benefit of this architecture delivery model is the IT organization can now have more flexibility in which services are loaded into the network without having to purchase more hardware. NFV architecture allows SDN functions to become fully realized, adopted and optimized within the network.
Virtual network functions (VNFs) build off of the parent architecture of NFV. This allows IT organizations to consume network services on generic hardware, sometimes referred to as a CPE or uCPE provider. Ideally, this means IT organizations can download images of firewalls, routers, VPN controllers and even SD-WAN appliances onto a piece of hardware rather than purchasing boxes separately. This essentially creates an app store for enterprise organizations looking to leverage their chosen network functions along with swapping one out for another based on their own personal perception of service.
Customers of VNFs would only be obligated to available options from the parent service provider of the hardware and their individual VNF marketplace. Many marketplaces are not truly agnostic and rather a repository of virtualized appliances that customers prefer to download the instances vs. the procure hardware to use.

So How Does This All Relate?
The main benefit of an NFV delivery model is the inherent scalability and its speed to market when using VNFs. A firewall can be downloaded as a VNF at multiple locations:
A dedicated server
A shared hypervisor
An infrastructure as a service (IaaS) model
A major benefit of SD-WAN is its localized control mechanisms. This means a remote office within a private WAN can have its own specific prioritization models vs. a central policy coming down from the hub site. Since different locations host different types of data and have different security risks, the VNF can be customized in real time. This is similar to exactly what you would leverage in an SD-WAN environment from the parent architecture of SDN that makes it all possible.
SD-WAN and NFV are complimentary services that can be service chained or batched across a distributed model together. One thing to beware of when approaching a network refresh is that many service providers of SD-WAN appliances will begin to promote the VNF capabilities of their platforms and how the customer can easily load images of appliances into their SD-WAN controller as an added benefit.
From a different standpoint, it makes more sense to keep your SD-WAN appliance and your VNF appliance agnostic from one another. In most cases, it makes more sense to provide the known-environment edge device from a carrier service provider where they will have more negotiation power with many VNF manufacturers and even a DevOps environment to support customers who want a sophisticated APIs/SDKs and other tethers into legacy systems.
In short, there are many IT organizations that simply layer SD-WAN onto their existing architecture, manage the application priority paths and see enough value from implementation to be satisfied. Although, IT organizations that are looking to scale, compete and realize cost savings use a complement of SD-WAN and VNF appliances to create the best delivery model for both the IT shop, the internal user and the external customer.
Get more articles like this right in your inbox with CompTIA's IT Career Newsletter. Subscribe today, and you can save 10% off your next CompTIA purchase.