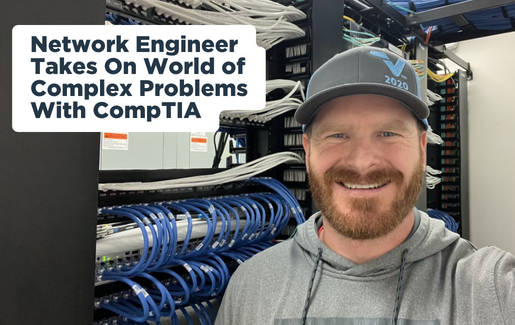 There's no sign of things slowing down for Allan Staheli, network engineer at Vive Financial. As the company plans a move to a new office, Staheli is assuring the network infrastructure will be in place and meet the company's needs. A data center refresh is likewise underway, calling for new firewalls, switches, edge routers and a range of other tech stack improvements. Alongside those big projects, Staheli handles the daily responsibilities of a network engineer, like managing firewall policies, the VPN and facilitating two-factor authentication.
Achieving the technological mastery required to take all this on was not always easy for Staheli. CompTIA certifications, though, helped him focus his naturally critical mind and his love of troubleshooting into a career-ready skill set, and demonstrate it – to employers and to himself.
Staheli did not expect to find himself in the career he now thrives in and loves. Before the Great Recession nudged him into IT, his interests were pointing him toward a technical but very different field – one that would get his hands a little dirtier.
The Drive to Take on IT
Staheli was born a gearhead. As a kid, you could find him disassembling and trying to soup up his RC cars or tinkering with the realistic model engine he got one Christmas. As he got older, he began working on the real thing in the garage with his dad – learning to change an alternator, change brakes and troubleshoot countless other automotive problems.
By 2010, Staheli was seeking a position as an apprentice mechanic. But with the economy lagging, entering that trade was a non-starter. He instead took a job doing manual labor in a greenhouse to get by. But getting by would soon become a more expensive proposition. Staheli's wife, herself a paralegal, became pregnant. The family's happy news meant new financial obligations. He needed a better job, fast.
Staheli had some experience with computing so, looking for a new career path, he took a computer course at Salt Lake Community College. His success in the class showed him a tech career was within reach. The class also introduced him to CompTIA certifications as the job market gold standard. Well on his way to learning a new trade, he would soon discover that, as with cars, there was more going on under the hood with computers and networks than the layperson might imagine.
Turning Down the Road to IT Success
Staheli's wife helped him polish and send out his resume, and soon he landed a temp-to-hire position doing product support for a dental software vendor. Shortly thereafter, his daughter was born. Bills began mounting. $11.50 hourly was not cutting it. Within a few months he jumped to a more technically sophisticated support role at a company called Vital Smarts.
His role at Vital Smarts was exactly what he wanted. Instead of just supporting a software package's features, he was doing actual IT support. Simultaneously, he was grinding away at studying for CompTIA A+. He knew the certification was key to moving forward, but the prospect of taking it was intimidating. He studied for a year, then finally took the first exam.
He failed.
Undeterred, he used a combination of online prep resources for a more focused sort of study. He retook the exam three weeks later, passed, and passed the second exam soon after.
"That gave me a pretty big confidence booster," Staheli said. "I felt pretty good about knowing the basics of IT. And the motivation to make more money was in the back of my mind so I started looking to see if I could boost my career elsewhere."
Boost his career, he did.
Kicking Into High Gear With CompTIA
Staheli's CompTIA A+ certification helped him land a contractor role at local tech company Executech, where he started getting deep into the nuts and bolts of networking. Handling enterprise tech for a thousand-employee clients, he was suddenly building out networks and switch stacks, configuring active directory, and felt like there was a lot to learn. He turned, again, to IT certifications.
Earning CompTIA Network+ for foundational networking knowledge and Cisco Certified Network Associate (CCNA) for the Cisco specifics helped build his expertise and confidence with the systems he was working on.
In 2017, Staheli began pursuing a degree online at Western Governors University. Since CompTIA certifications are built into their course material, he was able to earn CompTIA Security+, CompTIA Project+ and CompTIA Linux+ and have the exams included in his tuition.
Earning certification while working, Staheli found an amazing synergy. Every day, he was doing hands-on work in the field. On his own time, he was studying for certifications. Everything he was working on and learning overlapped and added up, and it paid dividends.
Staheli moved up through a few companies, adding skills and building his resume until landing at Vive Financial. While today his working life is very different than it would have been had he pursued his original plan, he observes that the garage and the data center have some similarities.
"I see a lot of correlation between being an auto mechanic and being in IT," Staheli said. "You're providing a service where somebody brings you something that they know very little, if nothing, about and you need to put your critical thinking and troubleshooting steps into play to find the root of what is going on."
IT Certification: It Keeps You Going
Today, in Staheli's spare time, working on cars takes a back seat to more pressing projects. He is upgrading his sprinkler system, finishing his own basement and handling all the building, plumbing and electrical work that entails.
His hobbies, like his career, are about facing complex problems and overcoming them with expertise. Sometimes it is fun, and sometimes it is stressful, but solving a problem always brings satisfaction. This satisfaction is something he encourages all IT aspirants to seek – even when things get challenging.
"You're going to run into issues that you may not be able to solve," Staheli said. "You're going to run into an angry customer or an exam that you're going to have a hard time passing. My advice is keep going. As you start getting certs it gives you more motivation, more of a drive to try and do better. It's worth it."
Ready to get started? Request a free trial of CertMaster Learn + Labs.

Matthew Stern is a freelance writer based in Chicago who covers information technology, retail and various other topics and industries.