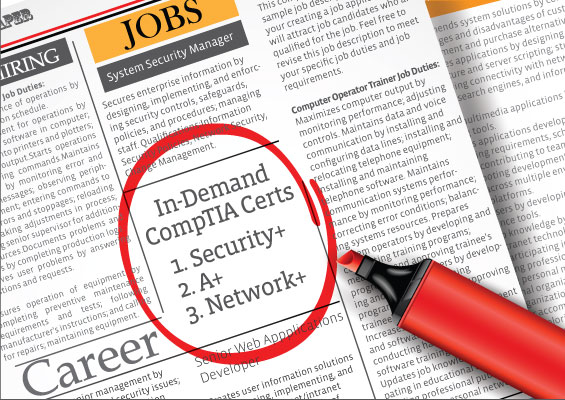 More than 5.2 million IT jobs contributed to the U.S. economy in 2016, with an additional 2 million new job postings throughout the year. Peruse those posts, and you'll find three CompTIA certifications specifically cited as job requirements in thousands of listings: CompTIA Security+, CompTIA A+ and CompTIA Network+. Employers who seek qualified IT professionals want ones with the proven technical skills and knowledge that CompTIA certifications provide.
CompTIA Security+
According to Burning Glass Technologies Labor Insights, nearly 27,000 job postings in 2016 specifically required applicants have CompTIA Security+ certification, a global benchmark for network and operational security. Demand for this certification reflects a constantly increasing need for secure networks and risk management in businesses and organizations worldwide.
In response to CompTIA's IT Career Insights Survey, 93 percent of IT professionals said they regularly work with security and cybersecurity technology. Even more importantly, according to CompTIA's Common IT Employability Skills study, 62 percent of hiring managers in the United States indicated that candidates "must have" these skills to be considered for the job. Hands-on and strategic involvement with security technology makes CompTIA Security+ certification, as well as the forthcoming CompTIA Cybersecurity Analyst (CySA+) certification, a vital part of an IT career, whether you want to enhance your skills for an existing job or apply for a new one.

CompTIA A+
More than 23,500 job postings in 2016 required applicants to have CompTIA A+ certification. Validating the IT skills required by the most common hardware, software and operating systems while remaining vendor neutral, CompTIA A+ has long been a foundational certification for IT professionals.
Employers need and trust that job candidates with CompTIA A+ certification understand computing fundamentals, support complex IT infrastructure and keep equipment running smoothly around the world.
CompTIA Network+
Finally, more than 18,000 jobs posted in 2016 required CompTIA Network+ certification, a vendor-neutral, worldwide networking accreditation that validates an IT professional's ability to design, configure, manage and troubleshoot both wired and wireless networks. Considering 92 percent of IT professionals in the United States worked with this technology in 2016, CompTIA Network+ is a valuable certification for almost any job applicant.
Although most online job postings do not specifically list IT certification requirements, employers know IT pros with CompTIA certifications are more capable of succeeding in their careers.
When accreditations are preferred, CompTIA Security+ is the fifth-most-requested certification in job postings, behind Certified Information Systems Security Professional, Project Management Professional and Cisco IT certifications. CompTIA A+ and Network+ ranked 8th and 11th, respectively, according to the Burning Glass Technologies Labor Insights study.
Clearly, CompTIA professional certifications set job candidates apart in a competitive and constantly growing job market—one the U.S. Bureau of Labor Statistics expects to grow 12 percent in the network and computer systems industry over the next seven years.
Thinking about getting CompTIA certified? Read more about which certification is right for you and take our quiz.