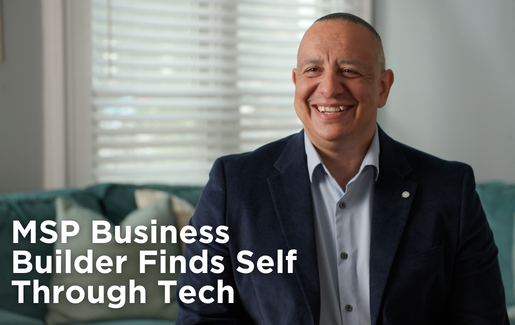 One day in the early-1990s, teenage Juan Fernandez was out in the blistering New Mexico heat making adobe mud bricks with his grandfather. Digging ditches, making, selling and laying bricks, and any other number of physically demanding tasks were what Fernandez had in his future. Not for the summer, but for a lifetime. On that particularly exhausting day, though, his grandfather had a talk with him.
Fernandez's grandfather explained that he made his way in the world, out in the heat, working hard. Fernandez's grandmother, he explained, managed the household by working smart. He told Fernandez that figuring out how to work both hard and smart was the key to life. It was advice Fernandez put a lot of thought into.
"'[Work] really hard at something and [be] really good at it,' was what he was trying to tell me," Fernandez said.
That gem of advice set Fernandez on a trajectory that took him far from his family's well-trod path of manual labor and out into the tech economy. Working hard, he would apply industriousness suitable for hard physical labor in the enterprise tech world. Working smart, he would discover the best resources to cultivate his abilities and build his resume. Using CompTIA to build and validate his tech knowledge and support his business acumen, he would climb from the ground floor of the industry to the top of the MSP world.
But first, he needed to get out of the sun and into an air-conditioned office.
Finding the Future on a 3 ½" Floppy
At 18, Fernandez was working at a loan office. One day, while setting up some computers, he stumbled onto an America Online installation disk. Putting it into one of the computer's drives, he saw the future.
"The internet was a fad at the time, and a lot of people thought you're ludicrous for going into technology, [and that the] internet's going to go away," Fernandez said. "I said, 'No, there's something to this. I have to be part of this.'"
Fernandez applied for an entry-level job at AOL. Without any technical skills, he landed a position answering cancellation calls. But Fernandez was not content with just handling refunds. There was word going around the AOL offices that a certification from an organization called CompTIA could get you in on the tech side of things. He wanted in.
Fernandez started a competition with his coworkers to get the CompTIA A+ certification. He was the only one who actually took the exam; but despite some serious study, it was not easy.
From Devastation to Inspiration
The first time Fernandez took the CompTIA A+ exam, he failed.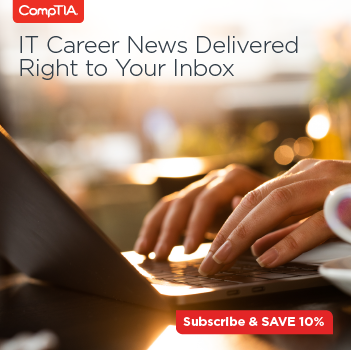 "It took me down and it really pile-drived me," Fernandez said. "I was like, 'Oh man, maybe everyone's right. Maybe technology's not for me.'"
Fernandez's wife, however, lent him some encouragement and perspective. He had invested his time and finances into this exam. He had to give it another shot, which he did – and he passed.
"It was the moment when I took the test and I passed, and all of a sudden, I felt this 'I can,'" Fernandez said.

Back at the AOL office, Fernandez's customer retention numbers spiked. With his CompTIA A+ training, he was giving people unexpected white glove service, helping them troubleshoot their modems and fix their computers over the phone. He was so hungry to show his skills, he was doing tech support before he even hit the help desk.
And when he started doing tech support properly, Fernandez wanted more. He became a certification-earning machine, picking up CompTIA Network+, CompTIA Security+ and a few others. The stage was set for skyrocketing success.
The Business of Building Businesses
From AOL, Fernandez jumped right into the healthcare space, launching facilities and deploying the IT infrastructure. Next, he moved into a government cybersecurity role. He was set up with career security and a path to retirement. But he was discovering that planning and deploying the infrastructure, not securing it, brought him real fulfillment.
"I'm a builder and I love to build things," Fernandez said. "I know I get that from my grandfather that used to build houses. My dad built his own house. They built things in a different way. I build companies, I build people, I build processes. I build technology that empowers people to be successful."
Fernandez launched an IT company and began building everything. He hired people with limited IT skills, in whom he saw the potential to teach and mold. A former truck driver became the lead of the cabling division. Another IT novice was trained by Fernandez into being a department head. He was heading to the top and bringing as many talented people as he could with him. He was still only in his 20s and had built more than many do in a lifetime.
But he soon found himself nearly back to square one.
Bouncing Back and Never Slowing Down
On the verge of what was to be a lucrative acquisition, economic realities hit hard. Fernandez's company was facing bankruptcy. It was a blow to his career, his ego and his livelihood. But just as when he failed his first CompTIA A+ exam, Fernandez was not out for the count.
"You have to swallow a pretty big pill, and you have to get back up and go do it again," Fernandez said.
Fernandez's financial struggles put him closer in contact with the financial services world than he ever wanted to be. But in that, he found an opportunity. He began building out IT for credit unions and banking platforms. Then he moved on to being the IT director of an aerospace company, Honeywell International. Looking for another challenge, he became the CIO of San Juan College, a school that he said wanted to work at because it had his name in it.
After a three-year stint in the C-suite, Fernandez got back into building businesses. He launched a managed services wing of ImageNet Consulting and, in only six years, scaled it to one of the fastest growing practices of its kind.
Building an Industry With CompTIA
Today, as the chief encouragement officer of the MSP Growth Coalition, Fernandez helps managed service providers build the businesses of their dreams. He also lends his expertise to numerous CompTIA advisory councils and is a member of other tech-related boards.
Still building and helping others build, still working hard and working smart, Fernandez lives and breathes the business of technology. Technology is, as he said, what taught him who he is. CompTIA showed him what he could be.
"No matter how far I've come and all the things that I've done, I stop and say, 'I remember that moment when I knew I could,'" Fernandez said. "Because there are some days you've got to dig deep down, and you've got to go find those rays of sunshine because the world's going to pour down on you problem after problem. That's where I think CompTIA gives you that little bit of hope to say 'I can,' and it empowers you to be successful."
Get more success stories like Juan Fernandez's, IT career advice and tech tips sent straight to your inbox with CompTIA's IT Career News. Sign up today and get 10% off your next CompTIA purchase.
Matthew Stern is a freelance writer based in Chicago who covers information technology, retail and various other topics and industries.