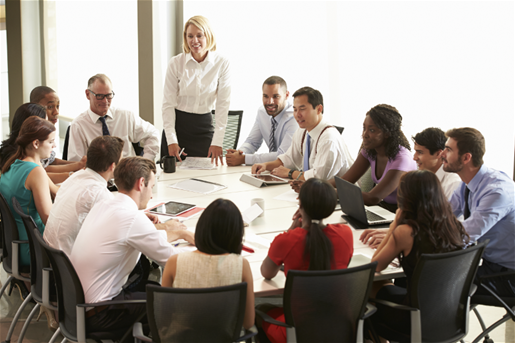 Today's workforce is made up of an unprecedented mixture of generations working side by side. Due in part to the rising average age of retirement and a tight labor market, for the first time in history, five generations are working together—generation Z, millennials, generation X, baby boomers and traditionalists. This means that organizations are tasked with managing an employee base that spans more than 50 years.
At the same time, the rapid pace of technological change is shifting how people communicate at work, which skills are in-demand, and the perception of work-life balance. The result is a workforce in flux.
For organizational leaders, fostering healthy work relationships across many age groups in this environment presents unique challenges, but offers tremendous opportunity. Generational diversity brings a variety of experience, skillsets, personalities and creativity to an organization, allowing its teams to better address challenges and come up with innovative solutions.
But to leverage the strengths of each age group and build a positive company culture, it's critical for managers to be aware of generational differences when it comes to work habits, including communication styles, employer expectations and training needs.
A recent study from CompTIA provides insight into how these groups view issues that are changing the workplace, and how organizational leaders can effectively manage a multigenerational workforce. Check out three keys trends outlined in the report below:
Millennials Strongly Consider Use of Technology When Evaluating the Workplace
Millennials have grown up using innovative consumer platforms such as Netflix, Spotify and Google Maps, so it's no surprise many of them have high expectations for technology used in the workplace. More than seven in 10 millennials say the degree to which an organization embraces technology and innovation is a factor in their employment decision.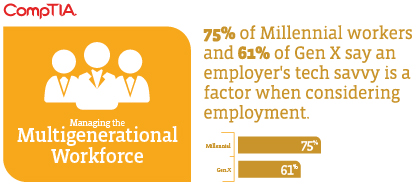 "The technology that is available to you in your role is a huge indicator of the company's commitment to investing in its employees and helping them become more efficient and effective in their day-to-day work," said Liz Bell, manager of sales development at Perfect Sense, a tech company that provides digital content management solutions and services. "This is a trend that anyone seeking employment opportunities should be asking about while interviewing."
Building a healthy pipeline of young talent is critical to any organization's success, so it's important for managers to keep a close eye on how their technology capabilities are perceived by younger employees. While this doesn't mean companies should start chasing every innovation that hits the market, managers should engage with their team to identify a short list of technologies and collaboration tools that are relevant to their business and can help achieve organizational goals.
CompTIA IT Pro member Christina Sereday, a logistics manager at DHL, agrees that organizations should focus on keeping their software and digital presence up-to-date to avoid raising red flags with potential new employees. "Job functions that depend on outdated or obsolete software or technology can and probably will drive away those who are used to working with more efficient, adaptable technology," said Sereday. "Having extremely outdated tech can signal some internal problems which may indicate the company is not a learning organization, not adaptable to change, or perhaps has financial issues."
Older Employees Want More Focus on Making Existing Technology User-Friendly
An equal percentage of millennials and baby boomers responded that they want more investment in cutting-edge technology solutions; however, nearly 40 percent of baby boomers voiced that they want greater focus on making existing technology at the organization more user-friendly.
This means many seasoned workers are eager to embrace new and innovative technologies at the workplace, but many feel they do not have proper guidance on how to take advantage of these tools.
Olivia Outadi, a marketing manager at Gartner, says one-way organizations can address this issue is by promoting cross-generational mentoring opportunities that pair employees from different age groups together.
"Promoting opportunities for knowledge sharing across generations is a great way to strengthen workplace relationships and encourage mutual growth," said Outadi. "Pairing colleagues from different generations can help millennials learn valuable experiences from senior-level colleagues, and older employees can also benefit from the diverse perspective of younger workers like new technology tools and the impact of social media."
Opinions are Mixed on the Impact of Automation
Across generations, awareness of the automation trend is high, but opinions are mixed about how it will impact the future of jobs. Reflecting their longer employment time horizon, millennials voice higher rates of concern over uncertainties surrounding automating technologies (54% vs. 35% of baby boomers).
However, more than 90 percent of all workers surveyed do not actually know someone that has a lost a job due to automation, and any many believe the positives may outweigh the negatives.
"I see artificial intelligence as an opportunity because in theory it will free up menial tasks to allow for more strategic thinking," said Sereday. "Instead of focusing on just getting the job done, AI can allow for higher-level analysis of how the task could be improved and where and how it fits into a larger picture of service delivery to an internal or external customer."
While opinions may vary on issues such as automation, one area of agreement between age groups is the overall value of generational diversity in the workplace. An additional study found 87 percent of U.S. workers believe a multigenerational workforce increases innovation and problem solving.
Today's workforce is changing rapidly, but we're starting to see key trends that will determine what makes up a successful 21st-century workplace. Organizational managers that take time to understand the characteristics of each generation will be able to harness the power of a multigenerational workforce and create a work environment that is designed to feed off each of their strengths.
Want to keep up with the latest workforce trends and network with business professionals of all age groups in your area? Join CompTIA IT Pro today!