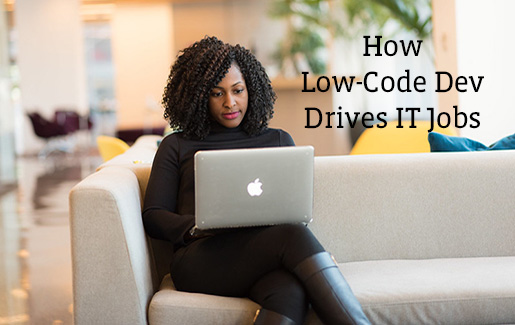 In the IT ecosystem, software has become the 800-pound gorilla. The growing appetite for digital transformation and the increasing complexity of IT systems means that software has become a driving force for functionality and automation. Companies are no longer content to install static packaged software or just use a default application from the cloud. They want to customize, so they've been investing more in software development.
On the job front, it's clear that software is dominant. According to CompTIA's June 2020 IT Employment Tracker, there were 69,300 job postings for software developers in May 2020. IT support specialists came in a distant second, with 17,600 postings. The recent trend of low-code development puts even more emphasis on software … but it also has a surprising effect on other IT jobs.
What Is Low Code?
Low-code development (and its close relation no-code development) is an approach to building a software application through a graphical user interface (GUI) rather than direct coding. As the names imply, low-code development still employs some amount of hand coding, whereas no-code development is almost exclusively performed with the GUI.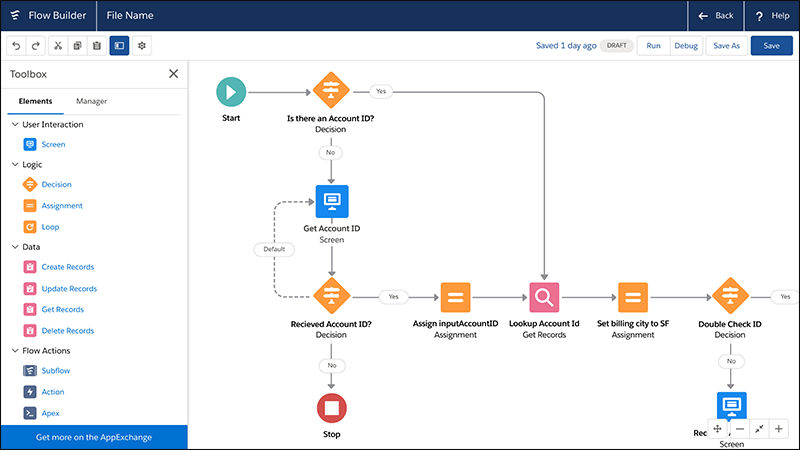 Salesforce's Lightning Design System is an example of a low-code platform.
Image credit: Salesforce.com
The basic concept behind both techniques is the same: By working within a set of defined parameters, individuals without deep programming expertise can build functional applications.
This enables more capability at the layer where companies are trying to build differentiation, so it seems that low code/no code will simply drive more activity and job opportunity toward the task of building software.
However, those aren't the only job opportunities.
More Applications = More IT Infrastructure and Cybersecurity
When something gets easier to produce, people want more of it. It happened with fabrics in the Industrial Revolution. It happened with compute resources when cloud computing emerged. It will also happen with software.
The ability to easily build applications won't make companies devote fewer resources toward the initiative. They will actually want to devote more resources so that they can leverage all the potential.
The situation is similar to cloud computing. When cloud made it easier to operate IT systems, companies didn't reduce their IT spending. CompTIA's latest cloud research found that 39% of companies built new skills or restructured their IT department and 33% of companies purchased new IT tools to maximize their tech capabilities. In a similar way, low-code development will have major effects on two areas beyond software engineering: IT infrastructure and cybersecurity.
First, an abundance of new software means more demand for supporting IT infrastructure:
Server administration — especially virtualization — will be a critical skill. Especially as low-code development drives demand for multiple testing and production environments, there will be a need for skills around setting up and managing physical and virtual servers.
Computer networks will need to be robust to handle all the traffic. Organizations consistently report that network upgrades are one of the surprise costs involved in digital transformation, and network maintenance is critical in a world where data is constantly traveling between multiple locations.
Even the help desk will see new requests as more and more activities go digital. Having more applications available to the workforce will open the door for more problems. Without a solid first line of defense, a wave of new technology can decrease productivity rather than improve it.
The physical IT architecture is the foundation for all technology solutions, and it needs constant maintenance and improvement as companies transform their operations.
Second, cybersecurity will be even more of a full-time job than it is today. With so many new applications being built, new vulnerabilities will be created. Some amount of security can be built into low-code development, but the people building applications may not be security experts, and there will always be complications when different pieces of software are integrated into a comprehensive system.
Cybersecurity experts can proactively set policies around low-code development that will set the stage for a good security posture. They can also participate in reviews as new applications get plugged into workflows.
Even though the software field holds a ton of potential, it's clearly not the only path to consider for an IT career. Software development, IT infrastructure and cybersecurity each require different strengths, and the proliferation of low-code/no-code development means there will be ample opportunity in each area for people with the right skills and desire.
Wondering what your next move in IT should be? Check out CompTIA's Career Roadmap, which highlights job opportunities of five key areas of IT – including software development, IT infrastructure and cybersecurity – and how to get there.