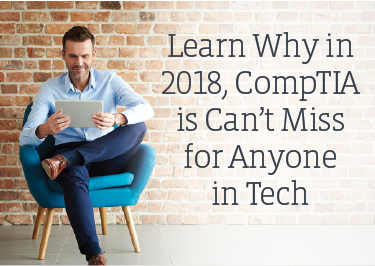 CompTIA works year-round to advance the technology industry on many fronts, serving as the voice and advocate of the IT industry at large; bringing together tech executives and professionals from all markets under one roof to learn and share best practices; certifying IT pros to start, maintain and advance careers; and so much more. 2018 promises to be a big year for the association, with a full schedule of our industry leading annual events set, the roll out of three new communities and councils focused on emerging technologies, insightful research reports and studies, and other tools being released throughout the year.
With all that in mind, we'd like to run down our plans for this year, so you've got it all in one place and get as excited as we are about CompTIA's 2018!
In January, CompTIA debuts its IT Outlook report for 2018. This report identifies the key trends and growth drivers shaping the IT industry and workforce, and serves as your definitive guide for where tech is today and where it's headed. The 2018 report breaks down 12 trends to watch this year, from the growth of the Internet of Things and AI to economic trends and shifts in the workforce. This is essential for anyone in tech.
Expect more to come from CompTIA Research this year as well, including the continuation of its Emerging Tech Series, the Quarterly IT Industry Business Conference Index, and studies on cloud, apprenticeship and the international skills gap. Meanwhile, the association will be refreshing its Marketing Tool Kit, which offers information-packed guides to help you understand the right objectives for each stage of your solution's development, plus matrix templates to help you assess market opportunities and competitive advantages.
February 13 to 14, we host our annual DC-Fly In, at which technology executives and business owners from across the country will turn out in force to learn about important legislative issues that are impacting our industry, and to meet with their state representatives to discuss the political climate for the tech industry. Don't miss out! We will also be honoring this year's CompTIA Tech Champions. Learn more and register today.
And we're just getting started! March 20, 21, the CompTIA Community Forum (CCF), which replaces our Annual Member Meeting, will bring together our most engaged members and industry leaders and get them learning and working together to advance the technology industry. At CCF, you will have the opportunity to engage with eight market-specific communities – a great cross section of the industry and CompTIA membership. Learn more and register!
Then our biggest event of all hits in summer – ChannelCon. Attend ChannelCon for intensive industry training, peer-to-peer learning and exceptional networking opportunities and walk away with new ideas and tools you can put into immediate action to grow your business and advance your career. This year, the event is in Washington, D.C., July 31 to August 2. In fall, we'll be bringing together our UK Channel Community and beyond at the EMEA Member and Partner Conference.
If you can't make it to any of these events, keep an eye out for our CompTIA Regional Member Meet Ups year-round. These are an opportunity to meet with your CompTIA friends and peers. We bring together individuals and organizations driving and influencing the adoption of technology, as well as IT pros, members of our recently launched CompTIA Association for Information Technology Professionals (AITP). Enjoy a night of fun and build your network!
Events aren't all we do (though admittedly we do a lot). This year, CompTIA is launching three new advisory councils based around the exciting, industry-expanding topics of robotics, drones and smart cities. Additionally, CompTIA has just completed the final steps of standing up an Emerging Tech Community. You will have your first opportunity to engage with this community at CCF in March.
Big news for our Premier Members! CompTIA has just made available to its Premier Members TechTalent powered by CompTIA, a talent recruitment and AI assisted career portal built for the technology industry. This is the first of many new benefits coming to CompTIA Premier Members this year.
What's going on over on the AITP side? Plenty. This year AITP is hosting a series of webinars imparting its benefits, and hosting a range of technology events where students, tech professionals and CIOs alike can connect, share knowledge and shape their local IT industry.
Over on the certification side, CompTIA is launching CompTIA Cloud+, a new exam reflecting the maturity of cloud, and CompTIA PenTest+ (CPT), a new intermediate-level cybersecurity certification that validates vulnerability assessment and management skills. CompTIA has mapped out two main career pathways – CompTIA Infrastructure Career Pathway and CompTIA Cybersecurity Career Pathway – and alumni who hold more than one CompTIA certification may now qualify for stackable certifications that demonstrate a depth of knowledge in a particular area.
There's more, but we don't want to overwhelm you! So watch this space in 2018 because if you're in tech, CompTIA is the place to be! If you are not yet a member,
tech organizations can join here
and IT pros and students can join
here
. We are looking forward to serving you this year, and driving our industry forward, together.