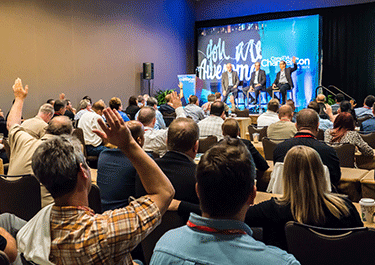 CompTIA ChannelCon, scheduled July 31 to August 2 at Marriott Wardman Park in Washington, D.C., is coming up fast, and one of its biggest attractions – the event's full roster of community business meetings and forums – is rapidly taking shape. If you've never been to ChannelCon before, you definitely want to join one or more of the meetings and forums to find your best space and make essential connections onsite. And if you have been to ChannelCon, you likely already belong to a community that makes you feel welcome, provides you with tremendous value and gives you a place to get involved and share your insights – both at ChannelCon and year-round – so you know this event is a must.
Don't limit your participation to one community meeting at ChannelCon! This year, none of the communities' Business Meetings are booked concurrently and all seven run through Tuesday, July 31. The Community Forums, meanwhile, are spread throughout Wednesday, August 1, and Thursday, August 2.
Let's take a look at everything the communities have planned during the event:
Emerging Technology
The Emerging Technology Community is CompTIA's newest community, and on Tuesday morning it'll share how it's rapidly growing – particularly by revisiting its infographic on the Top 10 Emerging Technologies. Then in the Community Forum on Wednesday afternoon, the community presents The Future is Now! Maximizing Your Profitability with Emerging Tech, in which leaders from the community will help you navigate technologies that have a near-term impact on the indirect market.
Advancing Diversity in Technology
Learn how the Advancing Diversity in Technology Community – celebrating its first year as a CompTIA community at ChannelCon – is increasing the inclusion of underrepresented groups in technology and how you can engage for change in the Business Meeting on Tuesday morning. Then in the Community Forum on Thursday morning, take in Winning the Future through Diversity and Inclusion, an interactive panel discussion among diversity and inclusion practitioners and subject matter experts on investing in pre-workforce talent. This will feature a presentation by CompTIA's Carolyn April on key insights from the association's study Diversity in the High-Tech Industry.
Technology Lifecycle Services
Later Tuesday morning, join the Technology Lifecycle Services Business Meeting for the opportunity to help develop our newest member offering. Then Wednesday afternoon in the Community Forum, don't miss Building a Workforce Designed for Growth, in which you'll hear from business leaders who have made the transition to a monthly recurring revenue business model.
Managed Services
Tuesday morning in the Managed Services Community Business Meeting, we'll give you a virtual tour of innovative, but varied, security services offered by your peers. Together, we'll create a list of key questions every MSP should ask themselves as they choose their own security offering.
Then Thursday morning in the Community Forum, Managed Services presents Whole-Organization Managed Services Innovation. Join author, educator and creative problem-solving facilitator Peter Zapf, who will share The First Idea, an engaging parable that cleverly showcases the hopes, aspirations, fears and uncertainty of those who seek to realize novel ideas. Zapf's aim is to help everyone in an organization get highly innovative.
Advancing Women in Technology
Tuesday afternoon in the Advancing Women in Technology Business Meeting, join us for the first annual CompTIA Spotlight Awards and the CompTIA/ChannelPro Cecilia Galvin scholarship. In addition, we will review our current initiatives, announce our charity selection and offer ways that you can become more engaged with your AWIT community.
Then the Community Forum on Wednesday morning presents Thriving through Disruption vs. Disrupted Career – the Choice is Yours! A panel will share insights and strategies for thriving through new technologies, new business models, new competitors, mergers, acquisitions, retirement, internal reorganizations and employee turnovers.
IT Security
In the IT Security Business Meeting Tuesday afternoon, you'll learn why a key part of building the right security offering for your client's business is conducting a risk assessment, with the community taking a deep dive on the topic. Join us to talk about what you need to thrive in our hyper-connected world and get best practices on how to offer your own assessment.
Then in the Community Forum Thursday afternoon, we'll take a deep dive into the world of AI and IT security in AI – Security's White Knight or the Next Best Friend of the Cybercriminal? AI stands to create a huge attack surface going forward, and the community is getting ahead of that.
Future Leaders
Join us to honor the ChannelChangers Class of 2018 in the Future Leaders Business Meeting Tuesday evening, as well as learn about the community's new initiative CompTIA BYTE (Bringing Youth Tech Education). Then in the Community Forum Thursday afternoon, attendees from CEOs to aspiring leaders will be equipped with tactical management tools based on the Arbinger Institute's framework for Developing and Implementing an Outward Mindset, led by Victor Johnston with Inspired Business Innovations.
See how all this fits together in the full daily agenda for ChannelCon here. And don't delay; register today to experience all this and much more in D.C. this summer! Click here to learn more about CompTIA Communities.