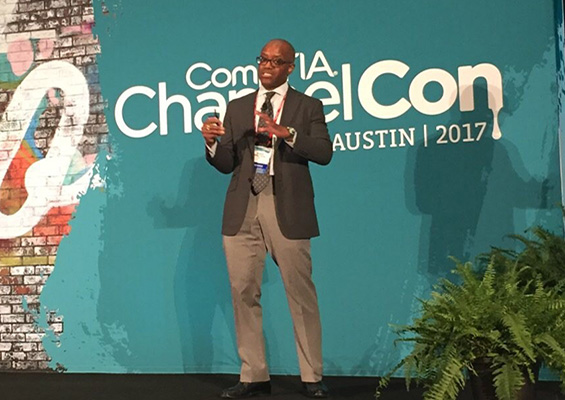 Cybersecurity wove its way through many of the 2017 ChannelCon sessions, whether implicitly or not, and three Track4Techs sessions related to the cloud were no exception.
What Skills Are Needed to Implement the Cloud?
During his session titled Skills Required to Implement the Cloud: A Report from the Industry, DuWayne Harrison of Wipro asked attendees when will cloud become the de facto standard in IT, and 60 percent responded it will happen within the next five years.
"Depending on the size of the organization, the lines may be blurred on roles," he said. "One size does not fit all."
He added that having solid IT skills translates to the cloud because migrating from on-premise systems to the cloud is not that different from traditional IT migrations.
"These are the same things we've been doing for past 20 to 30 years in IT for successful migrations," he said.
Watch the session to learn what skills you need to start working with the cloud.
The Edge Beyond the Cloud
Dave Martin from Cisco looked toward the future, beyond the cloud, to edge computing, in his session Edge Computing: Data Center on Wheels.
"We've had machine-to-machine interaction. We've had devices for a long time, but it wasn't getting everything done," he said. "We needed to create a more broad and enabled network – IoT. That constitutes the reality of living in a world where we'll connect everything."
Martin called the edge, or the fog, an expansion of the cloud paradigm. As the number of devices per person increases and people rely more on devices, they will move even more from consumer to enterprise networks.
"That's an unbelievable network load unless we think smarter, not harder, about how we interact with this information," Martin said.
Watch the session to better understand edge computing and where we're headed.
Two Case Studies on Network Resilience
Jefferson Burson of Harvard and Erika Powell-Burson of Emerson Hospital teamed up to present two case studies that make the case for Building a Resilient Network, which was also the title of their session.
Jefferson shared the story of an attack on Harvard Medical School, which is affiliated with most of the hospitals in the Boston area. What started as an apparent firewall failure evolved into a full-blown distributed denial of service (DDOS) attack.
Harvard partnered with a mitigation service, who helped them get up a solution in a matter of hours on a Sunday night. In the days that followed, it became clear this was a hacktivism attack targeted at children's hospital in protest of how it was handling the case of a 15-year-old girl.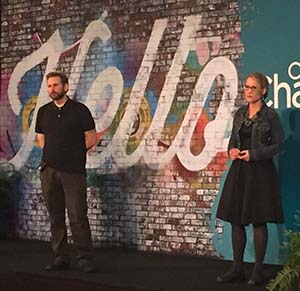 "We realized, it doesn't matter who you are anymore," Jefferson said. "A higher education institution and children's hospital had been hit."
Erika also shared a case of a hospital, Erie County Medical Center, falling victim to a ransomware attack. At 2 a.m., the ransomware screen flashed and infected all 6,000 computers at the hospital. Erika said hackers target hospitals because of the high value of patient data and the fact that hospital systems are not always as secure as other systems, like those of financial institutions.
Rather than paying the ransom, the hospital shut down the computer systems and worked offline from backups. Because the data was stored offsite with a service provider, it was not infected or compromised, and they could access it elsewhere.
Watch the session to learn more about how these two organizations responded to cyberattacks.
Catch these and all the 2017 ChannelCon sessions individually or in our rebroadcast on September 19-20. Register today to hear insights from IT leaders, gain actionable tips to help you do your job better and earn continuing education units (CEUs) toward the renewal of your CompTIA certifications.
All three sessions are CEU-approved for CompTIA A+, CompTIA Network+ and CompTIA Cloud+ recertification.