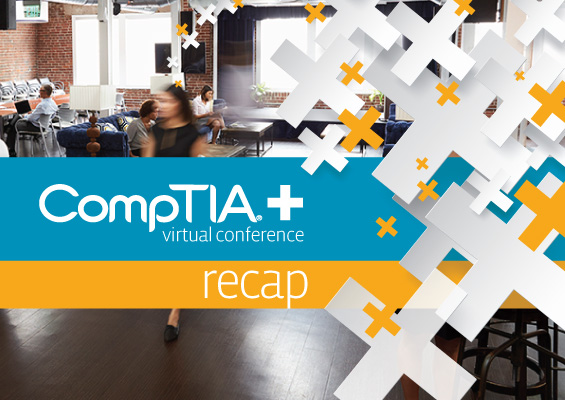 On December 6, more than 3,000 IT pros logged onto the CompTIA Plus Conference, emceed by CompTIA Senior Director, Technology Analysis, Seth Robinson, to learn about Linux security, virtualization, datacenter, cloud computing and more. CompTIA staff teamed up with industry experts for a full day of virtual sessions where IT pros could earn up to four continuing education units (CEUs) from the comfort of their home or office. Attendees also played trivia games, won fabulous prizes and learned about sponsors, including New Horizons, TeamLogic IT and Practice Labs.
The day kicked off with a welcome from CompTIA Executive Vice President Nancy Hammervik and a keynote from CompTIA President and CEO Todd Thibodeaux. Thibodeaux reiterated the need for diversity in IT and highlighted what you can expect to see from CompTIA in the near future.
"We are looking to provide a lot more content in the training space for you, with good simulations, live labs, e-books and other products that will help you become better pros, better prepared for the exams and better prepared for your job roles of the future," he said. "We hope to, over the next couple of years, build out the best of the best content."
Video: Opening Keynote from President and CEO Todd Thibodeaux
Three Considerations to Evaluate Risk
CompTIA Chief Technology Evangelist James Stanger sat down with Astoria Bank Senior Vice President/Chief Technology Officer (CTO) Risé Jacobs to talk about the challenges facing today's IT pros. The pair discussed security at length.
Jacobs noted the three things to consider when determining if and how to mitigate risks.
Is the risk just a cost of doing business?
Should we put in controls to mitigate the risk?
Do we need to transfer the risk, such as through an insurance policy?
"It goes back to the data you're protecting," she said. "Everything has to be sized to what you're protecting."
She added that security doesn't have to be a large expense – there are many things you can do that don't cost much money.
Infrastructure as the Bedrock of IT
CompTIA Senior Director, Certification Products, Teresa Sears introduced the idea of CompTIA Certification Pathways and CompTIA Stackable Certifications. She explained that the two pathways – infrastructure and cybersecurity – show progression of a career within two of the four main IT functions. And stackable certifications recognize accomplishments along the pathway, as each IT pro may go through the pathway in a different way.
"The way we present the pathways appears linear, but you don't really need to approach the certifications in a linear fashion," Sears said. "You can combine the certifications depending on your career goal and desired next step."
She emphasized that the core certifications – CompTIA A+, CompTIA Network+ and CompTIA Security+ – lay the foundation for any IT career.
"Infrastructure is the bedrock of IT operations," she said. "Any business needs some amount of IT infrastructure in order to function." She added that anyone looking to get into emerging tech, whether it be the cloud, Internet of Things or something else, needs to know the skills validated by A+ and Network+, like securing endpoint devices and understanding connectivity.

Video: CompTIA Certification Pathways: Stackable Credentials and Infrastructure
Virtualization, ERP, Linux and More
In addition to Jesus Vigo, network infrastructure district technician for Miami-Dade County Public Schools, on virtualization best practices and Andrea Di Fabio, chief information security officer and associate chief information officer at East Tennessee State University, on ERP migration, we heard from Stanger again on the topic of Linux security.
"If you want to become a person who has skills that are in demand, Linux is part of that deal," he said.
Stanger reinforced the idea that Linux is table stakes for security. He explained how many cloud services use Linux, and it serves as the foundation for things like digital transformation, security, mobility and IoT.
"Linux is everywhere," Stanger said.
Video: Linux Security: What You Need to Know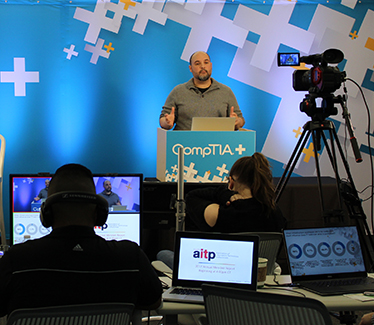 If you missed a couple of sessions or even the entire event, you can still catch up with the on-demand videos. We've got everything from the welcome to the wrap-up posted so you can watch all in one sitting or as you have time. You'll even earn CEUs toward the renewal of your CompTIA certification from the four educational sessions. To get started, go to the CompTIA Plus Conference website and click on Schedule. Then select the session you want to watch.
Not sure how many CEUs you need? Learn more in the CE section of our website.