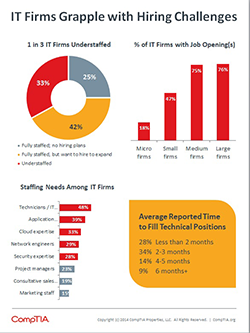 The dilemma: Companies have job openings or want to hire in order to expand, but are fearful of a slowdown in new business orders. This scenario has been the default for companies across the IT channel during the past few years of economic uncertainty.
New research from CompTIA suggests we may have finally reached a point of sustained stability.
According to CompTIA's recent Q2 IT Industry Business Confidence Index, executives feel more positive about the overall economy and growth prospects across the industry.
Consequently, IT companies are better positioned to invest in headcount. According to the data, 1 in 3 IT firms report being understaffed to some degree, with an additional 42 percent wanting to hire in order to expand. Understaffing may result in postponing or canceling projects, or engaging in prioritization that favors short-term goals over investing for the future. Not only does full employment benefit those seeking jobs, but companies that have the staff bandwidth to pursue new opportunities benefit over the long term as well.
During Q1 of this year, companies across the nation posted nearly 600,000 job openings for core IT occupations, an increase of 26 percent year-over-year, according to Burning Glass Technologies Labor Insights. Keep in mind that the dynamic nature of the tech space means there is a degree of churn as new innovations replace older ones. From March 2013 to March 2014, approximately 112,000 core IT jobs were added net, bringing the total to 4.17 million, according to the Bureau of Labor Statistics. The modest 2.8 percent growth may seem slightly underwhelming, but when viewed in the context of GDP growth or IT industry growth, the figure is in line with expectations.
For those currently in hiring mode, a number of challenges exist. Fifty-seven percent of IT industry executives rate the hiring environment as challenging or very challenging. This may stem from a limited pool of candidates in their region, candidates lacking the desired skills or experience, mismatches in salary requirements or simply the wrong fit.
For more details on IT industry business confidence and hiring trends, see the full report, which can be accessed in the member resource center of CompTIA.org or the slides, which can be accessed on SlideShare.
Tim Herbert is vice president of research and market intelligence at CompTIA.