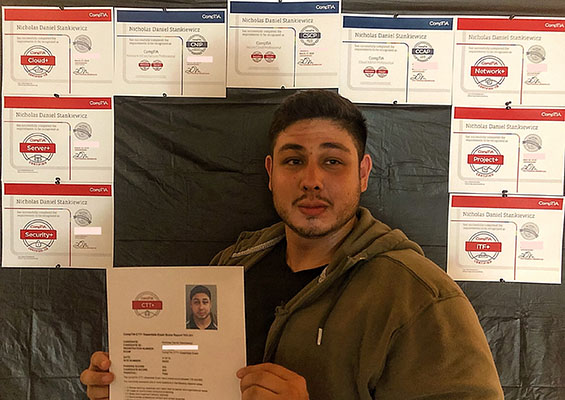 Nicholas "Stank" Stankiewicz joined the Marines after high school and served for five years in various intelligence, IT and security roles. He's now using the Post-9/11 GI Bill to get a cybersecurity degree while simultaneously earning more IT certifications to prepare him for his next move and also help other veterans get into IT.
How did you get into IT?
I was born and raised on Oahu and graduated high school in 2013. I joined the Marine Corps because I lacked direction and discipline. After scoring a 99 on the Armed Services Vocational Aptitude Battery (ASVAB), I was assigned to be an intelligence surveillance reconnaissance (ISR) systems engineer. I served for five years filling different intelligence, IT and security roles.
I started as a private and worked my way up to sergeant within three years by devoting myself to the mission and my Marines. My team chief gave me the opportunity to take a CompTIA Security+ course in 2015, and that was my first IT certification.
My supervisor and I leveraged our certifications to justify taking on more responsibilities. For example, we helped administer systems in the Intelligence Analysis System Family of Systems (IAS FoS) tech refresh in garrison to lighten the load for other communications Marines.
This was just one of many instances that helped persuade me to continue working in IT. None of that would have been possible without the support of my mentors, supervisors and other senior section leaders that respected our desire to help improve operations.
I'm currently using the Post-9/11 GI Bill to study cybersecurity at Leeward Community College as a full-time student. I have also been in touch with the United States Veterans Initiative (U.S. VETS), which provides services for veterans, transitioning service members and their families. Next summer, through U.S. VETS, I'll be training veterans who are homeless to get CompTIA A+ so they can start IT careers.
What IT certifications do you have, and why did you get certified?
I was initially interested in pursuing CompTIA Advanced Security Practitioner (CASP+), but I realized it would be better to earn lower-level certifications first and work my way up. Then, when I get the more advanced certifications, they would automatically renew the lower-level ones.
I was helping someone study for CompTIA Security+ to get a better job, and I came to realize I knew more than I thought I did, so I decided to validate that knowledge and got certified.
I now also hold the following IT certifications:
These have led to the following stackable certifications:
CompTIA Secure Cloud Professional
CompTIA Cloud Admin Professional
CompTIA Network Infrastructure Professional
I'm scheduled to get CompTIA Cybersecurity Analyst (CySA+), CompTIA PenTest+ and CASP+ this summer. I'm also taking CompTIA A+ with a few individuals I'll be helping to get IT jobs.
I want to earn my CompTIA Certified Technical Trainer (CTT+) certification this year, too, so I can train others on CompTIA A+, CompTIA Network+ and CompTIA Security+. I'm trying to be prepared as possible for when I'm training others so I can adapt my material to anyone's learning style.
I don't have any non-CompTIA certifications yet, but I plan to get Offensive Security Certified Professional (OSCP), Certified Ethical Hacker (CEH) and Certified Information Systems Security Professional (CISSP) before the end of the year.
How do you train for IT certifications?
I usually buy or borrow a certification prep guide and read the entire book, but I don't take any notes. As I go through the practice questions, I take note of everything I got wrong and every term I can't define immediately.
I then take the list of things I don't know to the internet. I search for articles and videos for every concept I need further clarification on. My experience from the military and knowledge gained from classes and previous certifications helps solidify what I learn by re-framing my experiences using the appropriate terminology.
While I was taking my exams during the school semester, I tried to stay ahead in my classes so I could justify taking off a day or two before my certification exams for extra review time. I'd generally spend a total of 10 hours at a public library prior to an exam and at least 5 hours reviewing the day of.
I have always gone in well-prepared, and I wasn't afraid of failing. I haven't failed yet, but I won't beat myself up if I do. Everything is a learning experience for me.

Learn how someone else prepared for her IT certification exam with our certification journey blog series.
What advice would you have for someone preparing for their first IT certification?
Take the extra time to review the exam objectives. Also, don't be afraid to ask for help from others who might be able to explain concepts in a way that is better for you to understand. And take advantage of online resources like Reddit, YouTube and Wikipedia.
For other veterans who want to get into IT from the military, don't lose the discipline you developed, and don't be afraid to ask for assistance from others.
I'm no one special. I was a C student in high school, went to Alcoholics Anonymous (AA)/Narcotics Anonymous (NA) meetings and was a patient at Wounded Warrior Battalion. I have physical issues and am on psychiatric medication. But I still try to push and better myself because dwelling on my past does nothing to help me prepare for my future.
I believe anyone is capable of greatness if they are willing to put in an honest effort and have a strong support network. I just got my grades for the semester, and I have a 3.9 GPA this year in community college. I am trying to do my best to provide that support for my peers, and I have the perfect opportunity to do so while I'm being paid to go to school with my Veterans Affairs (VA) benefits.
We are all doing the best we can do with what we know and with the circumstances we are given. I hope to help improve the circumstances for others and inspire others to do the same.
Wondering where to start your IT career? Check out our free course, CompTIA On Ramp, to learn how to get into IT.