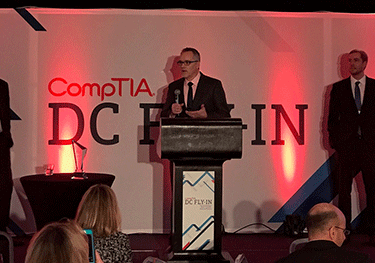 On February 14th, we honored our technology policy champions at the CompTIA Tech Champion Awards dinner at Fly-In. The Tech Champion Award is given to one member of the House of Representatives, one member of the Senate, and one executive from industry who has exemplified leadership in the technology sector and have championed policies that advance the country's information technology (IT) industry. This year's CompTIA Tech Champions are New Jersey Senator Cory Booker, Texas Representative Will Hurd, and North Carolina businessman Ron Culler the 2017 CompTIA Tech Champions.
Award Recipients
During the awards dinner, U.S. Senator Cory Booker (D-NJ), said technology was the force that changed his family tree. "[Civil Rights] Activists got my dad a tech job and that changed our lives forever. He was the first black person to hold an IBM sales position in Northern Virginia. Technology is the great equalizer…I've experienced first-hand how it opens up doors and helps the common man achieve their dreams." He stressed, "We need technology and innovators like you to push the envelope…people like you who are creating a bolder future for others."
Since his election to the Senate in 2013, Senator Booker has worked closely with the technology industry to support several key policy initiatives. Through his work on the Leveraging and Energizing America's Apprenticeship Programs (LEAP) Act, Senator Booker has shown a deep understanding of how apprenticeships can be a powerful tool in preparing our workforce for a technology driven economy.
U.S. Representative Will Hurd was recognized next. "In San Antonio, we are training 42 middle school teachers to teach 5,000 kids to code for algebra. I wish I got exposed to coding when I was in seventh grade. I want to thank you… this is possible because of companies like yours, so please continue to support initiatives like this."
Representative Hurd brings a unique perspective to Congress from his past careers in the CIA and the cybersecurity industry. His experience has allowed him to become a technology leader in Congress, pushing for greater STEM education and a Cyber National Guard that would boost our cyber workforce. As cyber threats continue to grow across the country, Rep. Hurd's background will be a valuable resource in protecting our country's critical infrastructure.
Ron Culler, CTO, Secure Designs Inc. was the final award recipient. "I am really honored to receive this award. This is a group of people that cares about our industry and our country. The work done by CompTIA on the federal level has been amazing and I look forward to the years coming up to help influence the foundational piece of all business in the U.S. – information technology. What we do empowers everything. We are the drivers so we need to have a voice. As I have always said, the geeks shall inherit the earth!"
With more than 30 years in the technology and security field, Ron Culler brings a wealth of IT knowledge and experience to the table. He has been an instrumental part of the CompTIA organization through his leadership on the CompTIA IT Security committee and participation on the CompTIA Advisory Council on Policy.
And that concludes Day One of our 2017 CompTIA Fly-In!