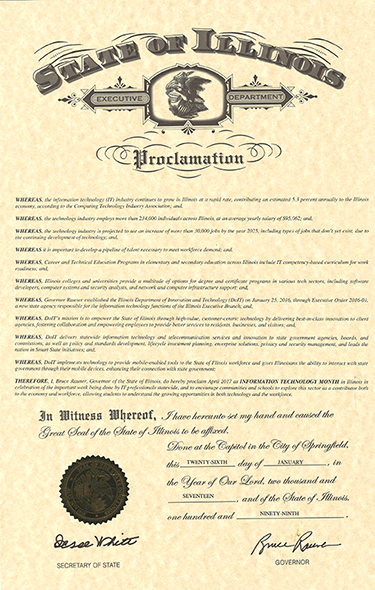 For the first time, Governor Bruce Rauner has proclaimed April 2017 as Information Technology Month throughout Illinois! In celebration of this new designation, organizations across the state are hosting a variety of events to demonstrate the importance of this great industry and encourage students of all ages to explore a career in this growing field.
Wilbur Wright College will be hosting events centered around resume creation and interview practice throughout the month for students enrolled in Information Technology coursework. Additionally, the Illinois IT Learning Exchange will host a teacher professional development workshop at Moraine Valley Community College to help support teachers in further developing their IT awareness and skills, and help support creativity and problem-solving in the classroom.
On April 12, Creating IT Futures, in partnership with Chicago Public Schools Early College STEM Schools will host a display at the James R. Thompson Center from 11:00 am – 2:00 pm to highlight the work of students who participated in the "Innovative Internship" program which gave students the opportunity to test the waters in careers such as web development, computer science and programming and networking with the goal of teaching students core skills necessary in the IT world.
On the professional side, the Illinois Technology Association is launching the Tech Challenge Teaser, an individual based programming and coding skills competition for current university students in the US. Participants will compete for the chance to win $1,000 and to be recognized at ITA's Tech Summit in May!
Ending the month on a high note are two great events for students: On April 29, the Illinois IT Learning Exchange in partnership with Creating IT Futures is hosting BUILD IT: The 2017 Raspberry Pi Student Application Challenge. This great event allows students to create their own applications and have them judged by IT professionals. Prizes will be awarded to 1st, 2nd and 3rd place winning teams. All student teams will receive a Certificate of Achievement for participating, as well as a gift bag of goodies. The second event, hosted by the College of DuPage is STEMCON. This family friendly event encourages scientific discovery through hands-on Activities and demonstrations while providing the opportunity to learn about scientific careers from actual researchers, industry representatives and STEM educators.
Thank you so much to Rauner for his acknowledgement of the information technology industry and we look forward participating in these great events. For a full list of events throughout the month go to http://www.creatingitfutures.org/ITmonth. We hope to see you there!