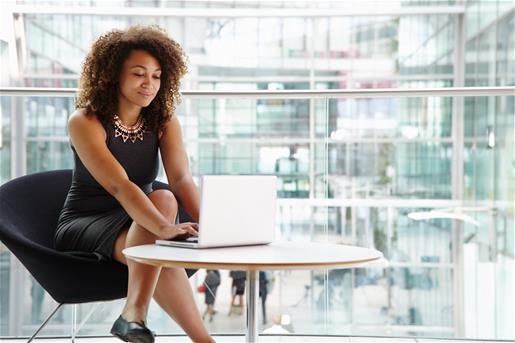 You probably have a LinkedIn profile. You also probably have a bunch of connections. And you likely have a summary of your professional past published. But, where do you go from there? While many of us know we should be using LinkedIn to network, a good portion of us don't necessarily know how to do that. The first step is creating a profile that your peers, partners and clients will want to engage with. Put these five tips to use and you're on your way to going all in on LinkedIn.
Pick a Professional Picture
What exactly do you want your profile photo to say about you? An eye tracking study by TheLadders shows that when recruiters skim LinkedIn profiles, their eye goes to your profile photo first. A professional photo should be a good quality (not fuzzy) headshot (shoulders on up) showcasing you in business casual attire. A great smile always helps too!
Hack Your Headline
Right below your name and your photo is your headline. If you don't change it LinkedIn will automatically populate your current job title and employer—and that's, well, boring. Bringing some creativity to this space will help you get more eyeballs. Stay away from your official job title, or a vague description like "IT Professional" and instead use specific skills you possess to create a descriptor that draws people into your profile. Headlines like: Nimble Network Specialist, Cybersecurity Star, or Help Desk Hero will catch the right attention.
Craft Your Online Elevator Pitch
LinkedIn gives you the opportunity to brand yourself with a summary of what you bring to the table. Use this space to complement (not duplicate) your resume. When you are writing think about your target audience and craft your message with an appropriate tone that shows some personality. Don't forget to edit and spell check!
Show Some School Spirit
If you're a new graduate just entering the workforce, beefing up the education section is really important. Make sure you add the schools you have attended, degree(s) earned, topics of study and if you're really proud of it—your GPA. Adding your education to your profile not only gives recruiters more to work with, it also ensures you pop up in more searches and opens you up to finding people to connect with in student or alumni groups.
Highlight Your Certifications and Skills
This is the place to brag about yourself—don't be modest! You put in the hard work, so list any certifications or specific skills that make you stand out from the pack. Highlighting these skills not only enhances your profile, but, will also allow you to pop up in a search for candidates that possess certain abilities. This is where you list your CompTIA certifications and back it up with the soft skills you've mastered, like: communication, creativity, flexibility, leadership and teamwork.
Once you've filled out your LinkedIn profile accordingly you'll be ready for the fun part – sharing and engaging with others. Stay tuned for a second installment of Going All in on LinkedIn to learn how to start conversations and begin socializing with people who can take your career to the next level.

Want more tips on how to maximize social media for your career growth? Join now and get access to our guide, How to Use Social Media to Get an IT Job.