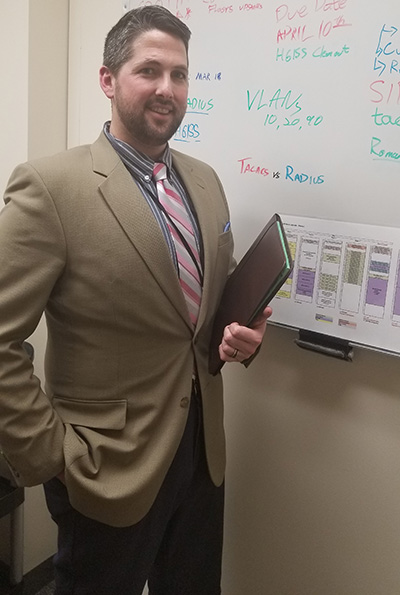 David Kent was officially a civilian as he drove through the Chicago suburbs on his way home from his final military medical checkup. In the U.S. Marines, Kent had risen to the level of staff sergeant and amassed a set of valuable tech skills and CompTIA certifications to back them up. His next move was to join an aerospace and defense company as a classified network engineer. Signing out of the military and then on with a military contractor wasn't a move Kent took lightly.
"It was very important for me to have a job that I could rely on," Kent said. "It was such a relief and security for my family moving forward."
With a lucrative, highly skilled IT position in his immediate future, Kent's life was a mirror image of what it had looked like less than a decade earlier. But when he was laid off during the Great Recession – before his CompTIA certifications and military service – he struggled to see his future and the path forward.
From the Automotive Industry to IT
In 2006, the economy wasn't doing too bad. Kent, a recent high school graduate, stepped directly into a union job working on the line at the Chrysler plant in Belvidere, IL. He was making a solid wage and planned to be in the position for a while. Kent started laying down the infrastructure for his future; he bought a house, got married and had kids.
When the housing market crashed two years later though, things changed. Kent, then 23 years old, was laid off from the Chrysler plant and went from making $25 per hour to working whatever odd jobs he could find. His paychecks became less reliable, but the bills kept coming on time. He was stuck. The military looked like the best option to build his skills and weather the economic storm.
Kent also knew that he wanted to work with computers, whatever that meant. The extent of his computing knowledge at the time was the Ctrl + Al t+ Delete keyboard command on a PC. He recognized, though, that working with computers was the way to a sustainable, fulfilling career.
Get Ready to Get CompTIA A+
You have many training options to help you prepare for your CompTIA A+ exam, including self-study materials, virtual labs, videos, online classes and in-person career prep classes. In 2020, CompTIA Tech Career Academy is bringing its IT-Ready Technical Support program to classrooms, so that students get the training they need to earn CompTIA A+ and launch their IT careers on the help desk.
Learn More about the CompTIA Tech Career Academy.
Getting IT Certifications and Experience in the Military
In 2010, Kent became a Marine and went directly from basic training to the military's job prep crash course. His computing knowledge quickly skyrocketed from that single key command to a working understanding of IT infrastructure. He earned his CompTIA A+ certification in short order and was on the path to an IT career.
By 2013, Kent was far from a tech novice. He was facilitating tech training for military reservists from across the country, establishing and maintaining network connectivity for everyone who came through. He was ready for a more challenging role, but he needed a U.S. Department of Defense (DoD)-approved cybersecurity certification. He then earned CompTIA Security+ to advance his career.
From the Military to Civilian IT
Since enlisting, Kent had pictured himself as a lifetime military man. As he climbed the military IT ranks, though, his desire to build his tech skills was eclipsing his passion for military service. He began to see a civilian tech career as the next step.
When it came time to reenlist, Kent's CompTIA Security+ had expired. To compound his concerns, he had gone directly from high school to the workforce and then to the military; meaning he still didn't have a college degree. However, when he began his job search, he was happy to find that his combination of hands-on experience and CompTIA certifications were going to take him far.
While the interview process had been a long one, his whole job search had been a far different experience than in the early part of the decade. Thanks to his military security clearance and his CompTIA certifications, competitive salary offers came his way – and he got to choose the one that best suited his needs.
Kent's first order of business as he began his new job, was to re-earn CompTIA Security+ to both comply with DoD requirements and keep his knowledge fresh. Having an expired cybersecurity certification got his foot in the door, but it was important to him and his employer that he keep it up to date.
As Kent steps into the next phase of his career, he's not taking the new comfort he's found as a reason to slow down; quite the opposite actually. After earning CompTIA Security+ for a second time, he'll be on his way to higher-tier CompTIA certifications. He also plans to finally get a traditional degree, which will check another box for him and increase his earning power.
Whether it's a degree in IT, project management or even an MBA, he's got plenty of room to grow, and an endorsement from CompTIA will help him along the way.
"[CompTIA certification is] a great validation going forward," Kent said. "This is just the beginning."
Wondering if CompTIA Security+ can help get your foot in the door of IT? Download the exam objectives to see what skills the certification covers.
Matthew Stern is a freelance writer based in Chicago who covers information technology, retail and various other topics and industries.