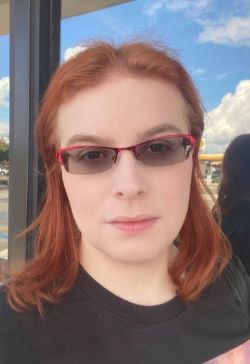 Kira Hays has always had an interest in IT, inspired by her mother, who worked in IT. Her first computer was an Apple Macintosh Performa 575, and her mother encouraged her to tinker with it.

"I was very curious about IT and had shown an aptitude in school for it. My mother gave me a giant book called the Macintosh Bible and said, 'Read it. Learn it. And have fun,'" Hays said. "She gave me all the software, and if I broke it, I fixed it. That's how I learned. I learned by doing."

From the Military to IT: Transferrable Skills
After high school, Hays joined the U.S. Navy, where she learned troubleshooting and repair. While working on hardware, she became intrigued by computer networking.
"I love being able to get into the inner workings of things, and IT really let me do that," she said. "I also really enjoyed the many layers of IT – coding, programming, web design, hardware, building and troubleshooting."
Her interest in networking led to cybersecurity as well.
"I realized hey, this is cool, but we're going to need a way to secure this because I can see everyone else's packets passing through the wireless network," Hays said.
The military also gave Hays the soft skills – or power skills – that IT professionals need. She gained discipline and determination to stay the course even when something wasn't working. She also learned creative problem solving because, as she said, the Navy does not take no for an answer.
"No, I don't know and can't were not options," she said. "We had to think outside the box and come up with creative solutions."
She also gained customer service skills working at a Naval hospital answering phones and helping patients with medical records or giving them directions within the hospital.
"It gave me a feel for customer service in general and the patience to deal with people who may be less than happy," Hays said.
Getting into Cybersecurity After Retiring from the Military
After 5 years, Hays medically retired due to post-traumatic stress disorder (PTSD). She tried pursuing a college degree in network computer defense, but her PTSD prevented her from successfully completing courses, so she put college on hold.
Hays wasn't sure what to do and needed to figure out a different route. All she knew is that she wanted to work in IT, in cybersecurity specifically. She heard about the Covered Six Security Academy and thought that was a good option for her.
"I knew in IT, having that college degree is well and good, but once you graduate, it's already obsolete," she said. "If you have certifications, you're more in tune with what's actually happening."
The five-week bootcamp seemed just right for Hays and covered three CompTIA certifications:
Getting 3 CompTIA Certifications in 5 Weeks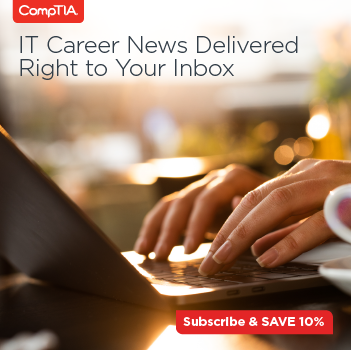 Since 2013, Hays has had a home network with two servers: one running Microsoft Windows Server 2016 Datacenter and another running virtual machines on unRAID. She configured her network to simulate a corporate environment, running everything from Active Directory services to incorporating certificate authentication logging into her network.
"This isn't just a hobby," Hays said. "I live and breathe IT."
So, despite not working in IT, her home lab helped her keep her skills fresh. This hands-on experience gave her the knowledge and confidence to earn CompTIA A+ and CompTIA Network+ in quick succession. But CompTIA Security+ was a bit more difficult for her.
She used online training and a CompTIA Security+ book to supplement her classroom study. She failed her first practice exam, so she hit the books again to keep at it. Because she already had a lot of the hands-on skills, she focused her studies on what was in the book.
Although her goal was to pass the exam and get her certification, ultimately she was trying to learn the skills she'd need on the job, so she wanted to do more than just cram.
"I was doing it because I wanted to learn, not just because I wanted to pass the exams," Hays said. "Cramming – you learn it, dump it and on to the next. IT builds upon itself. If you dump it to move onto the next thing, you're not taking in what you need to learn for the next thing."
This became even more clear to Hays when she sat for her CompTIA Security+ exam.
"There were questions on the Security+ exam that were similar to what I had seen on the Network+ exam, or even the A+ exam," she said. "While you can take these exams independently of each other, they do build on each other."
Although she still had nerves going into her exams, the hard work and extra studying paid off, because Hays passed all three exams.
"When I saw that I passed, that moment hit really hard, especially with Security+," Hays said. "It gave me hope that I can do this, that I have the capability to push myself if I actually take the time to do so."
Hays is now working toward getting CompTIA Cybersecurity Analyst (CySA+).
From Student to Teacher
After completing the boot camp and earning three CompTIA certifications, Hays was offered a dual job role with Covered 6 – as a member of the Cyber Impact Team and as an assistant instructor.
On the Cyber Impact Team, Hays does any number of cybersecurity tasks – from scripting to imaging to remediation – which keeps her on her toes. Despite moving into a teaching role, Hays said in IT, you're always learning.
"I'm constantly putting myself out there and talking to friends in the field and getting info from them," she said. She talks with other IT pros in online communities and regularly communicates with her mentor. If she comes across something she doesn't understand, she bounces ideas off her mentor or other IT pros, learns from them and researches more on her own.
"The IT field requires a certain amount of passion and willingness to go above and beyond. I don't like to bring work home, but if you are passionate about this field, you're probably doing it anyways," she said. "When you have that amount of passion, you can get through anything that you want."
Get into IT with CompTIA certifications. Download the exam objectives for CompTIA A+ and start studying today.