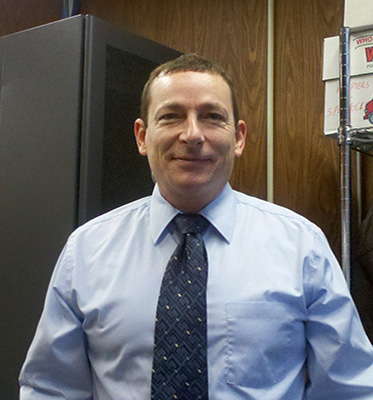 When American automobile racer Bobby Unser said, "Success is where preparation and opportunity meet," he didn't know he was describing Dave Bunnell's IT career. But preparation and opportunity—along with key CompTIA certifications — are exactly what have made Bunnell's evolving career a successful one.
Electronics Background Plus Informal IT Skills Yield Future Career Opportunities
Bunnell was an electronics technician and field engineer in California and Arizona for more than 15 years, enjoying stable employment, competitive salaries and business travel that took him around the world. But when the last company he worked for divested its business units, he either had to move to keep his job or find a new one. Rather than uproot his family, Bunnell instead spent the next five years contracting electronics and other technical work in several states. The work was lucrative, but not ideal.
"During this time, I started thinking about what to do to jumpstart my career and bring back the stability and career growth I had once enjoyed," Bunnell said.
As he assessed his options, Bunnell realized he had developed quite an array of IT skills in recent years. Family and friends often called on him for help with computer and internet connection issues. He helped build home PC networks, fixed hardware, installed software, configured systems and performed troubleshooting for computers, printers, modems and networking equipment whenever someone called.
"I didn't always get paid for everything, but I was having fun, and getting paid wasn't important at the time," Bunnell said.
After moving to Ohio, Bunnell applied for a full-time PC technician position with an IT service provider. Although he hadn't formally worked in IT before, he was hired, and this opportunity became his next career move.
"I made the leap from the electronics field to IT—and I didn't look back," he said.
CompTIA Certifications Set a New Career in Motion
Three months into his new position, the company asked Bunnell to earn CompTIA A+, CompTIA Network+ and CompTIA Server+ certifications. Fortunately, his years of IT experience had prepared him for the task. He worked quickly, using courseware that included practice tests.
"I was stunned when I passed the exams on my first attempts," he said. "With those first three CompTIA certifications, I felt like I was on 'the inside.' I had a whole new confidence."
"At the time, I didn't realize how much businesses value CompTIA certifications," Bunnell said. "But if you look at job postings, they require or prefer certification so they don't have to guess whether you know what you're doing. CompTIA is well respected, and its certifications tell an employer you are qualified to do what you're tasked to do."
Bunnell's quick certification success resulted in a promotion to a systems engineering position, a significant raise and an assignment to a data center, where he supported new installations and managed warranty exchanges. For the next three years, he thrived in this position and even finished his bachelor's degree in business management.
CompTIA IT Certifications Roadmap Leads to Success
Preparation met opportunity again when Bunnell was recruited by a government contractor and offered a systems administration position.
"When I started in IT, I had my sights set on systems administration," he said. "I later learned my CompTIA certifications weighed into the decision process when I was hired because they are approved baseline certifications for the U.S. Department of Defense's 8570.01 directive."
I consider my career change from the electronics field to IT a great success. My education in electronics and self-taught experience got my foot in the door, and my CompTIA certifications have allowed me to advance and thrive.
Amid high-profile hacking incidents and the need for increased cybersecurity, Bunnell set his next certification goal: CompTIA Security+. He prepared by combining CompTIA CertMaster with additional books, online practice tests and flashcards.
"CompTIA CertMaster laid out the exam objectives and established the foundational knowledge I needed to pass the exam," Bunnell said. "CompTIA CertMaster gets the motor running, and the other training materials provide the fuel. I highly recommend it."
Bunnell's certification roadmap isn't limited to CompTIA. His CompTIA A+, CompTIA Network+ and CompTIA Server+ certifications have been the perfect foundation for earning Hewlett-Packard, Dell, Lenovo, IBM and ITIL credentials.
"I greatly value my CompTIA certifications," Bunnell said. "CompTIA is vendor neutral, so its products offer 'the big picture' of technology and support all of the other vendors. They have allowed me to grow and thrive in my IT career, and, most importantly, they give me confidence to achieve the goals I have set for myself."
Bunnell earned CompTIA Security+ certification just in time for an agency-wide push to increase IT security.
"I've already put my CompTIA Security+ certification to work and am now using CompTIA CertMaster and GTS Learning Practice Labs to prepare for the CompTIA Cybersecurity Analyst (CySA+) exam."
More CompTIA Certifications on the Horizon
Bunnell continues to seek out certifications that will lead to new opportunities.
"Not all technicians do this," he said. "Some people limit themselves to a particular vendor or role, but I am not one of those people. I want to do it all. I want to leverage these certifications to create opportunities to work. Certification is definitely a recipe for success."
Bunnell said his two-year plan includes earning CompTIA Advanced Security Practitioner, CompTIA Linux+, CompTIA Project+, Cisco Systems and Microsoft certifications.
His unique combination of preparation and opportunity have yielded much success since his transition from electronics to IT.
"I've tracked most of the IT services I've provided from my early moonlighting days to my days in the data center to today," he said. "To date I've completed and resolved more than 25,000 Tier 1, Tier 2 and Tier 3 IT service requests for more than 4,500 users."
"I consider my career change from the electronics field to IT a great success," Bunnell said. "My education in electronics and self-taught experience got my foot in the door, and my CompTIA certifications have allowed me to advance and thrive."
Looking for a new career? Take our quiz to see if an IT career is right for you.