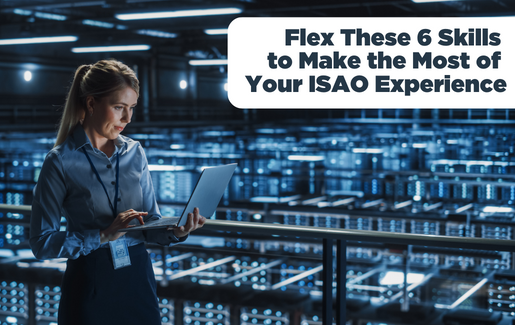 Today's businesses face the task of managing complex and constant security threats, often on their own. With the risks and attacks from malicious actors continually growing, many organizations are looking for help. To help protect everyone, the federal government has directed funding to encourage the development of Information Sharing and Analysis Organizations (ISAOs), initiatives in which like-minded businesses and organizations share threat intelligence and best practices to improve their collective security postures.
Related Blog: What is an ISAO?
Cybersecurity pros utilize ISAOs every day to raise community awareness and collaborate on proactive security measures that can aid businesses in minimizing risk. Most ISAOs have the goal of providing businesses with data to help them better their security posture across non-critical infrastructure sectors. ISAOs are also a valuable resource for organizations to receive accurate support and information shared across the cybersecurity industry. Continue reading to learn more about what skills are important and how IT professionals can best benefit from utilizing ISAOs.
Did you know CompTIA has an ISAO? Learn how you can join.
What is an ISAO?
An information sharing and analysis organization (ISAO) is a network of professionals and businesses that share knowledge, expertise and information with each other in order to help prevent cyberattacks. ISAOs are often used within the technology sector but can be beneficial to a myriad of industries.
Businesses that need help protecting their data from hackers can benefit greatly from these organizations and their networks. ISAOs can provide companies with threat intelligence on the latest security exploits, security training and education for members. In addition, they can provide access to tools, technologies and other resources that help companies strengthen their defenses against cybercriminals.
Types of ISAOs
While the main goal of an ISAO is to facilitate information sharing of threat intelligence, there are several different types of ISAOs that can be valuable to companies.
There are several different types of ISAOs available to businesses, including:
Sector-based ISAOs: This type of ISAO serves a specific industry or sector, such as healthcare, finance or energy. The main goal of sector-specific ISAOs is to share data and information along with industry-wide best practices that are pertinent to the industry. For example, CompTIA's ISAO is a sector-based ISAO helping cybersecurity professionals and other industry related IT pros share, collaborate and provide a forum and resource platform for other professionals to reference.
Cross-sector based ISAOs: Similar to sector-based ISAOs, cross-sector ISAOs help organizations across other industries that also utilize similar technologies. The goal of many cross-sector ISAOs is to help combat threats to other sectors that are supported by other industries. For instance, technical ISAOs can also prove to be beneficial to other industries, such as the healthcare, retail or energy industries.
Geographical-based ISAOs: Within a specific geographical area, there are also ISAOs that help share information with one another. This geographical region can include a state or city. These types of ISAOs focus on sharing threat intelligence and sector best practices that are relevant to their respective physical areas. For example, the Center for Infrastructure Assurance and Security ISAO (CIAS-ISAO) is a geographically based ISAO that is located in Texas.
Special interest ISAOs: This kind of ISAO concentrates on a specific area of interest, such as a critical infrastructure sector like medical devices. ISAOs that are special interest-based are designed to help organizations within a specific area of interest share information and collaborate on cyber and physical security issues that may impact this particular industry. An example of a special interest ISAO is Medical Device ISAO (MedISAO).
Flex These 6 Skills to Make the Most of Your ISAO Experience
For cybersecurity professionals, there are several core skills participants need in order to make the most of their ISAO experience. These skills include a mix of professional skills and communication skills along with technical expertise in order to make the most of your ISAO membership. Successful cybersecurity pros within ISAOs need to be able to think quickly and make decisions under pressure. They need to be able to maintain a high level of awareness and knowledge base to help other members with their security posture.
Here's a list of six core skills to make the most of your ISAO:
Risk management: This skill is essential for ISAO members who need to identify and evaluate potential risks to their organization. The ability to prioritize risks based on their impact and likelihood requires knowledge of the business context, threat landscape and technical environment.
Networking and collaboration: Actively collaborating and networking with other organizations and professionals helps to build relationships within the ISAO community. By collaborating with other members and businesses within the community, you can gain valuable insights, share information and stay up-to-date on the latest cybersecurity challenges and threats that the industry may face.
Incident response: Members need to be able to identify and respond to security incidents in a timely and effective manner. These skills require cybersecurity professionals to have an understanding of different types of attacks and measures to take in order to remedy or reduce their impacts on organizations.
Legal and regulatory compliance: Security pros need to be aware of the laws and regulations governing their organization's systems and data. This includes relative laws to their sector, which can include compliance with data protection laws, industry regulations and industry-wide standards and guidelines.
Threat intelligence: Understanding the latest threats and vulnerabilities, analyzing threat data and identifying emerging threats can be key to making the most of your ISAO. By having a deep understanding of the threat landscape, you can help your organization stay ahead of potential threats and exploits within your industry.
Data analysis: Analytical skills are critical for making the most of your ISAO. By analyzing the data shared within the network, you can identify patterns, detect anomalies and develop insights that help your organization respond more effectively to potential threats and mitigate vulnerabilities more effectively.
The Importance of ISAOs for Cybersecurity Professionals
ISAOs can be highly valuable to countless cybersecurity professionals. The role of an ISAO for cybersecurity professionals has become increasingly critical as more companies and organizations move towards cloud computing and other forms of technological advancement. The reason for this is due to the large amounts of personal data on business servers and networks, which can make them vulnerable to cyberattacks and threats.

There has been an increased demand for qualified ISAOs to aid with threat information sharing over the past few years. This is because they can help both within their area, industry or other industries to ensure that they are able to protect this information properly for their companies. The importance of cybersecurity professionals within these ISAOs is that they have been trained to assist organizations in complying with data protection rules and laws.
Most of these professionals are experienced in the cybersecurity industry and often act as an information liaison between the business the ISAO is working with and the organization. They are responsible for ensuring that any threat intelligence information and data processing activities are compliant with the law plus industry best practices. In addition, they are responsible for ensuring that the organization's employees are aware of their obligations when it comes to protecting confidential data and improving their security posture.
Get more tech insights like this right in your inbox with CompTIA's IT Career Newsletter. Subscribe today, and you can save 10% off your next CompTIA purchase.