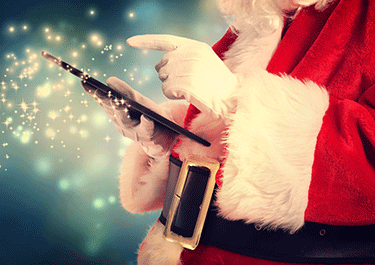 The holidays are coming up fast. And even after Black Friday and Cyber Monday, plenty of us are still keeping an eye out for perfect gifts for our family and friends. Tech-savvy professionals can be a tough set to shop for – but there's a whole world of gift options out there if you know where to look.
So, if you're stumped trying to figure out what to get for the network administrator, database engineer or CISO in your life, here are some ideas for the right gift to consider. Some will meet a fundamental need in your giftee's work or home life – others will just appeal to their innate sense of geekdom. But they've all got that futuristic appeal that any tech enthusiast will appreciate.
Next-Gen Desk Toys

Fads in twitchy entertainment like the fidget spinner and fidget cube may have come and gone in 2017, but there's always been a place on the desks of tech enthusiasts for something captivating to fiddle with. Every year, alongside innovations in functional technology come more purely entertaining, tech-enhanced desk toys that go far beyond the classic clacker. Nanodots GYRO spheres

, for instance, consist of see-through balls containing rare earth magnets that spin around in response to one another.

Ferrofluid toys

, filled with magnetized liquid that reacts in mesmerizing ways to magnetic fields, are likewise endlessly entertaining. There are

also a slew of fun, funny and functional toys

out there that plug right into a USB port. Search around and you'll be amazed at the full range of weird and wild tech-edged toys that are certain to make your giftee's coworkers spend a few more minutes at their cubicle.

A Standing Desk (or Smart Desk)

Working from home has never been more prevalent, and the at-home workforce needs a comfortable place to sit, or stand or both. There are all sorts of ergonomically designed desks out there that let people work in style, and some even offer tech-enhancements to make a variety of job tasks easier. If you've noticed that for the person you're shopping for, working from home means slouching on the couch, consider giving them a desk that will boost their productivity and put an end to their backaches.

Gamified Exercise Equipment

Over the past few years, gamification has been helping people quickly and easily master skills that otherwise have a steep learning curve. But can it help people stay in shape? The creators of the Stealth Core Trainer believe so, and they've combined the mother of all ab exercises – the plank – with a simple, classic Atari-era crosshairs space game. Users lock their smartphones into an ab platform, get into plank position and blast their core by tilting the platform to blast incoming meteorites on-screen. And while Stealth Core Trainer happens to be the piece of equipment making the social rounds this holiday, there will doubtlessly be more of this type of fitness-gaming innovation to come. So, if you know a techie who likes to stay in shape, keep your eyes peeled.

A 4K Television

There are people who like watching TV and then there are people who want to feel like they're at a live game when watching it on screen, or like they're part of the action when they're watching a movie. If you're shopping for a high-ticket item for a TV watcher who wants to be immersed, a 4K TV is the way to go. This generation of cutting-edge televisions offers four times the resolution of good ol'-fashioned HD, and big streaming companies and sports broadcasters are starting to put out plenty of content that makes use of the enhanced clarity.

The Latest In-Home IoT Devices

Sometimes the best gift you can give someone is one that's functional. Yes, giving the gift of a smart thermostat or wired flood detector for Christmas might be the IoT-era version of socks and underwear. But those products are stocking stuffing staples for a reason – people need them. So, if you're buying gifts for a smart-home-enthusiast, think about what simple but critical smart solution they might be missing.
Matthew Stern is a freelance writer based in Chicago who covers information technology, retail and various other topics and industries.