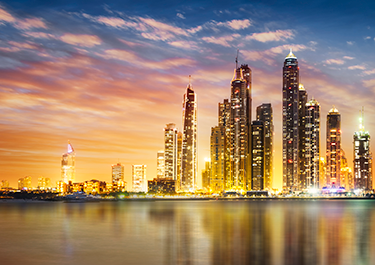 Soha Khamis, the operations and quality assurance manager at New Horizons Dubai, has taken on numerous roles at the professional training institution throughout her 15 years there. From working as a trainer in her early days, to her current career presiding over the full range of multi-corporate trainings New Horizons Dubai offers and its related vendor relationships, her career has grown right alongside the tech industry of United Arab Emirates. UAE's IT industry, as it has grown in scope and sophistication, has figured prominently into the country continuing to establish itself as one of the main global economic hubs in the ​Arabian Gulf. So the need for IT education is only becoming more critical to success for both individuals and corporate entities that call UAE their home. CompTIA has been a partner with New Horizons Dubai since its inception 18 years ago, and Khamis has seen throughout her career how CompTIA sets the standards for Dubai's IT pros.
"For us, CompTIA represents the foundation of all IT verticals that are there," Khamis said. "So anybody who wanted to specialize in any vendor-specific product, that person would most probably have a CompTIA concept baseline at the start. If a person wants to go more into Cisco security or cybersecurity they must know Security+ first. If a person wants to go into anywhere around networks, whether it is routers or switches or even operating systems, a person must have a Network+ certification as a basis."
When Khamis first chose to take on a career in IT, Internet use in UAE was in its infancy. She watched as computers began to move into every home and every office, and was curious about how they worked and their potential. Earning a CompTIA A+ certification herself, she moved into IT training at New Horizons Dubai to help nurture the fledgling industry, which she knew was only going to become more popular, ubiquitous and central to business and daily life.
"[The IT field] was challenging," Khamis said. "I was curious to know what was there and I was happy to be able to use the programs facilitating lots of our life, both on the educational side or on the business side. A computer was going to be a tool – something like a calculator – which was going to be available in everybody's hand, so you had to know it."
Since those early days, Khamis' prediction has come true. Smartphones and mobile technology are now everywhere, and the technological landscape of UAE has changed drastically – "in all measures," Khamis said. Knowledge of the basic concepts of networking, Wi-Fi and IT security are necessary to do business these days, and Khamis sees UAE as sometimes struggling to keep up, in terms of skills, with the rapid pace of technological advancement. At New Horizons Dubai, though, she is able to help, bridging the skills and knowledge gap with high-quality training and certification. Since the larger portion of New Horizons Dubai's clientele is those seeking corporate training, she is able to facilitate this learning on a large scale.
New Horizons Dubai generally takes on 10- to 15-person corporate trainings, but bigger endeavors have called for much larger partnerships, a sign of the growing importance of technology to the business world. New Horizons Dubai recently took on, for instance, a massive 110-person training and certification for Hewlett-Packard as part of the Mohammed Bin Rashid Smart Learning Program.
The Smart Learning Program consists of HP providing government schools and other learning institutions with laptops and smart-boards. But it's not just the hardware they are providing. Over 100 IT professionals within these institutions will be required to identify, troubleshoot and manage problems with these devices and need to know when to escalate problems to a higher tier of customer service. New Horizons Dubai was brought in to make sure that all the IT pros working on the project are appropriately skilled – and appropriately CompTIA certified with CompTIA IT Fundamentals. The training was a great success, with the majority of IT pros passing their certification exams the first time through, and the rest passing on the second attempt. Being able to take a second run at a certification exam is a particularly valuable part of CompTIA's certification model. CompTIA certifications validate an IT professional's skills; the exams are there not to intimidate IT pros or stress them out, but to allow them to prove themselves – no matter how long it takes them to get there.
Now that all of these IT professionals have CompTIA IT Fundamentals certifications under their belts, UAE's government, HP and the techs themselves can all be confident that they are prepared for the task at hand. Furthermore, they are well-positioned to continue down the certification path, to CompTIA A+, CompTIA Network+, CompTIA Security+ and beyond into vendor-specific certifications such as those offered by Microsoft and Cisco. So while the training's immediate goal is of preparing for initial rollout of the Smart Learning Program, the long-term result will be IT professionals who are set up to get certified – and succeed – along whatever IT path they choose. As Khamis pointed out, this is due in no small part to the fact that CompTIA certifications are fair but challenging exams, and so the endorsement they confer on a holder is powerful.
"Everybody is walking around with either tablet or a computer," Khamis said. "Everybody can claim they know computers. But to prove what you know, you get certified. If a person does have a CompTIA A+, Network+, Server+ or Security+, that means the person really knows."
The future of UAE – not just its IT industry, but its society as a whole – is going to call for more of this kind of proven IT knowledge, and thus more IT education and certification. Smart Dubai, a strategic plan recently launched by UAE's government, seeks to have all the private and public sector services that constitute the city's infrastructure accessible by smartphone.
In light of this, Khamis foresees a future Dubai in which every citizen is an end-user who needs a level of tech savvy simply to interact with the institutions that govern daily life. This means that on the backend there will need to be an engaged, knowledgeable IT workforce to manage security, maintain infrastructure and meet the expectations of the citizens. This is the kind of workforce that New Horizons Dubai and institutions like it can provide, and CompTIA certifications will play a key role in assuring that this workforce has the knowledge and the skills to keep such a perpetually wired world functional, secure and successful. As Dubai heads towards this future, Khamis advises aspiring IT professionals that staying on top of the needs of the tech world is the only way to succeed in the field.
"If you don't put the effort into being aware of what's happening in the market you will very soon become rusty, in the sense that you will not be able to cope," Khamis said. "The person who is in IT needs to know what is coming, and one easy way to prove your excellence, your passion and that you are good at what you are doing is to be certified in that field."
Matthew Stern is a freelance writer based in Chicago who writes about information technology, retail and various other topics and industries.