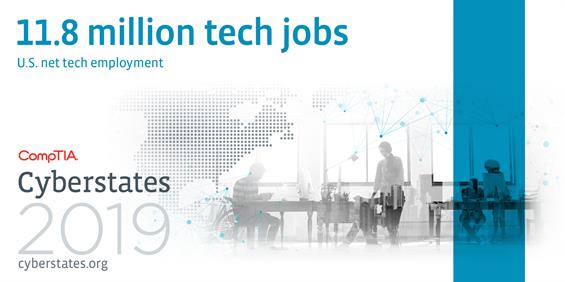 The numbers are quite impressive: There were more than 11.8 million people with technology jobs in the United States last year – an increase of 260,865 jobs between 2017 and last year. And while most of these jobs continue to be concentrated in major tech hubs, a solid number of states from the South and Midwest ranked within the top ten for total net tech employment, according to the new Cyberstates™ report from CompTIA.
The top ten states for total net tech jobs in 2018 were California, Texas, New York, Florida, Illinois, Virginia, Pennsylvania, Massachusetts, Michigan and Ohio.
The top ten states for tech job gains were California, Florida, Texas, North Carolina, New York, Washington, Michigan, Georgia, Massachusetts and Ohio.
The nation's 11.8 million tech workers account for approximately 7.6 percent of the total workforce in the United States. The tech sector is big and getting bigger as more businesses are born and more businesses rely on technology and tech professionals. Since 2010 the industry has added an estimated 1.9 million new jobs.
Check out this great one-page document with the key findings for the U.S. here.
High-Tech, High Stakes
Because the tech sector has an estimated direct economic impact of $1.8 trillion, or about 10 percent of the total U.S. economy, the advocacy efforts and related programming we conduct at CompTIA has never been more important to tech companies and the entire country.
Technology is one of the largest industries in the U.S. economy and all data suggests that is going to remain a constant for the foreseeable future.
CompTIA's work in Washington with lawmakers, the White House, and a host of federal agencies is critical to ensuring continued success and growth of technology companies off all sizes.
CompTIA is also extremely active in state capitals across the country to monitor key pieces of legislation as well as other initiatives that affect technology companies and professionals.
Essentially, we give eyes, ears and a voice to technology companies, informing them of policy developments – and providing the means to do something about it. We spend countless hours analyzing legislation, drafting comment letters and testifying before legislative and regulatory bodies. Most importantly though, we build relationships with key officials that allow us to open doors for the companies we represent as well as for the association.
Our primary objective is to advance policies that positively affect the ability of the private sector to effectively conduct the research and development needed to bring innovative products and services to the global marketplace.
Strong Workforce, Strong Businesses
One of the primary issues we focus on in Washington (and around the country) is workforce development and training. We advocate for smart policies and legislation that encourages and supports programs that deliver technical skills to American workers.
Most recently, Congress took a solid step forward with the reintroduction of the CHANCE in Tech Act. This piece of federal legislation addresses the growing tech talent challenge in the U.S. by encouraging public-private funding for apprenticeship programs in the technology sector and by providing students with the necessary skills to compete in the 21st Century workforce.
Even though most careers today require skills in science, technology, engineering and math, many tech jobs do not require an advanced college degree or years of studying and training. Apprenticeship programs can help to fill the skills gap by quickly training and preparing workers for tech jobs across multiple sectors of our economy.
The CHANCE in Tech Act, if passed and signed into law, will ensure quality candidates are recruited and provide compressed and targeted training to meet specific employer needs. Secondary schools will also be recognized for ensuring their classrooms are teaching the necessary skills for students to succeed in the 21st century workforce.
There are a host of other federal and state initiatives we're following that aim to strengthen the nation's technology workforce.
We expect the data from next year's Cyberstates report to show even more growth across the country, but that growth is only possible when laws and policies encourage innovation within tech companies.