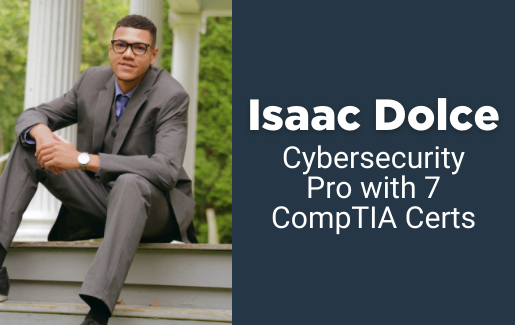 Employers posted more than 700,000 cybersecurity jobs in the United States in the 12-month period ending April 2022. Furthermore, the projected growth rate for cybersecurity jobs over the next decade through 2032 is an astounding 3.5 times the national rate.
The cybersecurity skills gap is large, but individuals like Isaac Dolce are stepping up to the plate to help fill it. Dolce, SOC analyst Tier 3, CNA Insurance, is a first responder to cyber incidents. He spends his days investigating anomalous activity, leveraging security tools and researching threats to protect the organization. He holds 11 active IT certifications (7 from CompTIA) and has worked in the Fortune 500 space. And it all started with a penchant for computers.


"CompTIA certifications have played a key role in my career. With no experience, they helped me to bridge the gap so that I could actually work in a cybersecurity role and provide value to a company. At every point in my career, there's been a valuable CompTIA certification to pursue."
Breaking Into Cybersecurity
The motivation to pursue cybersecurity is different for each IT security specialist. For Dolce, cybersecurity was simply a good fit right from the start.
"I've been interested in computers and computer networking ever since I was a young child," he said. "I also grew up in a veteran's household, so I was exposed to a 'good guys versus bad guys' mindset. As I became more experienced with IT, cybersecurity was a career path that stood out as a great option and as something that would naturally work with my skill set."
Directly out of high school, Dolce began pursuing a degree in business administration. He soon discovered it wasn't the right path for him, and enrolled in a year-long adult IT certification program at Warren County Career Center in Ohio. During that time he earned CompTIA IT Fundamentals (ITF+), CompTIA A+, CompTIA Security+ and CompTIA Server+ - in that order. Shifting into IT was one of the best decisions he ever made.
Dolce's cybersecurity career came together quickly. He got his first IT internship while attending the Warren County Career Center. He credits his CompTIA A+ certification with helping him get his foot in the door – and he hit the ground running.
"Cybersecurity was my end goal, but it is a hard field to break into with no experience," he said. "Early in my career I found ways to get cybersecurity experience when I was working in entry-level IT roles."
Dolce leveraged that experience to pivot himself into his first dedicated cybersecurity position at a law firm. He would later work for Discover, a Fortune 500 company before finding a home at CNA Insurance in the greater Chicago area as a SOC analyst.
Working as a SOC Analyst
Wondering what it's like to be a security operations center (SOC) analyst? It's not easy, but it can be a fulfilling and lucrative choice.
"Working as a SOC analyst requires you to be familiar with typical cybersecurity tools, and have a broad skill set in IT," Dolce said. "It also requires you to be able to work under extreme pressure because sometimes you're dealing with high-severity incidents that are business-critical, or you might have the legal team pulled in."
According to Dolce, SOC analysts must be able to work under pressure effectively and communicate well. He explained that although working as a SOC analyst is challenging, it's also rewarding. "SOC analysts provide a lot of value to their organization," Dolce said. "That value is always recognized."
Working as a SOC analyst requires a broad skill set. Dolce believes that the right candidate for the role will excel at multitasking and be committed to working on several aspects of a project.
"As a SOC analyst, you're working across a lot of different IT domains, such as networking, analysis, forensics and project management. Computer networking is a major part as the majority of threats and incidents have some type of network exposure," he said.
For SOC analysts, as well as almost all other cybersecurity roles, IT certification is critical. It was a major contributor to Dolce's career success.
Why Cybersecurity Specialists Need IT Certifications
Once Dolce got into the cybersecurity field, he didn't take it for granted. He worked as hard as he could to build up as many cybersecurity certifications as possible and even began pursuing his bachelor's degree in cybersecurity and information assurance at Western Governors University while working full time.
As part of his degree program (which he is scheduled to complete this summer) Dolce earned CompTIA Network+ and CompTIA Project+. Additionally, he earned CompTIA Cybersecurity Analyst (CySA+) while working as a SOC analyst for a previous employer.
Dolce also holds ITIL Foundation, (ISC)² Systems Security Certified Practitioner, CIW Web Security Associate and GIAC Certified Incident Handler.
Isaac Dolce's CompTIA Certification Resume
June 2017: CompTIA IT Fundamentals (ITF+)
September 2017: CompTIA A+
December 2017: CompTIA Security+
February 2018: CompTIA Server+
May 2018: CompTIA Network+
September 2018: CompTIA Cybersecurity Analyst (CySA+)
October 2019: CompTIA Project+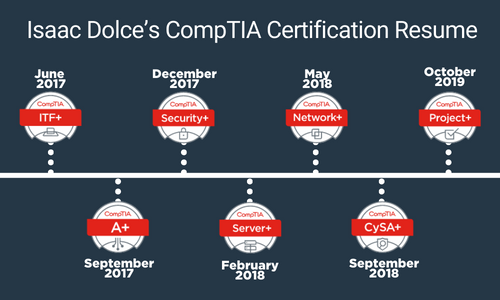 According to Dolce, certifications can make or break your IT career. He attributes a lot of his success to holding multiple certifications.
"CompTIA certifications have played a key role in my career," he said. "With no experience, they helped me bridge the gap so that I could actually work in a cybersecurity role and provide value to a company. At every point in my career, there's been a valuable CompTIA certification to pursue."
Dolce uses the knowledge he gained from his CompTIA certifications to this day - especially CompTIA CySA+). This certification applies behavioral analytics to networks and devices to prevent, detect and combat cybersecurity threats.
"CompTIA Cybersecurity Analyst (CySA+) has been very applicable to my current role," he said.
Does every IT professional need certifications? Dolce thinks so.
"Certifications are a great way to stand out to employers," he said. "All the employers I talk to are impressed by the number of credentials I have. When you are in a competitive market, you have to be one step ahead of others."
Dolce stressed that in the cybersecurity field specifically, there is a lot of value placed on IT certifications. If you are interested in breaking into cybersecurity, having relevant certifications will not just be helpful , but essential.
3 Pro Tips for Passing IT Certification Exams
Attempting to get IT certifications can be intimidating. Dolce offered these tips for successfully earning the certifications you need to succeed in your IT career: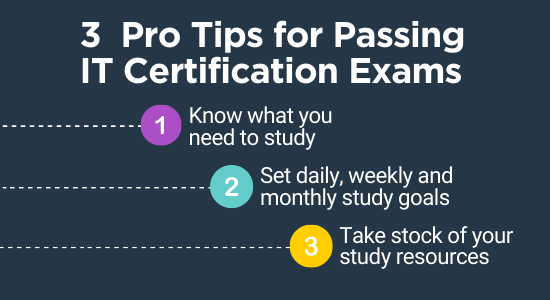 1. Know What You Need To Study
Dolce believes that having a strategy for how you will approach earning a certification is the key to success. This starts with knowing what areas of the exam you are weakest in. Start with the exam objectives – for CompTIA exams, you can download them for free. He also encouraged IT pros to peruse Reddit and other online forums to become aware of what test-takers are saying about specific certification exams.
"What areas of the exam are the hardest for most people?" Dolce asked. "What do you need to focus on? Instead of trying to immediately start studying, I think it's valuable to take the time to figure out what it is you may find most challenging and then create a personalized study plan."
Watch out for red flags that could be construed as brain dumps or cheating
2. Set Daily, Weekly and Monthly Study Goals
In addition to knowing what you need to study, having a strategy for your study goals related to tackling your certification exam is also important. Dolce said that if you want to pass an exam, you should have daily, weekly and monthly goals and create deadlines for when you will get things done. View these deadlines as being set-in-stone and stay accountable to yourself for adhering to them.
Download our free training plan worksheet to help get organized and make your dream a reality
3. Take Stock of Your Study Resources
Exam preparation is the most important part of passing an IT certification exam. Knowing what learning and training tools you have readily available to you, as well as getting the tools you need, can set you up for exam success. "Make a list of what resources you have, like flashcards, textbooks and online videos," Dolce said. "Once you know what you have to work with, you can create an even more individualized study plan and stick to it."
CompTIA offers a full suite of virtual and physical official training tools for most certifications. They include eLearning, virtual labs, exam prep, study guides and instructor-led training. If you have any gaps in your study resources, CompTIA has training tools that can fill them.
Stressed about passing an IT certification exam? Discover 7 Ways to Prep for a CompTIA Exam
Closing the Cybersecurity Experience Gap
In addition to getting certified, Dolce said it's vital that IT pros who want to work in cybersecurity get or create some IT security experience if they lack it. He said there isn't just a cybersecurity skills gap, but also a cybersecurity experience gap that is causing the hundreds of thousands of vacant cybersecurity positions to remain unfilled.
Want to transition to a cybersecurity career? Find out how you can transfer your skills in software development, networking, systems engineering, IT support or even finance.
"The challenge with filling vacant cybersecurity roles is the experience gap," he explained. "Employers don't want to hire people with no experience in cybersecurity. And there aren't a lot of entry-level cybersecurity jobs. There are mid-level and senior-level jobs, but it's very hard to find an entry-level cybersecurity job."
Dolce was aware of this right from the start. That's why he sought out ways to get cybersecurity experience anywhere he could while he worked his first IT jobs.
In addition to having certifications, all IT pros, especially those working in cybersecurity, need professional skills. Professional skills are personal attributes that enable someone to interact effectively and harmoniously with other people. Your professional skills can make you a stand out candidate when interviewing for a new job, or they can help illustrate that you're ready for a promotion. The primary professional skill cybersecurity professionals need is communication. For Dolce, these skills came with experience.
"I would say that I picked up professional skills, such as communication, as I got work experience," he said. "Also, I had some great mentors from the start that helped me gain these skills."
Dolce stressed the importance of technicians understanding what professional skills are required for them to succeed, and then making it a point to acquire them. The more intentional you are about obtaining professional skills in addition to technical skills, the more successful you will be in your IT career.
How to Start a Cybersecurity Career
Dolce acknowledged that many people are interested in getting into cybersecurity. He is often approached by those who want to break into the field. His advice includes knowing what you want to do and making a plan to get there.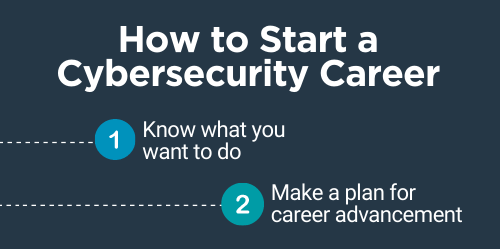 1. Know What You Want To Do
Cybersecurity is a broad field that contains a lot of specializations. Dolce said IT pros must know what they want to do within cybersecurity prior to attempting to get into the field in general.
"You could be a SOC analyst or specialize in forensics, vulnerability management or penetration testing. That's just the start. You need to know what you want to do in cybersecurity. Once you know, you've got to have an understanding of the area of specialization you've set your sights on," he said.
Dolce said that part of knowing what you want to do comes with experience. The other part comes via word-of-mouth, also known as talking with individuals in your professional network and getting an idea of what cybersecurity specialists on online forums are saying.
2. Make a Plan for Career Advancement
Once you decide what you want to do in cybersecurity, you have to have a plan to help you get there. Asking yourself key questions like: "What certifications do I need to reach my IT career goals?" can help you devise that plan.
"Knowing what credentials you need will ensure you stay focused and not be all over the place," Dolce said. "This will keep you from saying, 'I have CompTIA Security+, what do I do now?' You'll know what to do after you earn each applicable certification because you'll already have thought it through."
By making a plan for what certifications you will get, when you'll get them and what you'll do after you get them, you will arrive at your desired IT career destination much faster.
Why get an IT certification? Find out why, how and which certifications are right for you
Now Is the Time to Get Into Cybersecurity
Dolce confirmed that there is currently a tremendous demand for talent within cybersecurity.
"My recruiter friends tell me that every year it seems like there's more and more and more demand for cybersecurity professionals. This demand has been compounded by the global events that are going on right now," he said.
According to Dolce, cybersecurity is heading toward the top of every organization's list of priorities. "There is no better time to get into cybersecurity than now," he said.
Ready to start your cybersecurity career? Take a look at the CompTIA Cybersecurity Career Pathway. It includes several of the certifications Dolce holds, including CompTIA A+, CompTIA Network+, CompTIA Security+ and CompTIA Cybersecurity Analyst (CySA+).

Get more career advice like this delivered straight to your inbox. Subscribe to CompTIA's IT Careers Newsletter, and as a thank you, get 10% off your next purchase from the CompTIA Store.
Isaac Dolce is a cybersecurity specialist with 3+ years of experience administering threat detection, incident response and vulnerability management for mid- and large-sized organizations. He is an analytical problem solver with a background in regulatory compliance and project management. His interests include cryptocurrency trading and mentoring youth.