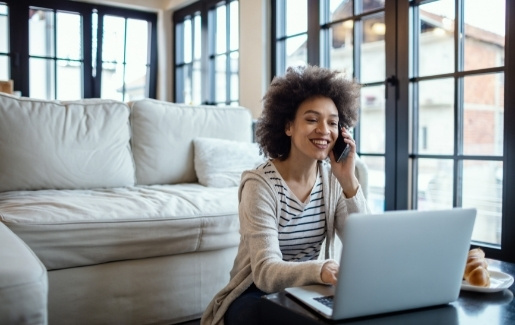 It's become fairly obvious that remote working isn't just a passing fad. For many, it's here to stay. While some are celebrating this opportunity to combine their beloved pajamas with their working environment, the situation calls for enhanced protections to keep your company data safe and your remote workers efficient.
The Work-from-home Dilemma: A Multifaceted Problem
When the pandemic sent us all home in droves, the ability to work from home was a lifesaver. But the shift created new security and productivity concerns that most of us were unprepared for.
Home networks, that were previously used only for recreational purposes, suddenly became burdened with the weight of teleconferencing and bandwidth needs that were no longer an indulgence, but a requirement. Many people had to resort to workarounds and engage in some creative thinking to be able to accommodate large files, uncommon needs for file storage and safe transfer of company information. While these tasks are daily routine in an office, with workers stationed at home, they became much larger undertakings.
All of this has given rise to security concerns. A VMWare study reported a surge in cyberattacks when workers were first ordered to stay home. In fact, 91% of respondents to the survey reported an increase in attacks that coincided with the work-from-home order. A decentralized workforce makes it difficult to implement tried-and-true security protocols.
Additionally, work-from-home environments come with service quality issues. While this may not be a critical concern for some workers, others rely on a stable connection to remain productive. For example, if you are a tech support employee who relies on video sharing capabilities to show others how to access company systems, you have an increased need for a consistent, stable and secure connection.
But these bandwidth needs aren't just limited to work necessities. Kids streaming media, participating in remote school or otherwise consuming precious bandwidth only contributes to the lessened productivity.
SD-WAN: A Tech Hero in Disguise
How can you enhance protections for remote workers and support their activities? For many businesses, the solution is coming in the form of SD-WAN.
SD-WAN, or software-defined wide area network, is an overlay technology that rivals the more traditional network architecture of WAN or wide area network. Traditional network infrastructure involves the use of multiprotocol label switching (MPLS) to route traffic along specified nodes. When traffic spikes, these nodes become overwhelmed, slowing productivity.
SD-WAN is capable of determining the best route for information to travel based on multiple criteria. Higher-priority data is defined by your internal teams and sent via faster connections. The ability to determine the optimal pathway allows for a high quality of service because, if one route is down, another is quickly identified.
Using Data Prioritization to Ensure Fast Transfer of Information
The key feature of SD-WAN is the ability to intelligently route traffic. As mentioned, SD-WAN is a self-learning technology that can identify the best pathway and automatically route traffic.
Preventing Cloud Lags with SD-WAN
Traditionally, cloud applications have to be routed along specified paths, traveling through a data center, and out to the cloud. The data then has to use the same complex pathway to return the data back to the user. With SD-WAN, users can be routed directly to their cloud applications, improving speeds and the user experience.
Enhancing Security for Remote Workers
SD-WAN provides a centralized method for control and visibility into network activity. With the development of organization-specific rules, you can determine what kind of traffic gets routed via selected routes, enhancing speed, reliability and security. This also allows you to easily identify bottlenecks and reroute as needed. SD-WAN also allows for secure, encrypted tunneling of data. While encryption is nothing new, your data is able to move faster and still retain the same level of security.
Whether you are accessing the cloud or enterprise solutions, SD-WAN provides the flexibility and structure needed for a the modern, fast-paced workforce of the future.
Get more tech insights like this right in your inbox with CompTIA's IT Career Newsletter. Subscribe today, and you can save 10% off your next CompTIA purchase.