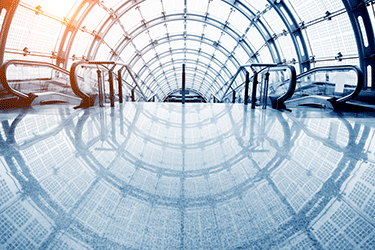 The big question facing the tech world in recent years hasn't been if things will change, but how much. Competitive businesses have to get ahead of this, and can and should by accessing CompTIA's IT Industry Outlook report, which maps the enterprise tech territory and gives a comprehensive view of where we've been and what's to come.
This year is continuing the transformative tech timbre of 2017. Once-fringe concepts like cryptocurrencies and blockchain are dominating the headlines. Enterprise technologies like cloud are settling into maturity. And, as the 2018 report shows, there's even more change on the horizon.
So let's take a look at ten key findings of this year's study – to get a feel for what to look forward to, whether you're selling, managing or just using technology in 2018.
Machine Learning Has Arrived

Most likely emerging business tech in the next four years: 92 percent of respondents say machine learning.
With Internet of Things and buzz-heavy, bleeding-edge blockchain tech coming in second and third, businesses named machine learning as the headline-grabbing technology that will help shape the enterprise landscape in the coming years.
Knowing What to Do with Data is Essential
90 percent of all digital data currently in existence has been created in the past two years.
While it's surprising when you first read that stat, with all the content being digitized by media companies, generated by citizens and collected by devices, it's easy to see why there's more new data out there online than ever before.
In 2018, businesses will need to know how to make use of that data. This means utilizing the right machine learning and AI solutions capable of sorting through it, and having the right staff in place to understand, interpret and act on insights.
The Business of Tech is Getting More Complex
45 percent of tech businesses have gotten more complex in the past two years.

Tech firms have been experiencing big transformations in a short period of time. Enhanced data demands, movement into new markets, new technology offerings, increased complexity of tech deployments and more multi-player deals are all big contributing factors.

IT Spend Is Up and Rising
Global IT spend is projected to exceed $4.8 trillion in 2018, with 31 percent – 1.5 trillion – of that spending happening in the U.S.
There's no telling what turns the global economy may take, but tech is growing – and that means the tech sector generating more money than ever before.
Tech Exports are Big Business
Exports account for $1 in every $4 generated in the U.S. tech industry.
In an increasingly global economy, overseas business is representing an ever-larger chunk of the IT pie; another economic trend that looks to continue into 2018.

Soft Skills Are Critical
Businesses' second biggest difficulty in finding qualified staff: soft skills.
While hard tech is the heart of IT, businesses want IT workers who can also thrive on the social, customer service-oriented side. Given the scarcity businesses are running into, IT pros can distinguish themselves in 2018 by developing these skills.
Companies Need a Tech-Savvy Board
Aligning tech and business objectives is still a big challenge.
Proper use of technology needs to follow a business need, and companies are still running into trouble with this. In 2018, businesses with C-suites and boards that can talk tech stand to see better ROI and more cybersecure operations, because they understand what's at stake and can make the right investments in tech resources.
Cybersecurity is Going Beyond the Perimeter
Businesses realize that mere malware blockers don't do the trick.
In 2018, preventing and mitigating data breaches will be about best practices; including building cybersecurity into both the processes of the business and the mindset of every employee.
There Are New Ways to Learn for a New Collar Economy
80 percent of business and IT professionals say apprenticeships are valuable.
The IT economy is a new collar one, in which technical acumen is now needed in jobs that used to be less tech-savvy. So, in 2018, tech job seekers will be pursuing more skills-centered training – and learning a lot in apprenticeship and mentorship programs.
SMB Partnering has a Growth Opportunity
75 percent of SMBs use tech partners in a given year; 23 percent are frequent users.
The smaller the business, the fewer resources available to spend on in-house IT staff. And because a strong IT presence is non-negotiable these days, partnering is getting ever-more-popular. In 2018, keeping an eye on the SMB market could benefit solution providers of all walks.