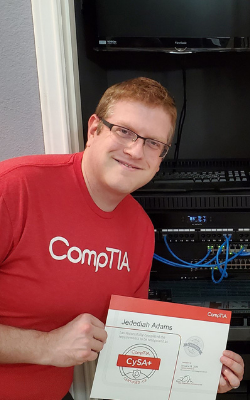 In early March, Jedediah (JJ) Adams got the news that he had been selected as a recipient of the CompTIA Rising Star scholarship. The IT student scholarship, in the amount of $2,000, was a testament to his work and contributions to his local IT community. One of ten scholarship winners, Adams, a student at Texas A&M University in Corpus Christi and full-time instructional designer, was on the fast track to earning his MBA and breaking into a cybersecurity career.
If 2020 has taught us anything, it's that quite a bit can change in just a few weeks. By late March, the world seemed to turn upside down. The advent of COVID-19 brought on a whole new slew of challenges for everyone, Adams included. A self-described introvert, he admits the pandemic has taken a toll.
"Many people have lost their jobs and livelihoods," he said. "I have been fortunate that I still have a job." In fact, Adams believes the pandemic has demonstrated a stronger need for security measures in the tech sector.
"So many people working remotely around the world has revealed some weaknesses," he said. Case in point, Adams cites the popular Zoom call as a way of staying in touch with friends and family. "When many people turned to Zoom, opportunists quickly jumped on the lack of security features to intrude on meetings," he said. "Threat actors are constantly adapting, and there is a shortage of cybersecurity professionals."
And so, he forges ahead.
A product of sheer will and desire, Adams has kept to his accelerated schedule and is on track to complete his MBA by the end of this year. To meet that rigorous goal, he needed to get some classes in over this summer. That's where the CompTIA Rising Star scholarship funds came in handy.
"My financial aid package was exhausted, and I would have had to defer for a semester or use a high interest credit card to cover my classes," he said.
CompTIA Rising Star Student Scholarship
The CompTIA Rising Star $2,000 scholarship is awarded to ten student members looking to get into IT. This scholarship is also for student chapter members who are contributing significantly to the success of their student chapter and/or their local IT community and making a lasting and valuable impact on their school's technology program or the IT industry. The application process is now open.
The scholarship money covered nearly all of the expenses for his summer classes, allowing Adams to power through while maintaining a 4.0 GPA.

In addition to working on his MBA requirements, Adams also earned his CompTIA Cybersecurity Analyst (CySA+) certification. Already certified in CompTIA A+, CompTIA Network+ and CompTIA Security+, CompTIA CySA+ was the logical next step.
Adams can also add the ISO 27001 certification to his growing list of accomplishments.
"At work, I've been helping with our ISO 27001 policies and procedures. I have also been working on a webinar to help bring some of my co-workers up to speed on our ISO certification," he said.
Adams believes this kind of experience with writing policies and procedures and developing training will put him in a great position to transition to a leadership role within his company – one where he can champion the benefits of cybersecurity.
And, in fact, that dream may quickly become a reality.
Due to increased reliance on the IT department as a result of the company going 100% remote, coupled with the fact that cybersecurity incidents are on the rise across the country, Adams is prepared to jump in and help.
But just because his dream job is right around the corner, Adams has zero plans to get comfortable.
"I love to learn, and I plan to keep on learning," he said. "I find the IT industry fascinating, and there is so much to learn. It is always changing, and you cannot be complacent."
To that end, Adams spent the last few months at home building a home lab. He ran CAT6 cable throughout his house and used a server, routers, switches and wireless access points. The plan is to utilize the lab to practice and further hone his skills.
Adams has future plans as well that include a Doctor of Business Administration degree with a specialization in computer and information security, a leadership role in information security, and a few more certifications. CompTIA CASP+ is next on his list. To meet his goals, he knows he can count on CompTIA.
"CompTIA is a well-recognized and respected organization. The world of technology continues to expand with new developments every day and I know that CompTIA will continue to stay on top of its game and provide and maintain certifications that are relevant to this ever-changing landscape," he said.
Could a CompTIA scholarship help you achieve your goals? CompTIA scholarship and award programs are held throughout the year for CompTIA student members. Learn more and apply today!