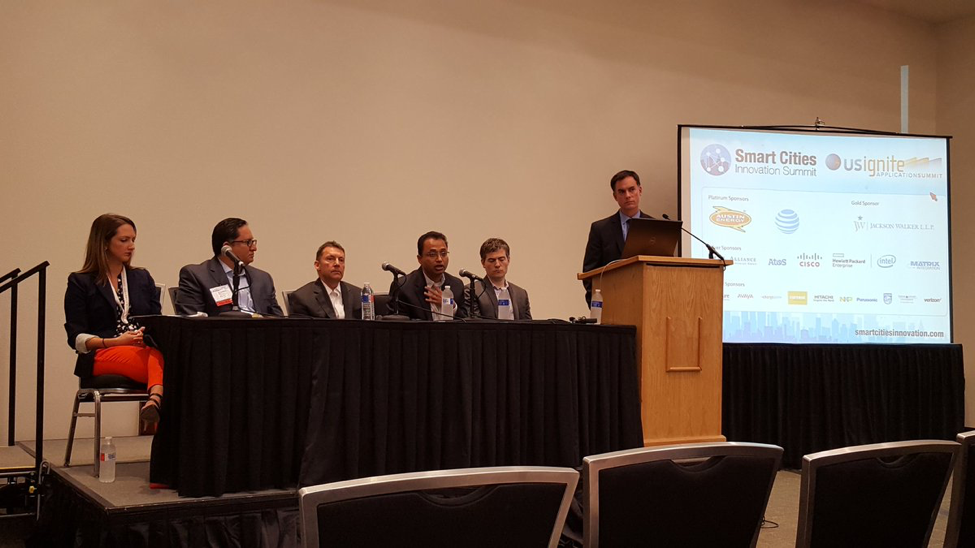 The Smart Cities Innovation Summit was held in Austin, Texas this week. The Summit brought together over 1,500 global leaders from the smart cities community. Among the highlights of the Summit was a CompTIA led panel "Smart Decisions, Smarter Cities- How Federal and State Policy Will Help Shape the Smart City". The panel lineup included David Logsdon, Staff Lead, New and Emerging Technologies Committee, CompTIA (moderator), Kishor Bagul, CEO, Cloud and the Internet of Things, Tim Herbert, Senior Vice President, Research & Market Intelligence, CompTIA, Stephen A. Crout, Vice President, Government Affairs, Qualcomm, Larry Gonzales, State Representative, Texas House of Representatives for House District 52, and Sarah Holloway, Field Representative, Office of Congressman Michael T. McCaul (TX-10), Chairman, House Committee on Homeland Security.

The wide ranging discussion touched upon a number of topics including barriers to adoption of IoT enabled smart cities applications, how federal and state governments can help enable growth and development of smart cities, how should we address cyber infrastructure, but the conversation kept coming back to ensuring that the cities have an adequately trained and certified workforce.

Representative Gonzalez spoke of a bill that he is working to have passed through the Texas legislature that would require students to declare a "major" in middle school. This approach would allow the students, once they reach high school, to do tech related apprenticeships. Steve Crout explained how Qualcomm, with CompTIA's assistance, is looking to the federal government for solutions. Crout and CompTIA are currently working on a Smart Cities Bill that would establish centralized smart city standards and give guidance to state and localities. Furthermore, the Bill would create a series of economic development grants to help promote the development of smart city infrastructure, technologies, and services.

Sarah Holloway spoke of the critical importance of ensuring that IoT enabled smart city networks and infrastructure are secure. "The adoption of smart technologies within the urban environment will only occur if the citizen end users feel that they are secure," stated Holloway.

Tim Herbert spoke to recent IoT research conducted by CompTIA "IoT continues to gain traction as a top of mind issue as organizations of all types seek to improve systems, functions, or experiences through smart technologies and data. While data from CompTIA research confirms high levels of interest and optimism, mass adoption will inevitably take longer than originally expected. When asked about concerns and barriers to adoption, organizations are most likely to cite cost (both upfront and ongoing operational costs), lack of skilled workforce with IoT expertise, new security risks, and complexity and interoperability challenges," stated Herbert. Panel moderator Logsdon focused on the "four legged barstool".

Technology- what are the cities current capabilities and where are the gaps? Acquisition/Procurement- do the cities/states have the right procurement vehicles in place to quickly onboard technologies and services (especially from small to medium size businesses)? Workforce- in order to bring the current and future urban workforce up to speed, smart training and certifications are needed. Policy- how can states and the federal government work together on issues instead of in a siloed fashion?