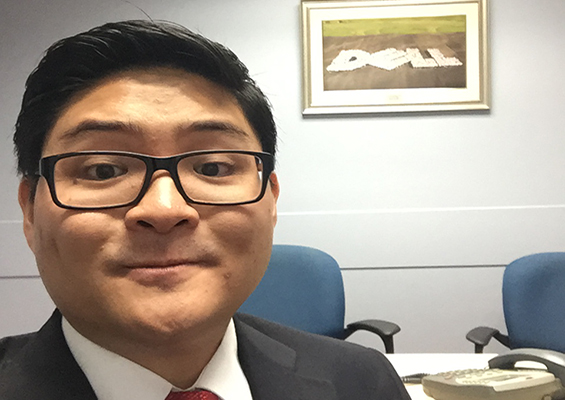 When Edgar Ueno, enterprise technical support advisor for Dell, wakes up in the morning, he sees the assortment of framed industry certifications that he holds. They remind him of where he started and give him an added incentive to keep studying for the next CompTIA certification and keep moving his career forward.
In his years in IT, Ueno has never stopped progressing or getting certified. He has climbed the tech ranks to work with some of the biggest names in telephony and Big Data, in a career that in a little over a decade has taken him from his native Brazil to the United States and back and now to Panama for a new adventure.
Building the Foundation of an IT Career
When Ueno arrived at Alfred State College in 2004, it wasn't his first time living in the United States, nor, by a long shot, his first exposure to technology – but it was the year that he decided to get serious about a career in IT. In high school, he participated in an exchange student program and lived in Hartford, Mich., and he had always been a computer hobbyist. As a college freshman, he started in computer engineering, but soldering circuit boards didn't hold the same appeal as setting up, managing and troubleshooting systems, so Ueno switched to IT.
As a student, he was already thinking ahead to his IT career, getting in on the ground floor as a laptop technician at his college help desk. After graduation, he returned to Brazil, translating the mass of IT knowledge he had accumulated into something tangible that would carry serious clout in the job market by getting his CompTIA A+ and CompTIA Network+ certifications.
"I thought they would be a nice starting point on the certification path," Ueno said. "CompTIA certifications gave me a solid ground to get my feet up and moving."
Getting Ahead with CompTIA Certifications
If you take the CompTIA A+ certification, that lets your employer know that you're very versatile, very flexible. All the content you have in that book, you can apply to any type of technology.
And Ueno did move, with certifications in hand, throughout IT and the tech economy. In Sao Paulo, he began at Alfa Computer, setting up servers, integrating private branch exchanges (PBX) and handling antivirus projects (which led him to self-study and get CompTIA Security+ certified).
Over the years, he found himself working in engineer roles at multinationals like Avaya and Siemens, handling high-level technology projects, and in managerial roles at big names like Lenovo. In 2012, he became a software support engineer at IBM, and after three years of in-depth work on its servers, he began thinking about CompTIA Server+. Not only did he get the certification, but he sincerely enjoyed taking the exam.
"I was studying for the Server+ exam, and there was something going on inside of me," Ueno said. "I was thinking, 'Wow this is really fun!' It's not just like, 'Wow this is very hard!' It is tough, but it is fun as well, because I'm a technical person."
Ueno didn't stop at Server+, though. The fun he had set him down the road to the highly technical CompTIA Linux+ exam. During his interview for the job at Dell, the mere casual mention of his intent to take Linux+ got his interviewers talking, and it kept them interested. This past August, Ueno packed up his wall of certifications and moved to Panama to work on Linux machines and virtual servers.
Knowing How to Work on Anything
From college help desk to high-level server and database work for global enterprises, Ueno has a hands-on appreciation for why CompTIA certifications are important. He noted, in particular, the value of having the broad, vendor-neutral understanding of how networks and servers function that CompTIA certifications confirm, even at the upper echelons of the industry.
"In my line of work, I deal with a lot of different types of servers – email servers, different types of OS servers, virtualized servers, cluster servers, grid servers," Ueno said. "Sometimes we have technology that's exotic or foreign or in different languages or with different pieces of technology or that's custom made. If you're not exposed to a breadth of different types of technology, you can get lost. If you know at least a little bit, then you can start a conversation and begin getting in sync with the issue your customer has."
Ueno has priceless advice for taking the first step in an IT career – whether an IT pro hopes to follow in his impressive footsteps or head down any path the wide-open field may offer.
"If you take the CompTIA A+ certification, that's going to let your employer know that you're very versatile, very flexible," Ueno said. "All the content you have in that book, you can apply to any type of technology. You're not as attached to just Microsoft tech or Cisco tech or any type of brand. You're free. You have more ways to choose, more paths to choose. CompTIA is a really nice starting point."

Ready to start your certification journey? Start here to figure out where to begin.
Matthew Stern is a freelance writer based in Chicago who covers information technology, retail and various other topics and industries.