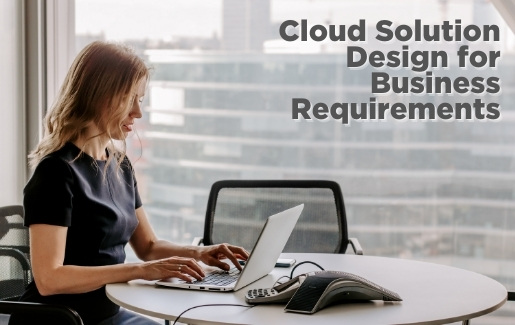 Businesses adopting cloud services or implementing a cloud-first approach for new applications and services need knowledge that is often hard to find in house within the IT department. Building or moving applications and services into the cloud requires more than technical knowledge and skills. Usually overlooked, taking the business requirements into consideration is key.
If you understand how to integrate business requirements like service level agreements (SLAs), budget and compliance into cloud design, you are extremely valuable and will stand out from the crowd when applying for jobs like cloud architect.
Solution Design for Business Requirements: What Does It Mean?
Let's start with a few definitions.
Business requirements are a set of specifications that identify what type of service or level of service is required from the cloud provider.
Solution design is a process that begins with some form of analysis of the business requirements and the offerings available in market that fulfill those requirements.
Understanding business situations – or having good business acumen – is critical to the analysis step, as it's important to not only consider the technical features or capabilities of the service, but also the business measures and agreements for procuring the service.
For example, when comparing cloud services, an engineer needs to consider the SLA. An SLA can provide information about the service, availability, and even recovery and termination processes related not only to the service, but also to the data that customers input into the service.
Why Should IT Pros Consider This Skillset?
The role of the IT pro is changing. It's no longer a break/fix job. We live in a digital world where technology is a critical element in every single business – regardless of industry. Employers are looking for IT professionals who not only have the technical skills necessary to keep the organization running smoothly and securely, but also have the ability to learn and develop business acumen.
There's a constant need to interact with and support stakeholders across the entire organization. Today's IT pros must understand how the business operates to provide a capable platform to support business growth and improve efficiencies.
How Exactly Do IT Pros Learn Business Acumen?
Business acumen has historically been considered a requirement for management and leadership roles. It's not typically something that you formally train for – but instead is something you develop with years of experience. Some people spend years in tertiary education learning the art and science of business acumen – but it's the real-world, hands-on experience that counts the most.
Fortunately, the onset of the cloud has brought about many opportunities for IT pros to practice this skill without even realizing it. For example, the need to intercept, prevent or support Shadow IT and cloud service adoption within organizations has provided IT pros real-world experience in business acumen. The interactions with key stakeholders, project managers and vendors are all elements of business acumen that can be honed and practiced.
Earning a performance-based IT certification like CompTIA Cloud+ ensures candidates have working knowledge of cloud-based infrastructure services in the context of broader IT systems operations, regardless of the platform. The newest version of CompTIA Cloud+ includes cloud architecture as a domain, highlighting the importance of understanding the foundational technologies and concepts that comprise the cloud. The exam objectives specifically call out solution design for business requirements as follows.
1.4: Given a scenario, analyze the solution design in support of the business requirements.
Requirement analysis: Includes knowledge of software, hardware, integration, budgetary, compliance, SLA, user and business needs, security and network requirements
Environments: Includes knowledge of development, quality assurance (QA), staging, blue-green, production and disaster recovery (DR)
Testing techniques: Includes knowledge of vulnerability testing, penetration testing, performance testing, regression testing, functional testing and usability testing
Honing these skills sets IT pros apart from the competition as CompTIA Cloud+ is vendor neutral. A vendor-specific IT certification won't teach you what not to do. Instead, you'll be trained only on a specific platform – thereby limiting your opportunities and even your career path.
An IT pro with aspirations of a career in cloud architecture, management or leadership should most definitely highlight their business acumen skills, as they prove you can operate independently with the best interests of the company in mind.
Building a Career in a Multicloud World
The reality of operating multi-cloud environments poses new challenges. The best way to confront these challenges is to train for them all. Earning a cloud computing certification is a great way to make that happen. But which certification is right for you?
When comparing IT certifications in the market today, you'll see a mix of vendor-specific and vendor-neutral options. Vendor-specific certifications are focused on validating technical knowledge of a specific product or technology. For example, Amazon Web Services (AWS) Solutions Architect – Professional and Microsoft Certified – Azure Solutions Architect Expert are vendor-specific certifications. These certifications aim to create a specialist in AWS or Azure.
CompTIA Cloud+, on the other hand, is a vendor-neutral certification. It is ideal for cloud engineers who need to have expertise across multiple products and systems. Including and validating an understanding of business requirements and solution design as part of a vendor-neutral certification not only elevates the technical know-how of a candidate, but also spotlights business acumen and experience.
It's also important to note that stacking certifications adds value as well.
As the role of the IT pro becomes more integrated into high-level business operations, training in business acumen must be elevated as well. Open up more doors and differentiate yourself with a vendor-neutral IT certification that shows you have the technical skills and the professional skills to help take your company to the next level.
Ready to get started with CompTIA Cloud+?
Download the exam objectives
to see what's covered on the exam or
sign up for a free trial of CompTIA CertMaster Learn and Labs for Cloud+.