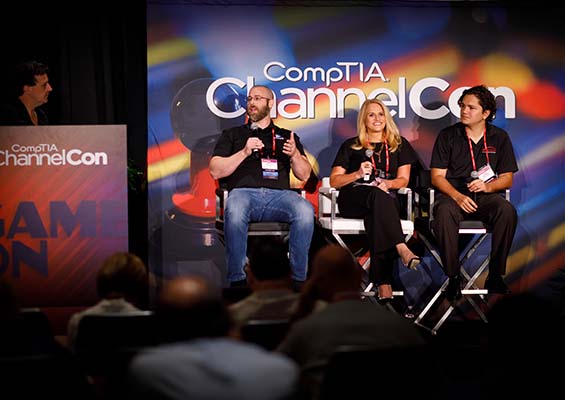 The IT Pro Track at ChannelCon 2019 offered insights (and continuing education units (CEUs)!) on topics including tech support, cloud computing, cybersecurity and more. If you missed out, don't worry – you'll have another chance to watch in September during the rebroadcast. In the meantime, check out our five takeaways from the event.
1. The Help Desk as Solutioneers
The first IT Pro Track session featured CompTIA Chief Technology Evangelist James Stanger facilitating a panel on the state of tech support. ImageNet Consulting, LLC, Vice President, Managed IT Services, Juan Fernandez and ITProTV Edutainer Wes Bryan shared their insights and advice for IT pros who work in tech support.
Fernandez and Bryan both talked about how tech support is truly about troubleshooting and helping people.
"I call the help desk solutioneers – they're solving end-user problems," Fernandez said.
Bryan added to this sentiment, saying that it's up to IT to help end users understand why security procedures are so important.
"For the average person, when they have the roadblock of multifactor authentication, it can be frustrating," he said. "Tech support needs to coach people about how to do it and why."
2. The Necessary Evil of OS Updates
Bryan came back for another session about operating system (OS) updates. He covered Windows, macOS and several distros of Linux, including Ubuntu and Red Hat Enterprise Linux (RHEL).
"We tend to focus on buzzwords like release date," he said. "But what happens in the in-between phase?"
Regarding Windows, Bryan explained there are two support phases: mainstream support and extended support, but extended support is reserved for enterprises with thousands of endpoints that are spending thousands of dollars. He warned IT pros to keep up with update and support schedules to make sure their systems don't become vulnerable.
"We look at end of life dates and think we're safe until then," he said. "But you might not be supported now, and you're unaware of it. … Regardless of the operating system, it does need to be patched, or it presents a vulnerability inside of your networks."
3. Using AI and Machine Learning in Cybersecurity
During a panel on the state of cybersecurity, Stanger asked about using artificial intelligence (AI) and machine learning to enhance cybersecurity. Cyxtera Senior Vice President Tina Gravel, High Wire Networks Director of Security Operations Josue Vargas and ITProTV Edutainer Daniel Lowrie all had thoughts on the topic.
"AI is definitely great at eliminating the noise," Gravel said. "It can also save time – if it gets through all that noise. It can give you an idea that a breech is about to occur so you can have one of your smart people handle it."
Stanger chimed in to add that about 20 to 30% of a person's workweek is spent on repetitive tasks, like pattern matching – which are not only tedious, but also things that machines can do better than humans.
"When you start talking about AI, we have to remember how we're using it. The purpose is to remove that time barrier and make things that take time for us not our problem," Lowrie said. "Remove the time barrier, make it easier for me so I can be where I need to be and apply the higher-level skills."
Vargas echoed these sentiments when it comes to using machine learning to help IT pros focus on the meaningful parts of the job.
"People study to do a job that's meaningful, not to just get stuck on the tedious things," he said. "Analyze the best use case for machine learning and what will bring the most benefit to your team."
4. The Do's and Don'ts for Accessing the Deep and Dark Webs
ID Agent Senior Threat Analyst Duncan Miller took us on a tour of the deep and dark webs and explained what they are, why cybersecurity pros might want to browse them and how to find them. He also provided some do's and don'ts for those ready to venture.
"I don't discourage people from going on the dark web, but do not do it on your work computer," he said. "I go on every day as part of my job, and one time I forgot to go through the proper channels and our virtual private network (VPN) flipped out."
He explained that the deep web is public internet content that has not been indexed while the dark web is an area of the internet that you can only access through special protocols.
There are various reasons – some legitimate and some unsavory – that people visit the dark web. Among the legitimate reasons that Miller noted are reporters wanting to encrypt communication with their sources and threat analysts looking for credentials, personally identifiable information and other data related to their organization.
5. How Hackers Use Good Tools for Evil
ITProTV Edutainer Daniel Lowrie explained that cybercriminals don't need to install malware to gain access to your network. There are a number of ways they can live off the land and use the same tools you are, as well as your employees, to get in and conduct advanced persistent threats (APTs).
"It's not malware, yet it's doing something that it shouldn't," he said. "Hackers think, 'I didn't have to install anything. I'm using what's there. Thank you for the lovely gift.'"
He added that IT administrators and cybersecurity pros need to be especially vigilant in watching for these types of breeches.
"A lot of the tools that are available could be used for privilege escalation, persistence and things of that nature, and they're just sitting right there for hackers to use on Linux systems. Administrators need them to do their jobs, but in the hands of the wrong person, they can be used against us," Lowrie said. "It's up to us to say, 'Something seems amiss,' and go in there."
If you didn't catch the live virtual event – or you want to watch it again – tune in September 18 and 19 for the rebroadcast of ChannelCon Online. Catch these sessions as well as The Role of Cloud Computing in Digital Transformation by DuWayne Harrison, keynotes from Shaquille O'Neal and Eric O'Neill, and many more. Earn up to seven CEUs from the comfort of your computer.