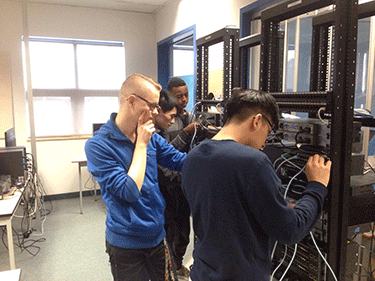 The Computer Networking Technician (CNT) program at Burnaby South Secondary School, located in a Vancouver suburb, is creating student pathways to IT-related jobs and higher education, thanks to great local partnerships, an exceptional instructor and strong district support.
For Burnaby South graduate Zohra Sean, the program opened a new career option. When she entered the one-year program as a 12th grader last fall, Sean liked computers, video games and the Internet but didn't really know how the technology worked. Within months, she was happily configuring routers in the CNT program's lab. "I discovered I was actually really good at it, and I found it easy to understand," says Sean.
Sean, 18, is currently working toward an information systems administration degree at the British Columbia Institute of Technology (BCIT) in Burnaby. She earned advanced placement there through the credit articulation agreement between the schools. "My plan is to go into networking, and maybe one day get to work with Cisco or Microsoft," she says.
The Burnaby program is both a CompTIA Authorized Partner Program Academy and Cisco Networking Academy. It is also one of 150 high schools offering the "Focus on Information Technology" (FIT) program through Canada's Information & Communications Technology Council (ICTC).
Started in 2009, Burnaby's CNT program is open to 11th and 12th grade students throughout the district, accepting 17 to 20 students each year. Its curricula covers Cisco's IT Essentials (aligned with the CompTIA A+ credential), CCNA Parts 1 & 2 (Discovery version for secondary students), and Linux. In addition, students log 120 hours of non-paid work experience via three one-week internships during the year.
The district's schedule allows the students to attend the CNT program from 8:30 a.m. until about 3 p.m. every other school day, allowing intense, uninterrupted focus on class and lab work.
Upon completion of the 20-credit program, each student receives a FIT certificate from the ICTC of Canada that they can add to a portfolio. As a benefit of being a CompTIA partner and Cisco Networking Academy, the program provides students with vouchers for discounted certification exams. About a fourth of the students take their CompTIA A+ or CCNA certification exams during or after the course.
Local Support
To help ground students with real-world experience, instructor Eddie Wong has built partnerships with local, IT-centric organizations and employers that allow his students to shadow IT professionals as they recycle, repair, and build computers.
In May 2012, CompTIA's International Director for Canada Denise Woods-Goldstein and ICTC Regional Project Manager Debbie Vance introduced Wong to Todd Allen, ConnectPro service specialist for technology retailer Future Shop. That meeting, which occurred at a "Futures in ICT" conference hosted by ICTC, Cisco and CompTIA, opened the door to Burnaby 's CNT students being placed at multiple Future Shop locations to job shadow ConnectPro staff.
"It was an easy decision for us to get involved with this high school program," says Allen, who himself started with Future Shop in high school. "Our students really are our future. It was a great opportunity for us to expose students to a career in IT."
ConnectPro managers (whom themselves must be CompTIA A+ certified) report that the Burnaby interns "came ready to learn and wanted to put what they learned in school to practice," Allen says, adding that all locations encouraged the interns to apply for a job if they were interested when they turned 17.
Internships led to a job for Thomas Geyer, 17, a 12th grader at Burnaby's Moscrop Secondary School who attended the program last year. After a week interning for The Mac Market as a part of the CNT program, the local Apple reseller "offered me a job, working part-time," Geyer says. He continues to work there.
This year, Geyer is applying to BCIT's Business Information Technology Management program. His goal: a technology-oriented job in business. He believes the CNT program "will definitely help me get another job and more experience."
Laying IT Tracks in High School
We want to hook students on technology while they are in high school.
Tracy Biernacki-Dusza, national program manager, FIT
The goal of FIT programs like Burnaby School District's is to open pathways for Canada's high school students into highly viable technical careers, and to strengthen Canada's technology workforce. "We want to hook students on technology while they are in high school," says Tracy Biernacki-Dusza, national program manager for FIT.
Founded in 2001, FIT has grown slowly through word-of-mouth among educators and via ICTC events promoting the FIT program, but Biernacki-Dusza expects that to accelerate. "Our aim is to have about a third of all the high schools in Canada offering the FIT program."
Wadih Zaatar, manager of Cisco Networking Academy in Canada, works closely with CompTIA and ICTC to support and promote the FIT program. Cisco Networking Academy is the most frequently used curricula among the 150 FIT schools, along with Java and Adobe. Work is underway to bring HP, Toon Boom Animation and other curricula into the program.
Zaatar contends that Burnaby School District's program has the "two pillars" that all high school FIT programs need to be successful: An enthusiastic instructor willing to champion the program, and strong support from the school's administration. "If either of these pillars are not available, the program will collapse," he says.
Planning for Success
Burnaby School District officials initiated its CNT program in response to student interest in adding IT to the district's industry certification programs.
District Principal Donna Scott worked carefully with Cisco Canada, BCIT and ICTC to develop the CNT program. Randy James, department head of BCIT's technical computing department, supplied detailed advice about program structure, outcomes and facility needs. To support high school graduates entering its technology program on second semester via articulation agreements, BCIT created a three-week "bridging course" to help the students get used to the BCIT environment and the post-secondary program.
"It's a lengthy process, but it's valuable," says Scott of the planning. "The resulting program has a more solid framework. Because of this very positive relationship we have with BCIT, we have a better program."
BCIT continues to advise the Burnaby program, and James says, "It's going really well from my perspective."
BCIT gets contact with Burnaby students early in their high school career, and Burnaby CNT students coming to BCIT "so far have been very successful," says James. "It's rewarding to work with high school districts and to experience the enthusiasm of the students"
Enthusiastic Leadership
The Burnaby program's other "pillar," instructor Eddie Wong, says that being hired for the CNT program was an "answer to prayer."
Credentialed with a biomedical/electronics engineering degree and a teaching certificate, Wong taught science, physics and information computer technology courses for 10 years in another district, commuting long distances to these smaller schools. Married and wanting to start a family, he sought a job closer to home.
Hearing about the new Computer Networking Technician program starting at Burnaby, he interviewed for the job, was hired quickly to launch the program, and immediately began attending BCIT's Cisco Training Academy for instructors to earn his CompTIA A+ and CCNA certifications.
In three years, Wong has become known for his mentoring skills and skilled use of project-based learning. "Regardless of students' academic standings when they enter the program, Eddie is very good at getting all of them excited about what they are learning," says Biernacki-Dusza. "Now he has to kick them out of class, they're so engaged and loving what they are doing."
The CNT program is meeting its goals, says District Principal Scott. "We are teaching our students current theory and skills, enabling them to go to BCIT, or a post-secondary institution, or directly to work," she says. "We are very pleased with our teacher and proud of our students' abilities and accomplishments. They are very successful at a very young age."
For more information on becoming a CAPP Academy (CompTIA Authorized Partner Program), contact academy@comptia.org. For information about the ICTC's "Focus on Information Technology" program for Canadian high schools, contact info@ictc-ctic.ca.