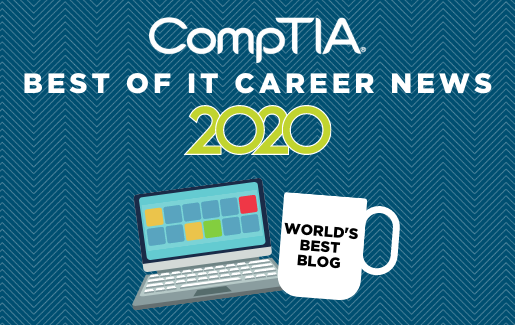 Every year we compile the top 10 articles that IT pros read the most. The nature of our top 10 list this year illustrates that even though 2020 threw us all a curve ball, the technology community rallied together to make some pretty tasty lemonade out of sour lemons. Not surprisingly, hot topics like cybersecurity, online testing and the future of IT jobs got the most attention this year – to the tune of 384,828 pageviews, and counting!
It's safe to say that we're all anxious to put this year in our rearview mirror. But before we zoom into 2021 (no pun intended!) let's count down the greatest hits this year, from number 10 to number 1. And although it was a tough year, remember to apply the lessons we learned into the new year and beyond.
Published March 27, 2020
U.S. Department of Defense (DoD) Directive 8570 is an important milestone in cybersecurity workforce management for the U.S. government and outlines the skills and credentials needed by cybersecurity professionals working with the military. Understanding this provides a path to understanding the current DoD Directive 8140.
Published Friday, May 15, 2020
Based on CompTIA's Cyberstates report, we take a look at the past trajectory of IT jobs, giving us a starting point for what might happen in the future.
Published Wednesday, April 29, 2020
In response to questions about the new CompTIA Cybersecurity Analyst (CySA+) exam, we compiled everything you need to decide whether or not it's right for you.
Published Wednesday, April 15, 2020
This year CompTIA began offering online testing. This article explains the testing options for CompTIA exams and exactly how IT pros can earn a CompTIA certification from home.
Published Friday, August 14, 2020
In a field like cybersecurity, where the job is continually evolving, CompTIA exams need to reflect what's happening in the industry. We break down how the new Security+ 601 differs from its predecessor 501.
Published Wednesday, October 14, 2020
Learn how the CompTIA Cybersecurity Career Pathway was refreshed this year to align with today's cybersecurity job roles, including updates to CompTIA Security+ and CompTIA CySA+.
Published Monday, January 6, 2020
Which IT certifications are so in demand that employers will pay top dollar for those who hold them? Spoiler alert: Two are from CompTIA.
Published Wednesday, September 30, 2020
In honor of cybersecurity month, we take stock in why cybersecurity professionals are so important and offer up some free resources as a thank you.
Published Friday, July 10, 2020
IT workers have led the way in helping the world stay connected and informed during COVID-19, but the truth is they have led the way in helping all of us overcome challenges for some time now.
Published Wednesday, October 7, 2020
Interested in a career in cybersecurity? With more than 500,000 job postings for open cybersecurity positions in the United States, it's a great time to join a booming industry.
Thanks to all of our loyal readers. We appreciate your time, we love hearing your comments and we hope these articles give you insight into what's going on in tech. Wishing you a happy, healthy holiday season and success in the new year! IT Career News is taking off for the holidays, but we'll see you back here in January.
Get more great news like this delivered to your inbox when you subscribe to IT Career News. As a thank-you, you'll get 10% off your next CompTIA purchase.
Looking Back
Read our greatest hits from previous years: