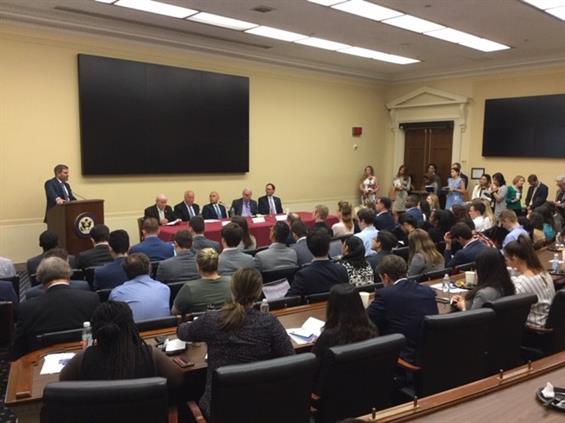 Artificial Intelligence (AI) is garnering an immense amount press lately, in large part because it is touching or will touch nearly every aspect of our lives.
It seems every day we're told of a new way AI is being used to improve how we live, work, or play. It is against this backdrop that CompTIA, along with the House of Representatives' AI Caucus, recently hosted a panel discussion on AI. We were joined by representatives from Intel Corporation, DellEMC, and the Einstein and Montefiore Medical Center.
The discussion was held before a packed room of Congressional staff and other stakeholders, and covered an array of topics such as AI's enabling factors (data), who is using it (businesses and individual consumers), the hurdles to additional adoption (not enough data), and why we need it (to improve lives, workflows, and customer experiences, along with winning the global AI race).
During the discussion, the AI Caucus co-chairs, Representative Jerry McNerney (D-CA) and Representative Pete Olson (R-TX), asked what federal investments should be made in AI. Each panelist pointed to education, whether it is teaching workers to work alongside it in the workplace or upskilling workers to brace for the increased role AI will play in handling routine workplace tasks.
Our own research predicts that by 2024, there could be as many as 1.8 million unfilled technology jobs in the U.S. alone, many of which will be in emerging technologies like AI. What's more, technology plays a critical role in advancing the U.S. economy. The technology industry employed more than 7.3 million workers in 2018, while there were an additional 7.8 million technology jobs in other industries like healthcare, finance, media, government, etc. Such stark numbers are a reminder that policymakers should be exploring avenues to arm the nation's students and workers with the skillsets today's economy requires.
In the near-term, Washington can look to CompTIA-backed legislation like the CHANCE in Tech Act (H.R. 1733/S. 777) and the Cyber Ready Workforce Act (H.R. 2721/S. 1466), which would both help establish tech apprenticeships, to help close the skills gap and prepare workers for the new landscape. In addition, policymakers should work fast to modernize our woefully outdated immigration system by increasing employment-based Green Cards for high-skilled STEM graduates, create new visas for entrepreneurs, and eliminate arbitrary caps on H-1B visas and move to a market-based approach. High-skilled immigrants are job creators and can help fill important AI programming jobs.
There are also longer-term investments to be made. Policymakers should make targeted investments in early education STEM programs to ensure key concepts are introduced at a young age. These investments should continue through college and be aligned with local and regional workforce needs. It is also crucial that investments be made in traditionally underrepresented communities to help close the confidence gap and inspire students from all backgrounds that they too can reap the benefits of our new economy.
CompTIA's guiding principle is simple: to equip individuals with the tools they need to succeed in a tech-based economy. On the heels of our recent panel discussion with the AI Caucus, that principle has never been clearer. As AI continues to be adopted in hospitals, the workplace, our homes, automobiles, etc., etc., etc., it's imperative that we redouble our efforts to ensure all are ready to work alongside it. We urge policymakers in Washington move fast to help shrink the skills gap.
Read our AI workforce paper here.