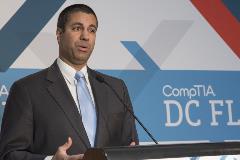 On the morning February 14, we held the Capitol Hill Speaker Series at the 2018 CompTIA DC Fly-In. It featured high-ranking officials from the Federal Communications Commission and the Department of Homeland Security and provided Fly-In attendees with an informative overview of government priorities for the coming year around the tech agenda. It also gave attendees added knowledge of tech issues before hitting the halls of Congress for Fly-In meetings.
Protecting our assets
Our first speaker was Jeanette Manfra, Assistant Secretary for the Office of Cybersecurity and Communications (CS&C), of the the National Protection and Programs Directorate (NPPD) within the Department of Homeland Security. She is the chief cybersecurity official for the Department of Homeland Security (DHS) and supports its mission of strengthening the security and resilience of the nation's critical infrastructure.
Manfra began by discussing the role of the Office of Cybersecurity and Communications within the National Protections and Programs directorate, "We are responsible for enhancing the security, resilience, and reliability of the Nation's cyber and communications infrastructure."
She discussed the cybersecurity executive order signed in May by the President that is designed to improve the nation's cybersecurity. The EO outlines three key priorities for the Trump administration's efforts in cyberspace: 1) Protecting federal networks 2) Cybersecurity of critical Infrastructure and 3) Cybersecurity for the nation.
She stressed that the cyber threats that we face are of such magnitude that we need to do a better job of developing a pipeline of talent who can fill cyber and cybersecurity jobs. "We have to increase our resilience, protect our assets and build contingency plans when there is a cyber-attack. We need the right people in the room to mitigate incidences. Now more than ever, it's important that we foster innovation and form strategic partnerships with private industry."
She said to the audience, "We need you to be a supplier and help us better protect our ecosystem. We want industry to get involved so that we can start to automate our defenses. We want to compare notes in the midst of an incident and come up with a product or better defense. I know it's not always easy to work with the government, but we are determined to change that."
Future of 5G and open internet
Our next speaker was Michael O'Rielly, FCC Commissioner. We asked him about future proceedings for 5G, the fifth generation of broadband cellular network technology. He said that there would be additional spectrum of 5G with more mid band and high band spectrum available, including 6 or 7 bands available this summer. He added, "We are examining infrastructure problems in order to remove barriers to broadband deployment to make it less costly and less timely."
We also asked him how rural areas get broadband access. "We need more unlicensed bands in America, 5.9 makes sense, 2.4 is incredibly slow. We have the Connect America Fund II to make sure that everyone has 4G." The Connect America Fund II will disburse $2 billion in federal money over 10 years to support new broadband infrastructure in rural areas throughout the country.
Discussion also took place about the open internet issue and the concern about state governments crafting their own net neutrality laws, which would create a patchwork of conflicting rules effecting companies in the innovation-driven IT sector.
O'Rielly said, "We need federal preemption, it is an interstate matter and we can't keep rules that support states doing bad things; we have to make sure that there are no harmful activities taking place that affect the ability for suppliers to bring broadband to all of America."
And in terms of what O'Rielly wants to accomplish, he said, "I want to help make new spectrum available, build broadband out, and improve the nation's digital infrastructure. I'm the public servant that you would be if you were in my seat."
Promote innovation, spectrum, and infrastructure
Our final speaker was Ajit Pai, Chairman of the FCC. He discussed some of the actions and accomplishment that the FCC has led to promote innovation and investment. "Oftentimes, innovation has been put on the shelf. We don't want innovators to wait around for an answer. The Commission will speed approval of new technologies through enforcement of Section 7 of the Communications Act. Section 7 gives the Commission one year to decide on whether any new proposed technology or service is in the public interest. We want to get more devices and innovative services into the marketplace."
Another goal is to get more spectrum into the commercial marketplace. "The Federal Communications Commission recently held a spectrum auction to help improve and expand wireless services across the country to meet the ever-increasing needs of American consumers. In August, there will be a Connect America Fund Phase II auction, and I encourage your participation."
In the area of investment, the FCC approved requests by non-geostationary orbit satellite providers to access the United States market to provide broadband services using satellite technology. "These approvals are the first of their kind for a new generation of large, non-geostationary-satellite orbit, fixed-satellite service systems. We want to encourage the private sector to take risks."
And finally, in the area of infrastructure, "Since my first day as Chairman of the FCC, I've said that my number one priority is closing the digital divide and bringing the benefits of the Internet age to all Americans."
The FCC has taken a number of steps to expand broadband across America including adopting a Mobility Fund framework to allocate up to $4.53 billion over the next decade to advance 4G LTE service, primarily in rural areas that would not be served in the absence of government support. Chairman Pai is also working to implement the next stages of the Connect America Fund.
"High-speed Internet access, or broadband, is critical to economic opportunity, job creation, education, and civic engagement. But there are too many parts of this country where broadband is unavailable. In urban areas, 97% of Americans have access to high-speed fixed service. In rural areas, that number falls to 65%. All told, nearly 30 million Americans cannot reap the benefits of the digital age."
And that's a wrap of the 2018 CompTIA DC Fly-In! At the conclusion of the Capitol Hill Series program, Fly In attendees descended onto Capitol Hill to meet with members of Congress and Senators about the CHANCE in Tech Act which is legislation that CompTIA worked with allies on Capitol Hill to get introduced in 2017.
Lana Sansur is the Senior Marketing Manager for Policy and Public Sector