El Paso, Texas, borders Mexico to the south, New Mexico to the west and government land to the north. But it continues to grow to the east, making the Socorro Independent School District (SSID) one of the city's fastest-growing school districts in an area where 90 percent of the population is Hispanic. Last fall, David Caldwell, a technology teacher at the district's El Dorado High School, began teaching the Community Education English as a Second Language (ESL) Computer Maintenance Class, which combines English language learning with IT skills to prepare adults for IT careers.
"The main purpose of the class is to help them get CompTIA certified, help prepare them for better opportunities in the workforce and give them opportunities in the IT field," Caldwell said. "With the certifications, it's a very valuable tool to open up a lot of doors."
Many of the students work, but in minimum wage jobs. Some are unemployed, and some are single parents. Some of them hadn't even used a computer before, but they are looking for an opportunity to change.
"These people are dedicated," Caldwell said. "They're taking time away from their families and trying to better themselves."
Why IT Certifications?
The program previously offered IT training, but it did not include certifications. Caldwell said that in El Paso, many IT jobs are related to the federal government, especially through Fort Bliss and government contractors, and those jobs require IT certifications, in particular CompTIA Security+.
"Any business, any industry needs IT people – hospitals, fire stations, grocery stores, border patrol, he said. "IT is everywhere. The more certifications they gain, whether CompTIA or otherwise, the more valuable they become and the more job opportunities are available. CompTIA is the stepping stone that opens the door."
Learning English and IT Simultaneously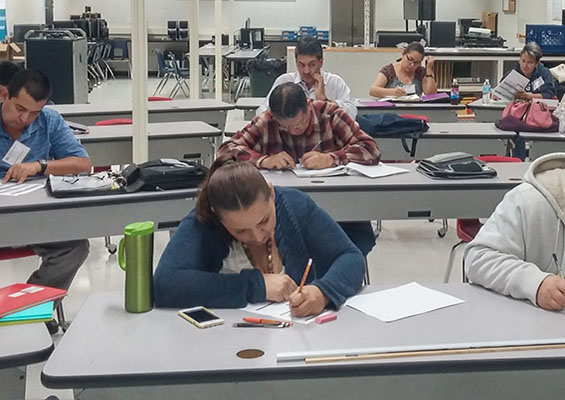 While he is not an ESL teacher, Caldwell is a skilled technology teacher, earning Teacher of the Year from El Dorado in 2016. Three of his high school students assist him during each class with translation as needed, although he encourages everyone to speak English as much as possible. That said, students do need to have a basic level of English and math proficiency to qualify for the program.
"Part of the program is for them to learn English, so I have them ask their questions in English, and I'll correct them so they're learning English in my class," he said.
Building on What They've Learned
For three hours a night, three times a week, 13 adult students attend Caldwell's class to learn computer maintenance and prepare for their certifications. During the first semester, they study for and take CompTIA A+. In the second semester, they do Security+.
"A lot of concepts in Security+ are also in A+," Caldwell said. "They're used to terminology, so it gives them self-assurance. They know what they need to know."
Caldwell's strategy is to repeat, repeat, repeat so that the students better understand the concepts and the language. At the beginning of each class, he takes time to review what they learned last time. Caldwell also pairs up students to do research, in English, together. The curriculum includes about 40 percent lecture and 60 percent hands-on learning, although sometimes that jumps to 75 percent.
Leveraging Existing Resources
A grant covers the cost of the certifications, and the continuing education department pays for the training materials, books and supplies. The program saved money by using Caldwell's existing classroom rather than buying all new equipment. He already has router switches, computers, testing equipment and more so the students can put into practice the concepts they're learning.
"I'm lucky to be in a position where we have the equipment," he said. "I don't have to just talk about it – I can say, 'Let's take a look.'"
Heading Down the Certifications Pathway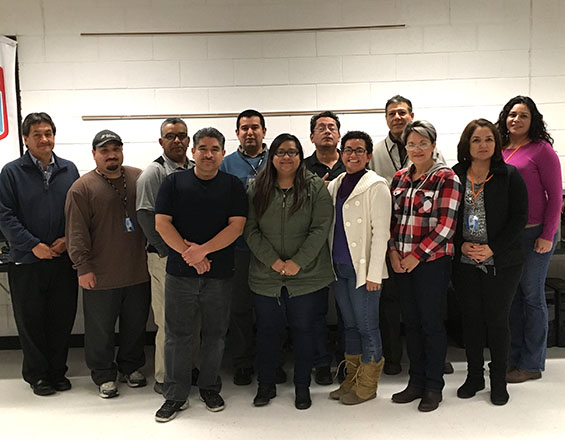 Caldwell can relate to his students because he, too, changed careers. After working in his family's floral business, he earned his CompTIA A+ to get into IT. He now holds 10 IT certifications and shares his knowledge with his students.
"CompTIA offers the opportunity for a change, for a whole different way of life," he said. "My degree is in management and marketing, but CompTIA made a difference in my life."
This year, all 13 of his students passed their certification exams, earning two CompTIA certifications each. This summer, they'll work toward earning Cisco CCENT1, which would help prepare them for CompTIA Network+.

Ready to start your IT career? Learn more about CompTIA A+.