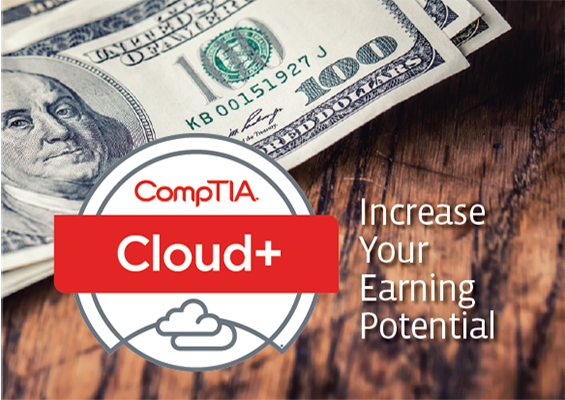 If you work in cloud computing or are looking to get into it, you'll be happy to know that more than 260,000 U.S. job postings in 2017 listed cloud computing skills, according to Burning Glass Technologies Labor Insights data. Even better news is that as demand for all things cloud increases, so do salaries for experts in the cloud. In a 2017 Rackspace report, nearly half of IT decision makers said they struggle to attract job candidates with the skills necessary to manage their organization's clouds, and they pay more for candidates with the right skills.
Enter CompTIA Cloud+, a globally recognized and accredited performance certification that ensures individuals have the expertise needed to maintain and optimize cloud infrastructure services. Job candidates who hold CompTIA Cloud+ can command the extra pay because they've proven they have the hands-on skills needed to improve an organization's return on its cloud investment.
Wondering which cloud computing skills employers will pay more for? Check out our list of the five highest-paying cloud skills from the Rackspace report cited above that are covered by CompTIA Cloud+ to set yourself on the path to higher pay and cloud career success.
What Is a Performance Certification?

CompTIA performance certifications validate the skills associated with a particular job or responsibility. To earn the certification, candidates must demonstrate their ability to perform related tasks through simulations and performance-based questions, proving they not only know what a job entails, but how to do it.

Cloud Security

Security often leads an organization's list of concerns about cloud computing, and incidents of unauthorized data access add to the demand for job candidates with both cloud and local network security expertise. According to the Rackspace survey, cloud security is second only to database management on the list of in-demand cloud computing skills – and warranting the highest salaries.

CompTIA Cloud+ confirms job candidates have the skills to apply security configurations and compliance controls to meet cloud infrastructure requirements and to quickly identify and respond to attacks. It also ensures individuals can implement security technologies to minimize and eliminate the risk of phishing, business e-mail compromise, ransomware and distributed denial of service (DDoS) attacks.

Service Management

The ability to manage cloud computing servers, storage, networking and data center operations and services is critical to successful cloud computing. As organizations look for ways to reduce costs, individuals with the skills to optimize cloud environments and ensure ROI on cloud purchases are in high demand. In the Rackspace survey, service management was the third-highest skill for which employers may pay higher salaries, and it's a big part of CompTIA Cloud+.

Job candidates with CompTIA Cloud+ analyze defined metrics to manage, allocate and forecast cloud resources; implement account-provisioning techniques to meet security and policy requirements; and apply appropriate changes to ensure a cloud environment meets performance and capacity criteria. With such an emphasis on incorporating and managing cloud technologies as part of broader systems operations, CompTIA Cloud+ ensures a candidate has the skills to meet specific business needs across a range of industries.

Automation

Organizations use automation processes and tools to reduce the amount of manual effort required to provision and manage cloud computing workloads. One-quarter of respondents to the Rackspace survey indicated they pay more for automation skills.

CompTIA Cloud+ verifies that job candidates can apply security automation techniques, automate cloud updates, apply appropriate maintenance automation techniques and troubleshoot any automation issues in a cloud computing environment.

Cloud Testing

Cloud testers assess the performance, scalability and reliability of applications in cloud computing environments. Organizations using the cloud for development need testing specialists who have experience with migrating and supporting applications in cloud environments.

CompTIA Cloud+ requires individuals to analyze system requirements and determine if a testing plan is appropriate, as well as to evaluate testing results.

Multi-Platform Cloud Services

Respondents to the Rackspace survey indicated they seek cloud developers with experience using Microsoft Azure cloud services, Google Cloud Platform (GCP), DevOps concepts, VMware infrastructure, the Amazon Web Services platform and OpenStack software tools. Earning multiple certifications in each of these areas is both time intensive and expensive.

Unlike certifications that focus on a specific vendor or single function, CompTIA Cloud+ gives IT professionals a broad range of skills applicable to any platform. It is the only vendor-neutral, performance-based IT certification that views cloud-based infrastructure services in the context of comprehensive IT systems operations. In addition, CompTIA recommends that Cloud+ candidates have 24 to 36 months of work experience in IT networking, storage or datacenter administration, which further ensures they have the on-the-job skills necessary to successfully work in the cloud computing space.
As the cloud continues to evolve and demand for certified cloud computing skills increases, CompTIA Cloud+ guarantees candidates have the knowledge, skills and abilities required to perform effectively on the job. With these critical skills, individuals with CompTIA Cloud+ are attractive job candidates and command higher salaries as a result of certification.
Increase your earning potential. Learn more about CompTIA Cloud+ today.