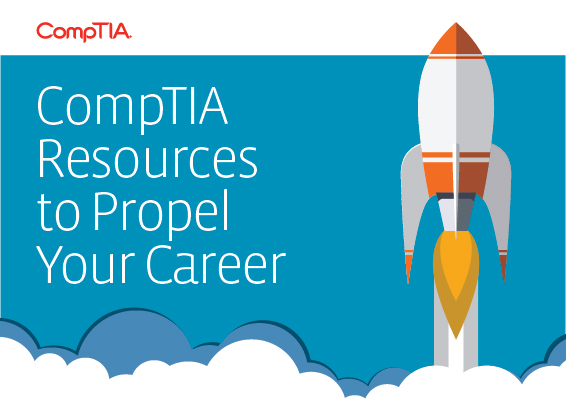 In the past year, CompTIA has added more ways to help you propel your career, so we gave this popular article from 2017 a facelift.
CompTIA wants you to succeed in your career, so we've compiled 12 resources that can help you navigate your job search, develop new skills and stay updated on the industry. We also provide networking opportunities for IT pros to develop relationships and share opportunities. Whatever stage your IT career is at, CompTIA has your back!
CompTIA Certifications

We'd be remiss if we didn't put this at the top of the list. IT certifications play a key role in the hiring process. In fact, 91 percent of employers believe IT certifications are a reliable predictor of a successful employee.

CompTIA Study Tools

From CompTIA Official Study Guides to the CertMaster suite of products, CompTIA has your back every step of the training journey. We've even partnered with ITProTV for official video training.

CompTIA CertMaster CE

CompTIA CertMaster CE is a convenient and quick continuing education (CE) option for IT pros who hold CompTIA certifications. The self-paced eLearning tool builds on the knowledge and skills you demonstrated when you first passed your exam and enables you to rapidly bridge your knowledge gap. It's designed to help you renew quickly without having to take a new exam.

CompTIA Career Roadmap

The CompTIA Career Roadmap helps you connect the dots between IT certifications and a career path. Choose your career path to make a plan for what's next or view the full roadmap for inspiration.

Webinars

CompTIA hosts quarterly IT Pro Webinars where you can earn continuing education units (CEUS) while hearing from experts in the field on a wide variety of topics. Check out upcoming webinars as well as on-demand webinars that you can watch in your own time.

CompTIA Insights and Tools

CompTIA has an in-house research team and member education team develop content that can help you grow in your career. IT pros may be particularly interested in recent pieces like Cloud Computing and IT Operations, Use Social Media to Get an IT Job and Understanding Emerging Technology: Automation. All you need to gain access is a free CompTIA registered user account.

Job Profiles, Salary Info and More

If you want to know where the jobs are, what jobs are in demand and how much they pay, Cyberseek, Cyberstates and TechTalent powered by CompTIA can help. These sites provide job data and salary info to help you identify the hot jobs in your area – or any area. Learn more about what it takes to get that job with our Your Next Move job profiles.

CompTIA Blogs

In addition to IT Career News, which covers IT careers and certifications, CompTIA has several other blogs that can enhance your understanding of the IT industry:
CompTIA Blog: Covers IT industry news and trends
CompTIA AITP Blog: Grow and advance your technology career with advice, research and resources from CompTIA Association of IT Professionals (AITP), the leading association for technology professionals, students and educators.
Creating IT Futures Blog: Includes career advice and success stories from people who've gone through IT-Ready, a nonprofit IT training and job placement program run by Creating IT Futures
IT Careers Newsletter
CompTIA's IT Careers Newsletter delivers career advice, opportunities and inspirational stories to your inbox every month.
CompTIA Subject Matter Experts (SMEs)
CompTIA brings in people who already hold its certifications to help develop the latest exams. CompTIA Subject Matter Experts, or SMEs, come to CompTIA headquarters for a week, where they earn CEUs and a stipend in exchange for helping revise exam questions and topics to stay current with the industry. Throughout the week, they network with a peer group from around the world and enjoy delicious Chicago fare.
CompTIA AITP
CompTIA Association of IT Professionals (AITP) is the leading association for technology professionals, students and educators. CompTIA AITP membership helps you build a professional network, strengthen technical knowledge and soft skills, and gain insights on current technology and business trends.
ChannelCon
CompTIA ChannelCon is a great way to network with IT industry professionals in a variety of roles while earning CEUs.
Stay up to date on everything CompTIA by joining our IT Careers Newsletter mailing list. Bonus: Sign up today and get 10 percent off your next CompTIA purchase.