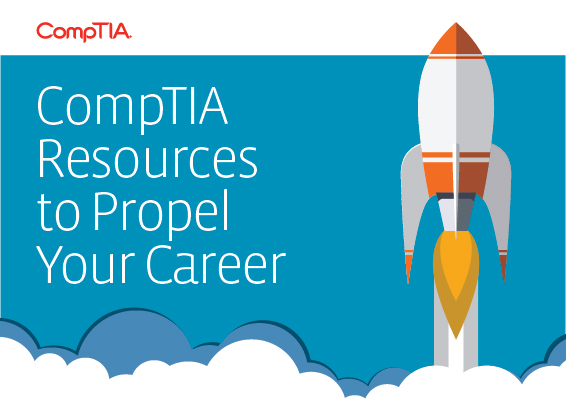 No matter where you are in your career or what you want to do next, CompTIA has a plethora of resources to help you get there. Check out these 12 resources from CompTIA to help propel your career. We've sorted them into four categories for easy navigation: skills development and continuing education, industry and career information, networking with IT pros and job search. Click on the links above to go directly to those categories, or peruse the entire list.
Skills Development and Continuing Education
CertMaster
CompTIA CertMaster and CompTIA CertMaster CE are online learning tools that help you prepare for your next certification and renew existing certifications. CompTIA CertMaster guides you through course material, adjusting as you answer questions to focus on what you need to learn, not what you already know. CompTIA CertMaster CE bridges the content gap between the exam you took to earn your certification and the latest release.
KnowledgePath CE
KnowledgePath CE is a self-paced learning course that helps you earn Continuing Education Units (CEUs) as you read through curated content and complete assignments and quizzes to assess your learning.
Webinars
CompTIA hosts quarterly IT Pro Webinars where you can earn while hearing from experts in the field on a wide variety of topics. Check out upcoming webinars as well as on-demand webinars that you can watch in your own time.
Industry and Career Information
CompTIA Blog
In addition to getting your IT career news, which covers IT careers and certifications, CompTIA's blog covers other topics to enhance your understanding of the IT industry. The CompTIA Blog also covers IT industry news and trends as well as advocacy topics such as public policy efforts and legislation related to the tech industry. Last but not least, Creating IT Futures highlights the work of Creating IT Futures, a nonprofit established by CompTIA, as well as more career advice.
IT Careers Newsletter
CompTIA's IT Careers Newsletter delivers career advice, opportunities and inspirational stories to your inbox every month.
CompTIA Career Roadmap
The CompTIA Career Roadmap helps you connect the dots between IT certifications and a career path. Choose your career path to make a plan for what's next or view the full roadmap for inspiration.
Cyberseek and Cyberstates
If you want to know where the jobs are, what jobs are in demand and how much they pay, Cyberseek and Cyberstates can help. Cyberseek provides data related to cybersecurity careers and can help you identify job trends in your area and how to advance in your career. Cyberstates offers similar data but for the tech industry as a whole.
Networking with IT Pros
CompTIA Subject Matter Experts (SMEs)
CompTIA brings in people who already hold its certifications to help develop the latest exams. SMEs come to CompTIA headquarters for a week, where they earn CEUs and a stipend in exchange for helping revise exam questions and topics to stay current with the industry. As an added bonus, you'll network with a peer group from around the world and enjoy delicious Chicago fare.
CompTIA AITP
CompTIA AITP is a new IT pro association that will offer networking, continuing education, industry insight, career tools and more. Show your interest now to receive an early-bird discount on your membership dues.
ChannelCon
CompTIA ChannelCon is a great way to network with IT industry professionals in a variety of roles. Track4Techs gives you an IT-specific education in sales and customer service, as well as the ever important soft skills.
Job Search
WorkAmerica
CompTIA-certified IT professionals can sign up with WorkAmerica to connect with employers in the WorkAmerica recruiting network.
Apex Systems
Apex Systems specializes in connecting IT pros with employers and can help CompTIA-certified professionals find jobs.