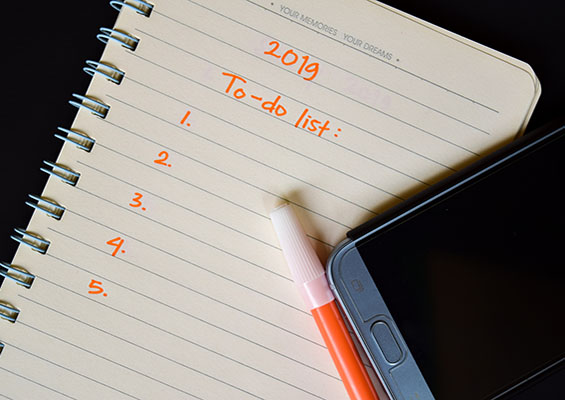 CompTIA has some great things planned for 2019 that you won't want to miss. We're updating two of our certifications, releasing more training products and providing you with many more opportunities to increase your IT knowledge, meet other IT pros and grow in your career.
1. The New CompTIA A+
If you read IT Career News or follow CompTIA on social media with any regularity, surely you know that we kicked off 2019 with a new version of CompTIA A+. This entry-level IT certification got a complete refresh, with enhanced coverage of critical subjects like cybersecurity and cloud computing.
Read more about the new CompTIA A+:
The New CompTIA A+: Problem Solvers Wanted
CompTIA A+: From PC Repair to Problem Solving in 26 Years
The New CompTIA A+: Your Questions Answered
2. The New CompTIA Linux+
This spring, CompTIA will release a new version of CompTIA Linux+ that has been completely revamped. As we bring the exam in house, ending the partnership with LPI, you will be able to earn CompTIA Linux+ by passing just one exam, not two. The content has also been updated to reflect where the technology is going and covers topics such as storage and virtualization, kernel modules, DevOps basics, networking and firewalls, and more.
Read more about the new CompTIA Linux+
3. More Training for More IT Certifications
In 2018, CompTIA expanded the CertMaster product line and introduced the Official CompTIA Study Guide for many certifications. Going into 2019, we'll be rolling out more tools – both as individual products and as bundles – to support you every step of the way on your certification journey. Stay tuned for more info on what will be available and how it can help you get certified and grow in your IT career.
Learn more about CompTIA self-study training resources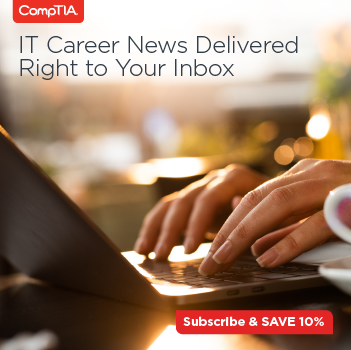 4. Free IT Classes in More Cities
Creating IT Futures' IT-Ready career program trains, certifies and places unemployed and under-employed adults in their first IT jobs. In 2019, free IT-Ready classes will be offered in more cities than ever before, doubling the reach of the program. The full-time courses are provided free of charge to students, thanks to grants and donations from organizations including CompTIA, Boeing, Cognizant U.S. Foundation and TEKsystems and in partnership with organizations including Goodwill Industries, the Urban League and the Wounded Warrior Project.
Learn more about IT-Ready and Creating IT Futures
5. More SME Workshops
CompTIA is always looking for new, qualified subject matter experts (SMEs) to help with exam development. We have upcoming workshops for the CompTIA A+, Linux+, Cybersecurity Analyst (CySA+) and PenTest+ exams. If you hold one of these certifications, consider applying to be a SME. If you're selected, in exchange for your participation, you'll receive a generous daily stipend, complimentary CompTIA exam voucher, continuing education units (CEUs) and recognition on our website, not to mention delicious meals and snacks while you're here and the opportunity to collaborate with IT pros from around the world.
Learn more and apply to be a CompTIA SME
6. Annual CompTIA Events
Every year, CompTIA hosts a number of events, and 2019 is no different. Next week, technology executives, business owners, tech councils and policymakers from across the United States will gather in Washington, D.C., for the annual CompTIA DC Fly-In. And this summer, IT pros and instructors can connect with others in the industry and learn about the latest tech trends and innovations at ChannelCon and the CompTIA Partner Summit in Las Vegas.
See all of the upcoming CompTIA events
7. CompTIA at Industry Events
If you're attending IT conferences, keep an eye out for CompTIA. In the past, we've been to events like SpiceWorld, the Service Desk and IT Support Show, HDI and more. March 4 to 8, we'll have a booth at RSA, and CompTIA Chief Technology Evangelist James Stanger will be co-presenting with Tim Crothers, vice president of cybersecurity at Target.
8. The Latest Research on IT Trends and the Workforce
CompTIA's research team keeps its finger on the pulse of what's happening in IT – everything from emerging technology to employment trends. Each month, the research team releases employment reports showing the state of the IT workforce. The annual IT Industry Outlook presents industry trends and paints a picture of the IT workforce. Other topics to be covered this year include the internet of things (IoT), the value of certifications, blockchain and more.
Check out the latest CompTIA research
9. Expanded Online Resources
In the coming months, CompTIA will be adding more resources to the website to help you do your job better and become familiar with emerging tech topics. Get answers to questions on everything from cybersecurity to cloud computing to drones to artificial intelligence (AI).
10. IT Career News in Your Inbox
If you don't already subscribe to CompTIA's IT Career News and Your Weekend Read, sign up today to get blog posts, resources, event announcements and more delivered right to your inbox. IT Career News delivers once a month, and Your Weekend Read goes out every Friday (unless it conflicts with IT Career News). As a thank you, we'll give you a coupon for 10 percent off your next CompTIA training product or certification voucher.